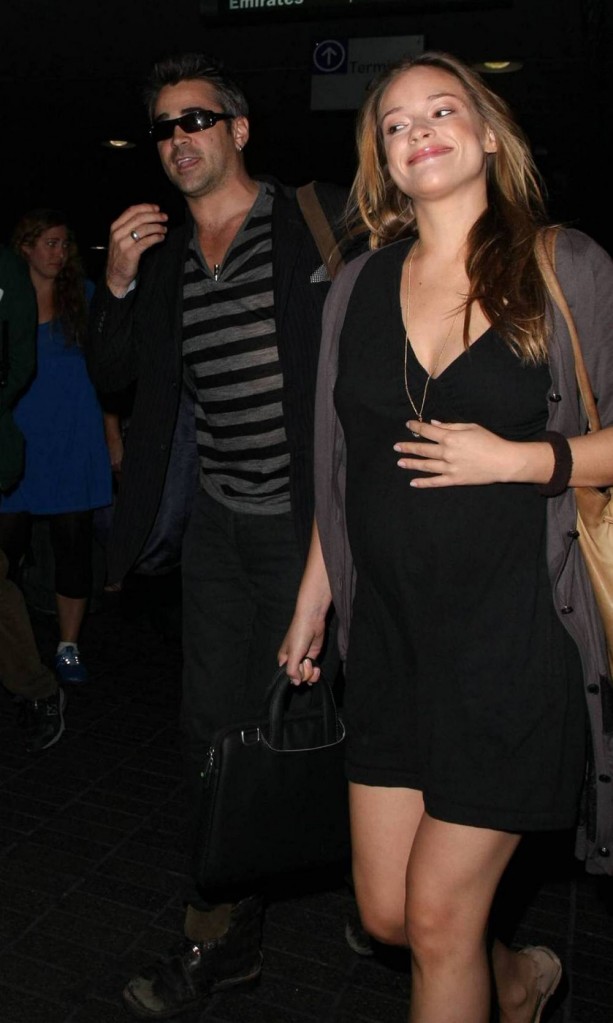 A few weeks ago, many of us were rather startled to see pictures of Colin Farrell and his girlfriend of less than a year at LAX. I wasn't surprised that Colin looked edible (of course) or that his girlfriend, Polish actress Alicja Bachleda is so lovely. No, I was startled by the rather significant "baby bump" Alicja was showing off in a simple black mini-dress. Now Colin Farrell is confirming our suspicions by confirming the happy news to Us Weekly while he was doing press at the Toronto Film Festival (and looking very edible):
Colin Farrell is having another baby, Usmagazine.com confirms.

The actor confirmed that he and girlfriend Alicja Bachleda were expecting their first child together at the Toronto Film Festival on Saturday evening.

Farrell, 33, and the Polish actress, 26, began dating earlier this year.

This will be the second child for the Irish star. He has a 5-year-old son, James, with model Kim Bordenave.
[From Us Weekly]
I am thrilled for Colin and Alicja, and I hope they're very happy together. I hope the mother and child are healthy and all of that. All that being said, isn't it interesting that she got knocked up so quickly? It was just January and February when they began working together on Ondine, and Alicja must have gotten knocked up quickly afterwards. No judgment – it's just interesting to me. God knows, if I was nailing Colin, I would probably get pregnant too. It's not like it's a Jude Law situation, where Colin doesn't even remember the girl – I think Colin is totally in love, and probably thrilled to have another baby on the way. I'm hoping it's a little girl, aren't you?
Colin Farrell is shown below at the Toronto Film Festival premiere of Triage on 9/12/09. Credit: WENN.com. Header photo of Colin and Alicja is from LAX and was taken in mid August. Credit: Mavrixphoto.com