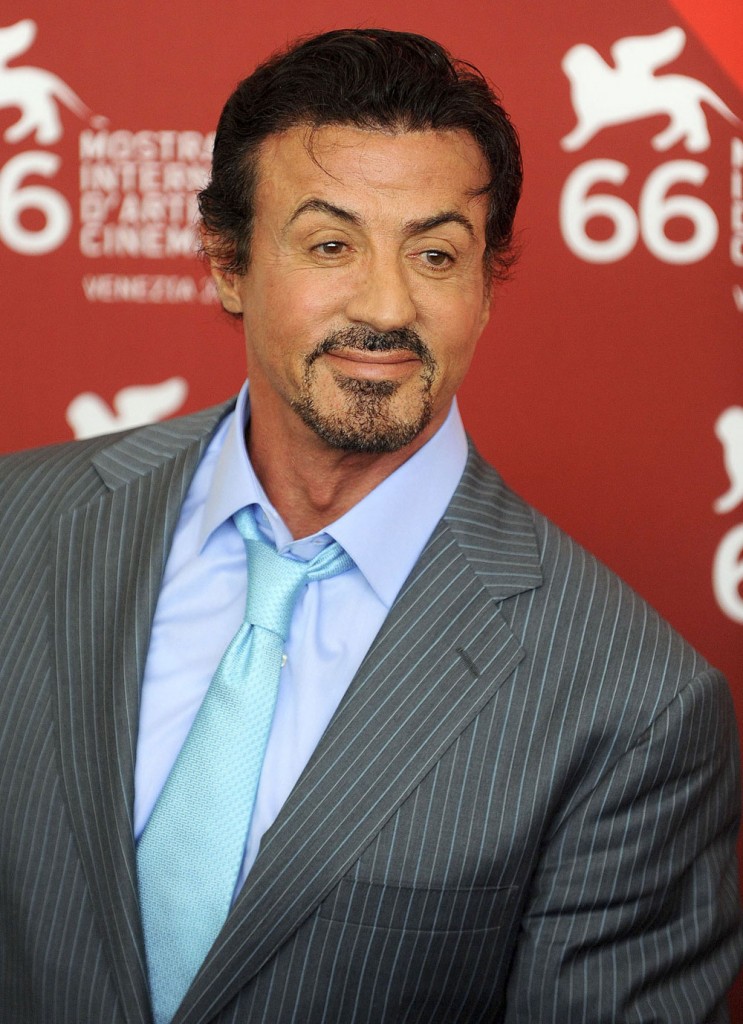 Sylvester Stallone was in attendance for the closing ceremony of the Venice Film Festival over the weekend, and his appearance is "raising some eyebrows". I say it this way to be snarky, because it seems Stallone has gotten himself some kind of epic facelift, and his eyebrows are ridiculous.
There have been rumors about Stallone's nips and tucks for several years now. Perhaps he never had a full-on facelift, but he's had something done, like a brow lift or something with the tightness of his jaw line, I think. But those rumors haven't stopped him from going under the knife again, if his look in Venice is any indication. The Daily Mail also noted that Stallone was wearing very heavy makeup for the event – but makeup doesn't even begin to describe what was going on with this man's eyebrows. They. Are. Epic.
Sylvester Stallone was obviously glowing with pride at being awarded a film-making prize today. But it was more than just the flush of success that was contributing to the Rambo star's slightly orange and frozen complexion.

The 63-year-old appeared to be wearing heavy facial make-up and there was barely a wrinkle to be seen on his forehead when he arched his eyebrows at the Venice Film Festival today.

Wearing a slick grey pinstripe suit and blue tie, the actor looked a world away from his long-haired Rambo character.

Stallone obviously wanted to look his best, as he is due to receive the Jaeger-Lecoultre Glory To The Filmmaker award.

During the presentation of the award, there will be a premiere screening of sequences from The Expendables the new film written by, directed by and starring Stallone.

The all-action film also stars Bruce Willis, Jet Li, Dolph Lundgren, Jason Statham and Oscar-nominee Mickey Rourke. It tells the story of a team of mercenaries who head to South America on a mission to overthrow a dictator.

There will also be a screening of the director's cut of Rambo which will end the 66th Venice Film Festival.

Sylvester Stallone previously attended the Mostra in Venice on two occasions, in 1999 as the star of Cop Land by James Mangold, and in 2003 as an actor in Spy Kids 3-D: Game Over by Robert Rodriguez. Stallone is currently working on the fifth Rambo movie.
[From the Daily Mail]
I was hit by something resembling shame as I wrote this – I mean, obviously, Stallone is insecure about aging, and I feel badly that some hack surgeon did that to his face. But he's 63 years old! He should know better. And he should stop trying to convince us that he's still this big action stud. While he's wearing pancake makeup on his hacked face.
Sylvester Stallone is shown on 9/11/09. Credit: BIG PICTURES/bauergriffinonline.com