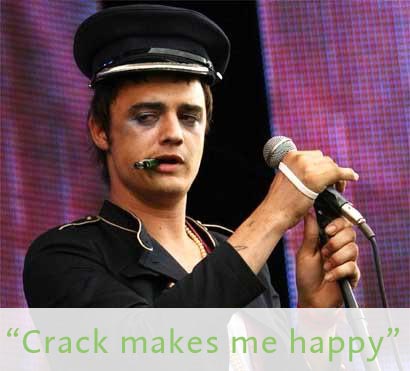 Train wreck Babyshambles frontman Pete Doherty, who recently reconciled with shit-for-brains supermodel Kate Moss, is so mired in his addictive ways that he openly did crack, heroin and ecstasy in front of a Rolling Stone reporter. He also offered the reporter a taste of everything, except crack, which Doherty is known to adore.
When Rolling Stone's Mark Binelli tracked down the junkie ex-boyfriend of Kate Moss in a ramshackle drug den in Hackney, England, Doherty kicked off the Q&A by snorting some heroin. "Over the next three hours, Doherty will also smoke crack, shoot heroin and take an 'ecstasy' pill," Binelli relates. "He does all of this casually, and openly, except for the shooting up, which he performs near the kitchenette, with his back to us. He offers me heroin and ecstasy but not crack. I decline. The more drugs Doherty does, the more he seems to relax. He never becomes incoherent, though occasionally he seems confused."
Doherty most recently proved that he's on crack by befriending Mike Tyson.
A little love from kooky Kate and a vacation in the south of France might help him sober up, but we doubt it.