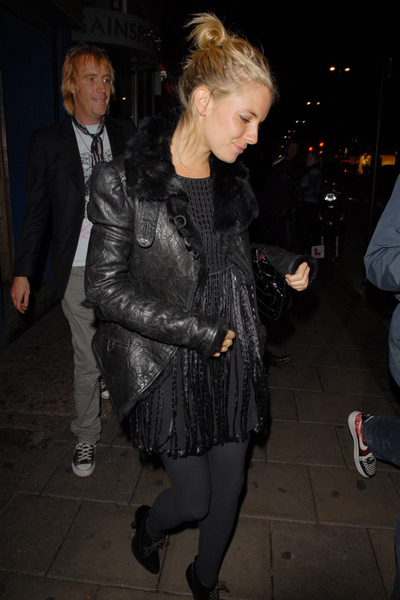 Most of the entertainment blogs seem to have a strong dislike of Sienna Miller. I can't recall ever reading anything good about her – but the dislike seems so strong that I almost feel badly about her. I couldn't really figure out what she's done that makes everyone think she's so awful, and yet I have an instinctive dislike towards her too. Apparently she's been dating British actor Rhys Ifans for a few months, but has gone to great lengths to keep the relationship under wraps, and avoids being seen with him in public. The two met after Sienna dated one of his best friends, Matthew Rhys, who she met on the set of "The Edge of Love." Matthew Rhys no longer speaks to his former BFF Rhys Ifans, accusing him of sealing Sienna from him. Lovely. Ifans is supposedly over the moon about Sienna, and has proposed to her five times. She, on the other hand, won't even publicly acknowledge their relationship. Sounds like a match made in heaven.
Sienna Miller's new love Rhys Ifans has asked her to marry him five times. Sienna – who has constantly denied she is dating Rhys, despite the pair frequently being pictured together – isn't taking their romance seriously, while the 'Notting Hill' actor is "besotted" with her and desperate for them to wed. A source said: "Their romance has been a big secret for months now. Friends believe Sienna sees the relationship as a bit of fun, while Rhys has fallen in love. Rhys wants the world to know but Sienna was keen to play it down – even though she usually flaunts her romances. "He is besotted, totally in love. He can't believe his luck. He has already asked Sienna to marry him about five times but Sienna just laughs it off. "His friends are worried that she will break his heart when someone better comes along."

The source added to Britain's Daily Mirror newspaper: "Rhys Ifans' name is mud among his former band of Welsh acting buddies. They all think it is disgraceful behaviour that he stole someone else's girl." Sienna's close friends are certain the relationship will not last because Rhys parties too much and lives "like a student". One friend said: "He blows everything he earns on going out and drinking. He lives like a total student. His place is a mess. He has lots of really weird habits."
[From Female First]
It sounds like Sienna Miller's friends are snobs, but that's not a big surprise. Rhys played Hugh Grant's odd, bumbling roommate in "Notting Hill." The two don't really make much sense to me as a couple, and I feel badly for the guy. Anyone who would propose five times, get shot down five times, and still stick around has got to be "crazy in love" as Beyonce would say. Sienna doesn't seem like the type whose ever close to ready to settle down yet. Hopefully she'll break it off before she completely breaks the guy.
Picture note by Jaybird: Header image of Sienna acting like she's not with Rhys at Maya Nightclub's Launch Party on September 26th. Images thanks to PR Photos.