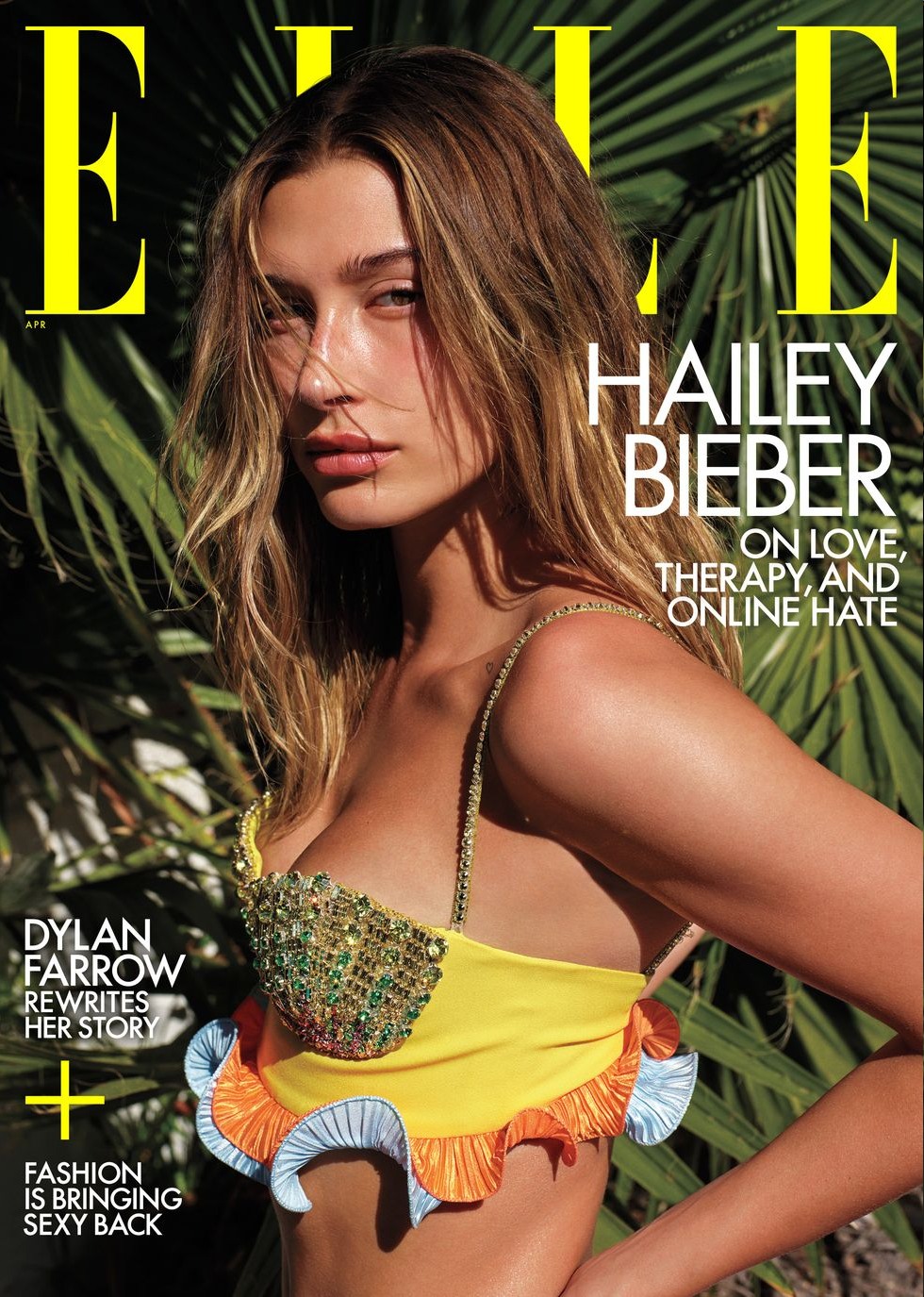 Hailey Bieber covers the April issue of Elle Magazine. She seems to be promoting her various modeling contracts plus her new YouTube channel, but as with many of Hailey's interviews over the past few years, most of it seems to be about Justin Bieber and their marriage. I don't hate that, really. I actually like her hustle, and she's fashioned a really solid career for herself as Hailey Bieber. Perhaps I would feel differently if I disliked her as a model, but I actually think she's a good editorial model? She photographs well, she has an interesting look, etc. You can read the full Elle piece here. Some highlights:
She doesn't mind masks: "Obviously, sometimes it can be a little frustrating, having to breathe my same air and wear this everywhere. But one thing I do like is that the paparazzi can't see your face. I'm a young woman, and it's very weird having all these grown men following you around all the time. I'm still not used to it, and I don't think I ever should be used to it, because it's weird and not normal. Honestly, I may never stop wearing the mask in public, let's just put it that way."

Getting married in September 2018: Justin was "at a stage of his life where he could make decisions like, 'I'm done with girls, and I'm done with fooling around, and I'm done with partying.' We were friends first for a really long time before there was anything romantic. But we always knew that we were aligned on what we wanted in our future. We had talked about wanting to be married young and having a family young and building a life. Even before we knew we wanted to be with each other."

They didn't have their big wedding until one year later. "I mean, I was married when I was 21, two months before I turned 22, which is insanely young. And sounds almost ridiculous when you say it out loud. Although I do think for somebody like me and somebody like Justin, [it's different]. We've seen a lot for our age. We have both lived enough life to know that's what we wanted."

Their wild African serval cats are not living with them: While Oscar the Yorkie made the move to the rental with the Biebers, the terms of the lease prohibited the couple from bringing their two spotted Savannah cats. Reportedly purchased as cubs at $35,000 for the pair, Sushi and Tuna are a cross between a domesticated cat and a medium-size, large-eared, wild African serval. "The cats are amazing, but they are psycho. At one point, we had them in this room with a big sliding glass door. We're sitting in the kitchen and we hear this giant thud, and we turn around and one of the cats has jumped off the ground and is sprawled out like this." She holds her arms and legs out, spread-eagle style. The half-wild cat had secured itself to the glass "like Spider-Man," she says. He hung there for at least 30 seconds before he finally succumbed to gravity. "They're really vocal. They legit talk to you. But they act half wild." For the time being, they're staying with Hailey's cousin.

The Bieber marriage has gotten stronger during the pandemic: "I try to be careful saying something like, 'The good thing about the pandemic,' because I know there's been so much sadness and devastation. But over the last six years of my career, I've never gone this long without working. Quarantine has removed any expectations of work, and there is no pressure of having to be anywhere. It's the same for Justin. We've gotten so much solid alone time. It's like this long, extended vacation where we get to hang out together all the time…. I learn new things about him and about myself and about our relationship all the time. Do we have little fights and stuff that we have to work through sometimes? Yeah, of course, but it really doesn't ever feel like work, because I love him so much. I see forever with him."

On celebrity relationships: "You mean, if you look at celebrity relationships, most fail? Yeah, for sure. I think any relationship can fail, Hollywood or not. Is it harder in the public eye? Absolutely. But I think the two of us are grounded by our faith. I'm not saying it's this easy-peasy thing that doesn't take work. We talk to a therapist. We do what we have to do."
"We've seen a lot for our age. We have both lived enough life to know that's what we wanted." Eh! I mean, they probably saw a lot for their ages when they married, but lord! I was so dumb when I was 20/21 and so were Justin and Hailey! I'm not saying that they're wrong for each other or anything – I think they have as good a shot as anyone – but deciding when you're 20/21 that you've seen enough and you're ready to be with one guy forever is a really big deal and a really big commitment. That being said, I think it's a good sign that they enjoyed their pandemic together and they came out of it stronger. As for what she says about their cats… like, those cats are not supposed to be domesticated animals, for the love of God!
Cover & IG courtesy of Elle.