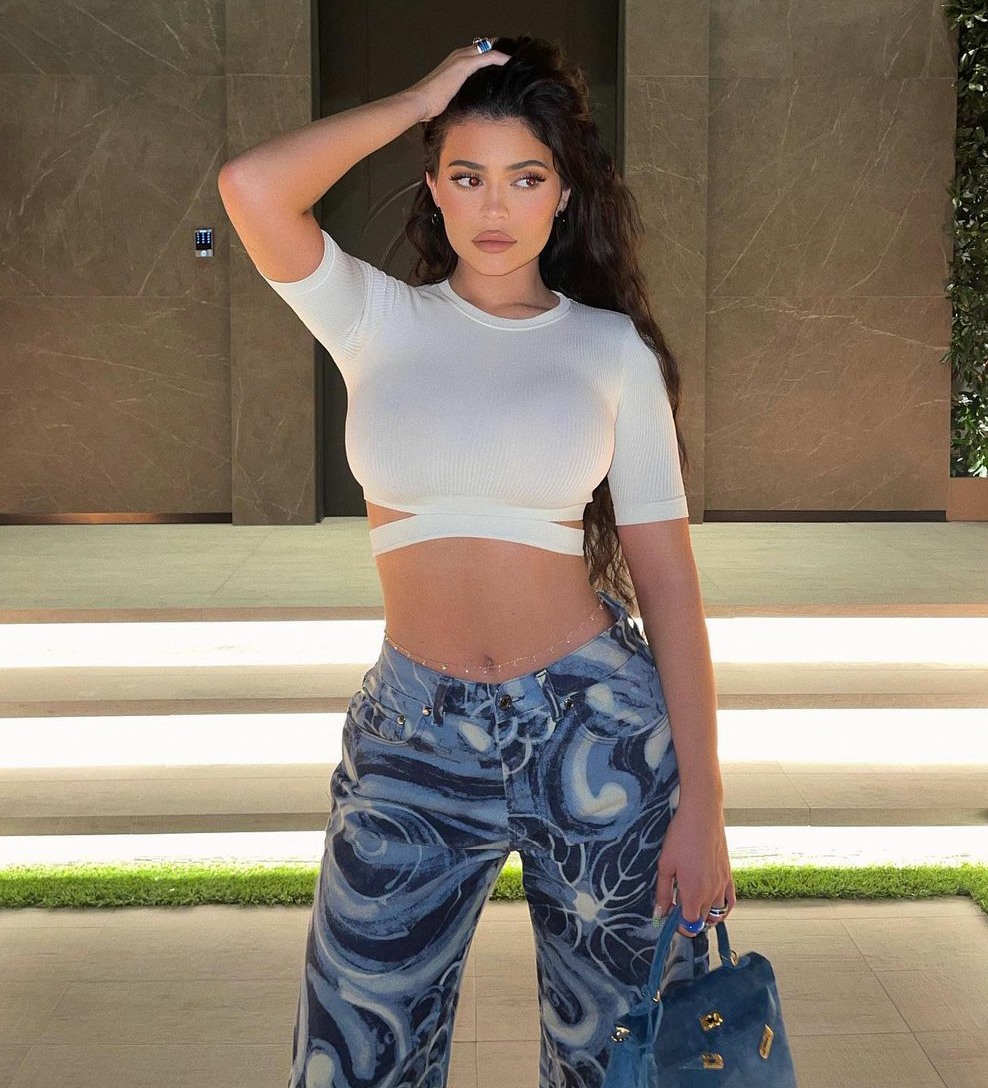 As we discussed, Kylie Jenner got a lot of crap on social media and in the comment section of this blog. One of Kylie's makeup artists/friends (Samuel Rauda) was in some kind of bad vehicular accident and he has a bad head injury. Kylie donated $5000 to his GoFundMe page, which was set up by his family, and she encouraged her millions of followers to check out the page and donate if they could. The reason why Kylie was getting slammed was because the GoFundMe fundraiser was for $120,000 and Kylie only donated $5K, despite being a near-billionaire. Well, Kylie heard y'all and she wanted to clarify some sh-t: when she donated the $5K, the goal set by the GoFundMe was allegedly $10,000. Hm.
Mega-wealthy reality star Kylie Jenner came under fire for encouraging fans to help fund a celebrity makeup artist's medical bills — but a source told Page Six she did so believing she had covered the remainder of the costs herself. By the time Jenner had become aware of Samuel Rauda's request for financial help on GoFundMe, $6,000 of the original $10,000 goal had already been raised, the source said.

The "Keeping Up With the Kardashians" star then donated $5,000 of her own money to put the total over the desired amount, the source said. Jenner then posted about Rauda — who "underwent major surgery" on March 14 — on social media in an effort to raise "awareness" since Rauda is a close friend of her current makeup artist Ariel Tejada, the insider said.

She wrote on her Instagram Stories alongside a picture of Rauda, "May God watch over you and protect you @makeupbysamuel everyone take a moment to say a prayer for Sam who got into an accident this past weekend. And swipe up to visit his families go fund me."

We're told it was at this point — because Jenner had "brought a lot of attention to" the GoFundMe — that the campaign's goal was increased above its original $10,000 request, making Jenner's $5,000 donation appear small in comparison.
I know we're talking about Kardashian-Jenners here and all of that, but… I kind of believe this version? I don't think Kylie would be so clueless to post Rauda's GoFundMe page, having only donated $5K, if there was (at the time) still tens of thousands of dollars left to fulfill the goal. I believe the original goal was probably $10K and the Rauda family raised the goal AFTER Kylie posted the info. I wonder if Kylie will donate again? Hm.
Kylie posted her side of the story on her IG: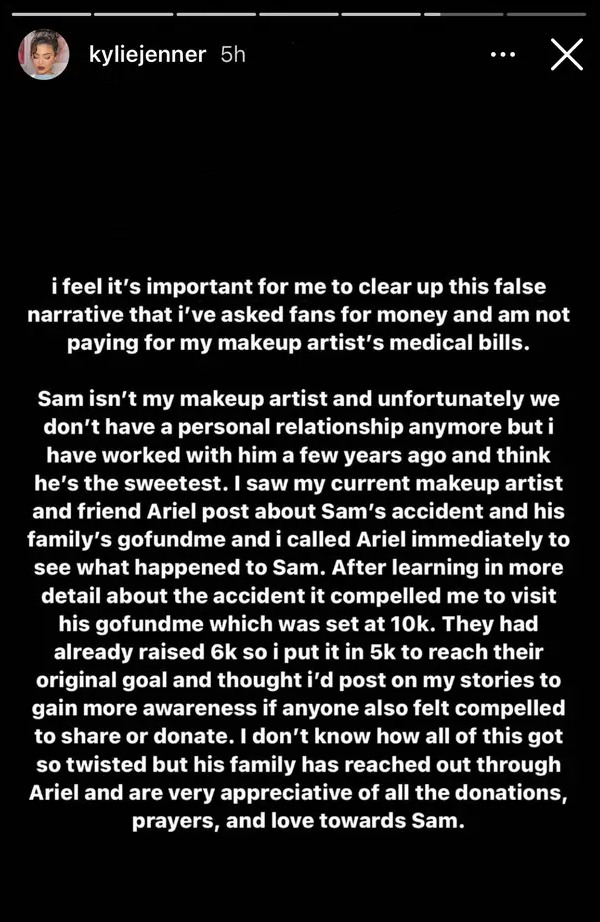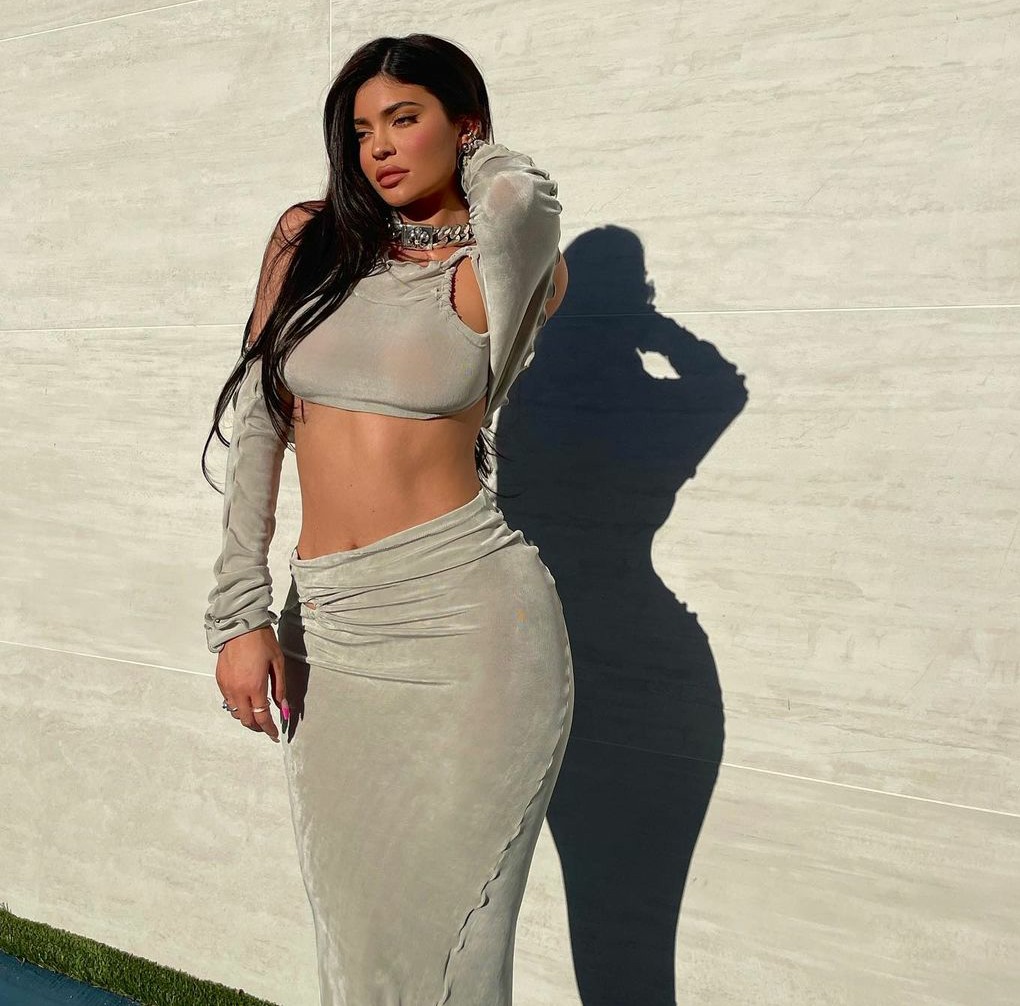 Photos courtesy of Kylie's IG.