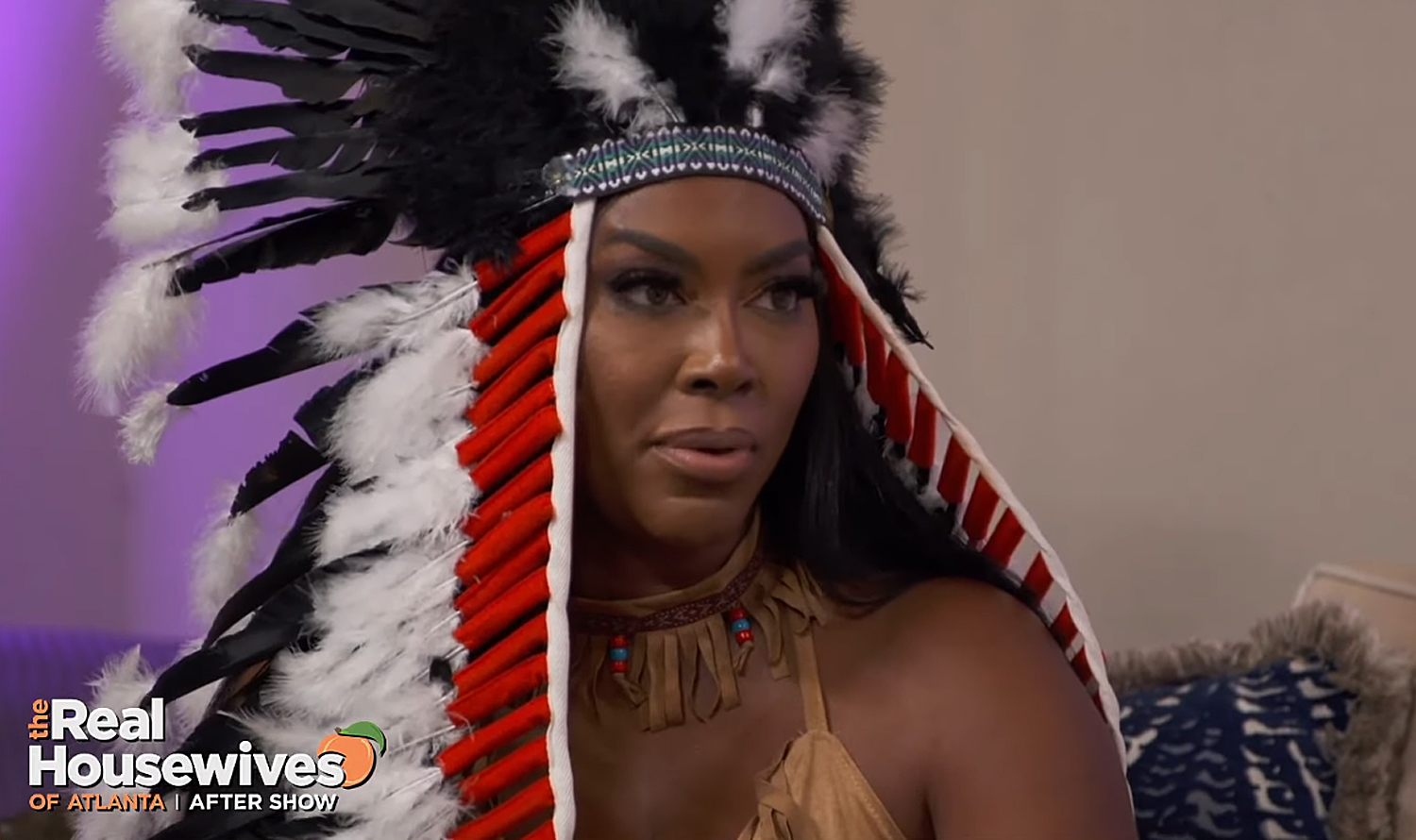 It seems Real Housewives of Atlanta's Kenya Moore has found herself in hot water after the latest episode, which centered around Falynn Guobadia's Halloween party. Many of the ladies were dressed as big cats and Falynn was dressed as (I assume) Medusa. Kenya showed up in a costume that was obvious cultural appropriation. Specifically, she was dressed in full Native American headdress. Several of the other housewives called her out for wearing this inappropriate outfit. And there was a huge social media backlash. Kenya being Kenya of course doubled down and initially said that she wore the headdress because it was a part of her heritage. Besides all of the drama that went down on the show (Falynn trying to hit someone with a golf club for talking about her husband), Kenya was the biggest story. Kenya gave a prime example of what NOT to do when you are caught slipping. Below is more about the drama via People:
On Sunday's episode of the Bravo series, Moore, 50, dressed in an ensemble that included a Native American headdress as she attended a Halloween party at the home of Falynn Guobadia.

Several costars (including Drew Sidora and Porsha Williams), as well as many on social media, spoke out about feeling uncomfortable with the costume.

"Kenya's Native American costume is super problematic but I ain't trying to ruffle no feathers for this girls trip," said Sidora, 35, during a confessional, adding with a laugh, "It feels like I'm always the only one that sees the issues with Kenya Moore's decisions."

"Kenya is a Native American warrior. I thought we weren't doing that no more," said Williams, 39. "Like, I knew that this girl was crazy, but add lame to the list, add whack to the list."

Moore defended her decision in a tweet on Sunday, writing in response to one piece of criticism about the costume, "Also part of my heritage #RHOA."

During the RHOA After Show, Williams referred to Moore's costume as "head-to-toe cultural appropriation," while costar LaToya Ali said of a heated exchange between herself and Moore during the show, "I couldn't take Kenya seriously as we were having the conversation because she was in an Indian-chief costume. … Isn't that called cultural appropriation?"

But Kandi Burruss jumped to Moore's defense, telling Ali, "To be honest with you, I didn't think anything of it."

"I don't think she was wearing the costume to mock anyone, and I think she thought it was a beautiful costume because it's the sign of a leader — a chief is someone to look up to, not to be made fun of," added Burruss, 44. "And I don't think she was doing it as a joke to be mean or anything like that.
have never seen an episode from the Housewives franchise (I am not a fan of non-fashion and non-singing reality TV). I used to have enough drama in my own life and didn't feel a need to watch other people create their own. I did watch part of this particular episode for context. Despite not ever watching the show, I do know who the women are from RHOA because of their previous work. Kenya can be hella messy and stubborn and rarely admits when she is wrong. However, Kenya has finally apologized for wearing the Native American headdress which should have been the first thing she did instead of making excuses for her ensemble. The thing that got me was how Kenya first used the excuse that the headdress was a part of her heritage. Listen, I am sure Kenya has a smidge of Native American heritage (like many of us), but I am certain she did not grow up with their customs. Therefore she has no idea of the purpose of wearing a headdress. Here is what Kenya commented on a post by Illuminatives:
"I want to sincerely apologize for inappropriately wearing the Native American headdress as a costume. I now realize that this was both disrespectful and insensitive and would never have done it if I had that knowledge and understanding beforehand. I regret it. When you know better, you do better. I am genuinely sorry."
[From Instagram via USA Today]
We often think cultural appropriation is when the majority culture (read white) appropriates a previously oppressed culture's clothing, style, or spiritual practices (usually there is a financial component to this as well). However, taking a piece of music or even language from its original purpose can be appropriation. Kenya said the headdress was a part of her heritage, but what Native American ethnic group is she connected to? Was the headdress from that same group? Despite not being completely aware of all the ways I could appropriate a culture, I always ask questions, and if I f*ck up I apologize immediately. I think this was all anyone was asking of Kenya. It was also funny that LaToya said she couldn't even take Kenya seriously. I am sure Kenya didn't mean to do any harm in her choice of "costume" but harm was done and Kenya needed to own it, apologize, then educate herself. I hope this situation of RHOA will open up conversations again about the difference between cultural appreciation and cultural appropriation. We all need to understand the difference including myself.