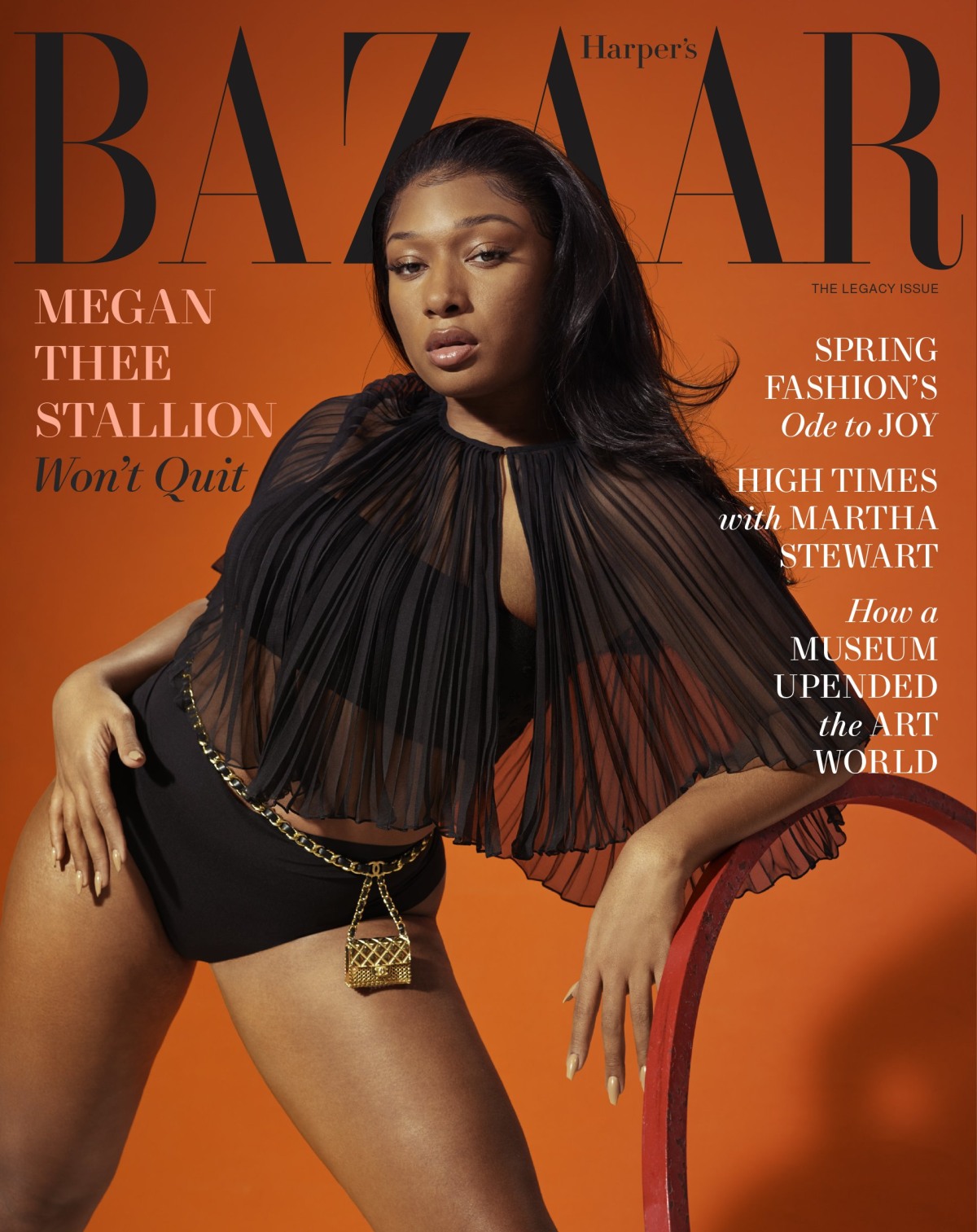 Megan Thee Stallion covers the March issue of Harper's Bazaar, in a photoshoot which Megan "reviewed" and helped edit, according to photographer Collier Schorr. People were mad about this editorial – they compared this shoot to Vogue's Kamala Harris covers, in that both magazines took dynamic, interesting, cool Black women and made them look too undone, and not as badass as they actually are. For what it's worth… I like how "real" Megan looks in the editorial. They didn't Photoshop her legs and hips. She's such a natural beauty and the lowkey styling highlighted that. I trust that Megan liked these photos and this is how she wanted to look. You can read Megan's interview here. Some highlights:
Her impending graduation from Texas Southern: "I cannot wait. I'm going to have the biggest graduation party," Megan says. She's looking forward to wrapping up her final semester at Texas Southern, where she's been working on a degree in health administration, taking online courses there since she transferred from Prairie View A&M when her career started taking off. "But when all of this happened, I'm like, 'Wow, so nobody is going to see me walk across the stage?'…You fought through the procrastination. You fought through crazy professors. You made it home the next day from the party and still went to class. You know what I'm saying?"

Comfortable in her own skin: "I'm realizing that I don't have to be in full glam every time you see me, because I'm just getting more comfortable with myself and more comfortable with my skin. I know that I'm a person that everybody looks to, and they're like, 'Oh, Megan, she's a confident woman. She's so strong.' But you have to go through things to become that person."

Pandemic life: "When everything first started… I was super nervous because I'm not an introvert. I'm a person that likes to be around people, interact."

She worked on her album, Good News, during lockdown: "I feel like I was tested, and I've passed," she says. Working in this pared-down format, she could keep improving the project at every stage in the process. It was a bespoke experience that she expects she'll keep. "I'm not a perfectionist. But I like what I like how I like it."

She's getting her degree for her mom & great-grandma: "Before my mom passed, she really would be on my butt about getting my degree," she says. Her great-grandmother was always asking, "You are going to get them papers?"

When she doesn't react to things the way her fans want her to: "I feel like you cannot hold people to a God standard. You do not do that to human beings."
There's a section of the interview devoted to the Tory Lanez mess, the fact that he shot her last summer when they were coming back from a party. But Megan doesn't say much, and that's fine with me. We need to get out of this sensibility where we expect victims of crimes to endlessly relive or relitigate what happened to them. Megan has already spoken at length about it and if she wants to speak about it again, we'll be here and we'll listen. Until then, I'm happy to hear her talking about her excitement about graduating from college and what the pandemic taught her. She sounds like she's in a good place and I'm sure her mama and great grandma would be so proud of her.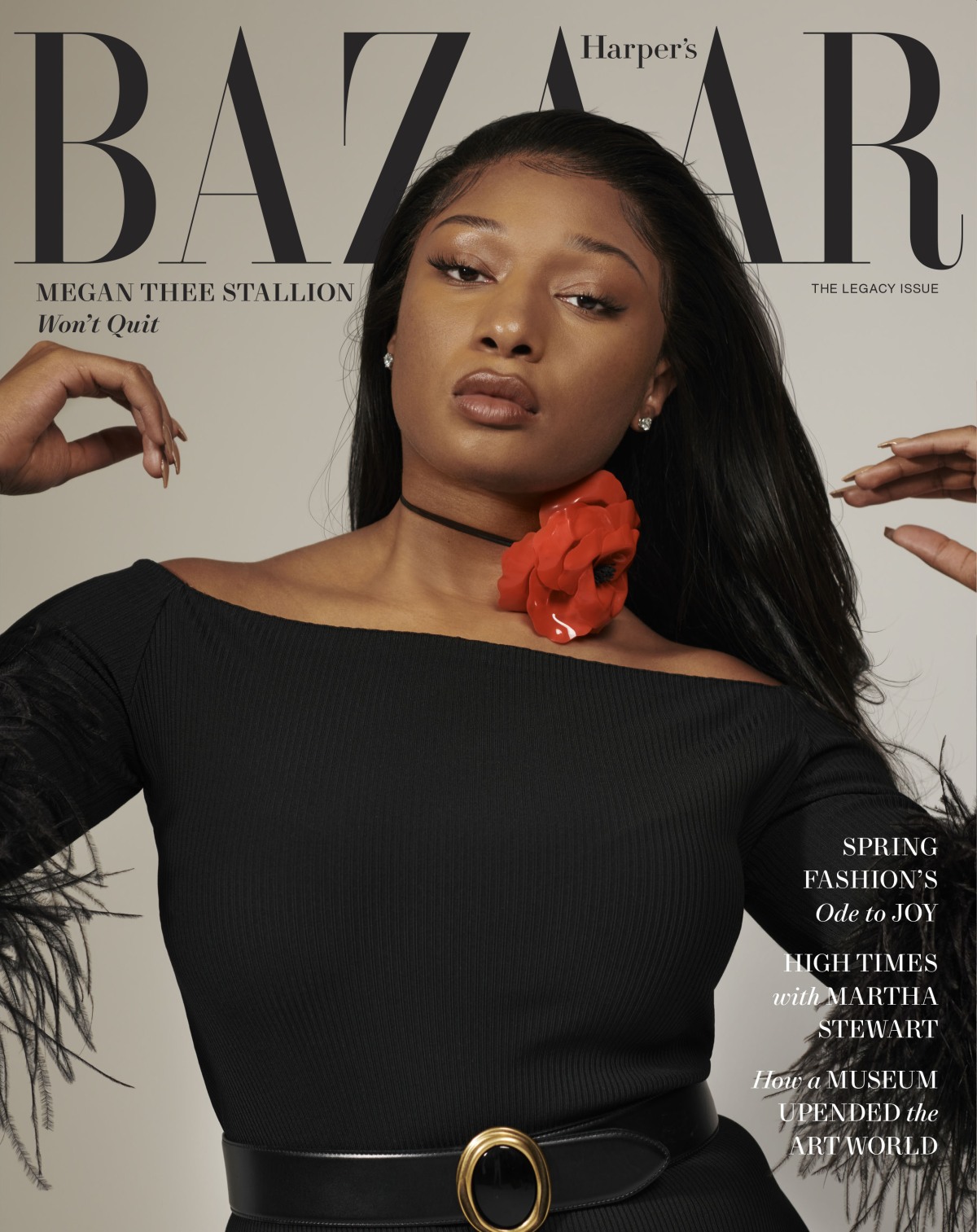 Covers and IG courtesy of Harper's Bazaar.