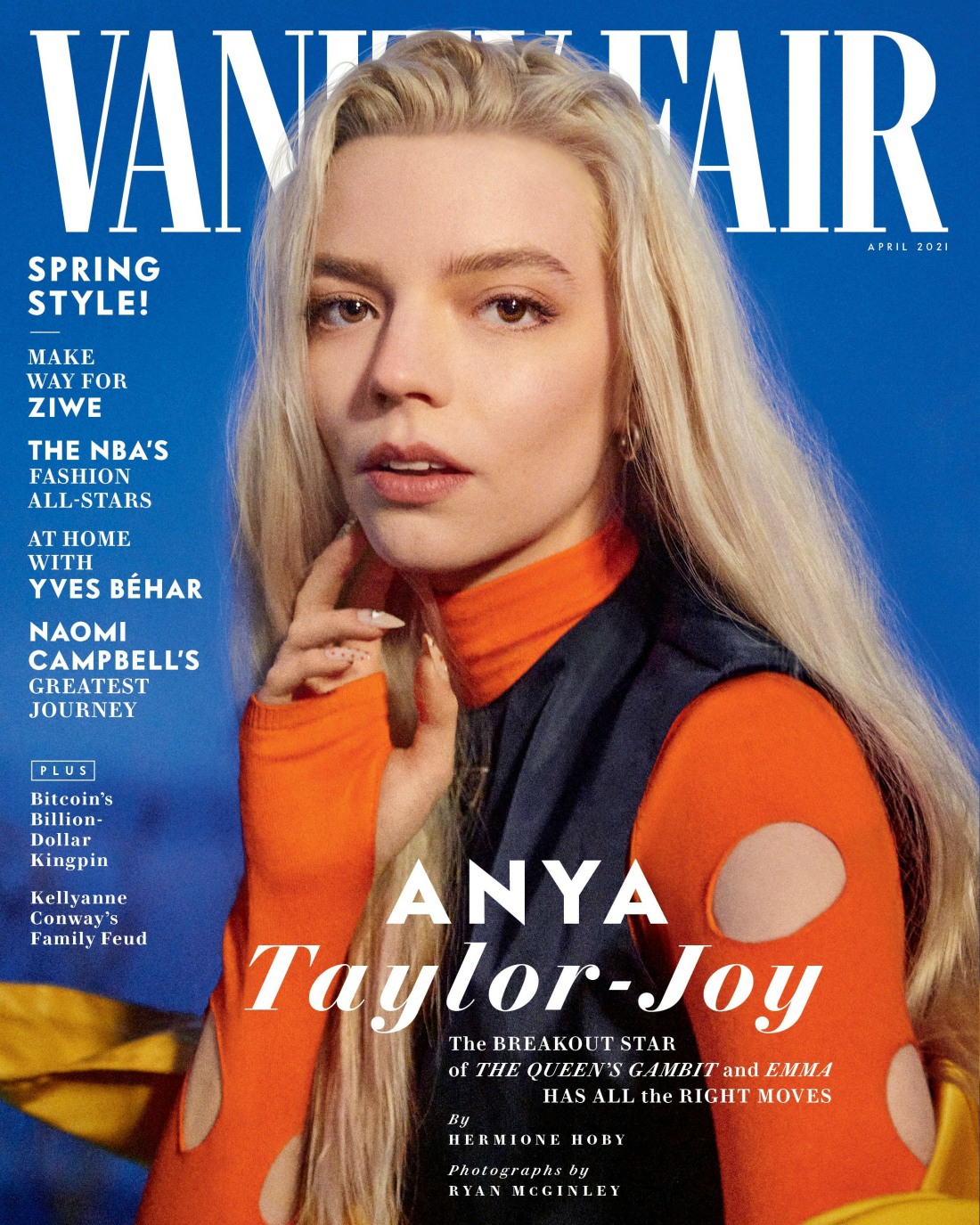 Anya Taylor-Joy covers the latest issue of Vanity Fair. Did the magazine do her dirty with this cover shot? I think so. I like Anya a lot – she's a shape-shifter in the vein of Cate Blanchett, Tilda Swinton and Andrea Riseborough, and much like those women, the styling, hair color and angle can make her look wildly different at any given moment. Vanity Fair wanted her to look like this washed-out blonde with a vacant expression and it's not great. Anya is arguably one of the most hyped young actresses out there right now, in large part due to the success of The Queen's Gambit, but also her CV full of typecasting-proof roles in Emma, Split, The Witch and Peaky Blinders. She speaks perfect Spanish (a childhood in Argentina) and can easily fall into a pitch-perfect British accent and American accent too. You can read Anya's full Vanity Fair piece here – she comes across as very earnest, very appreciative of what's happening, but very focused and driven. She's lovely.
British kids picked on her for her looks: "Oh, 11-year-old Anya was an awkward phase, for sure." Back then, she recalls, "My head was smaller and my eyes were the same size. I was waiting for my head to grow a bit. Make me look a bit more proportional. My mother raised me to always be looking at things inside of people rather than their outside." Taylor-Joy doesn't stare into mirrors much. "Not because I'm running away from myself, but because the most beautiful thing about me is my desire to interact with the outside world. And when you're interacting with the outside world you're not looking at yourself, you're looking at the person in front of you."

2019 was a turning point: "I'm sitting here talking to you, and for the first time, I'm like, I know what I like. I know what I, as a person, enjoy!… The whole of 2019 was me becoming a woman, essentially…. I haven't had any therapy for the last four years, but you're speaking to somebody who spends a lot of time dissecting her thoughts. I'm at a point where it's like, Okay, you know how you deal with this, you just have to sit with it and figure it out until it makes sense."

She was happy when 'Emma' was released on streaming services at the start of the pandemic: "I definitely thought, Thank goodness this is something fun that will bring people joy and I'm not playing somebody that's been kidnapped and sexually abused."

She reads constantly: "Once I learned how to read—I'm sure it was the same with you—I was off. I was just never bored or lonely again."

She loves that people are getting into chess: "We used to joke on set that we were bringing sexy back to chess. We didn't really think that that's what people would actually think. I love the fact that people are like, Yeah, I'm going to go play this guy at chess, it's going to be really hot. I'm living for it." Famously, sales of chess sets soared by 125 percent in the weeks after the show premiered. "This is what I mean about how I think in five years I'll understand! I don't think you can be an even kind of sane person and be walking around, like"—she does a parodic hair flip of self-satisfaction and puts on a haughty voice to intone—"I have reinvigorated the game of chess!"

Her thoughts on the Golden Globes (before she won): "Is it awful to say I don't think about it? Look, any kind of recognition for your work is wonderful and truly moving, but I have to show up for my movie and my director and my friends. If I were consistently thinking about things like that, I don't know how healthy my mind would be…. I want to be quite clear about something, which is when I say, 'I walk away' or 'I don't think about it anymore,' it's never because I'm ungrateful for any of it. I just really think that I won't be able to do my best work if I start believing I'm anything more than human, because people watch characters for the humanity."
She talks throughout the piece about how she really lives and breathes the characters she plays and it's sometimes difficult for her to let go or even separate herself in the slightest way. She's very Method, very earnest, as I said. She honestly seems like a very odd, idiosyncratic bird but that's not a bad thing at all. She's going to end up as her generation's Meryl/Blanchett, you know.
Cover and IG courtesy of Vanity Fair.