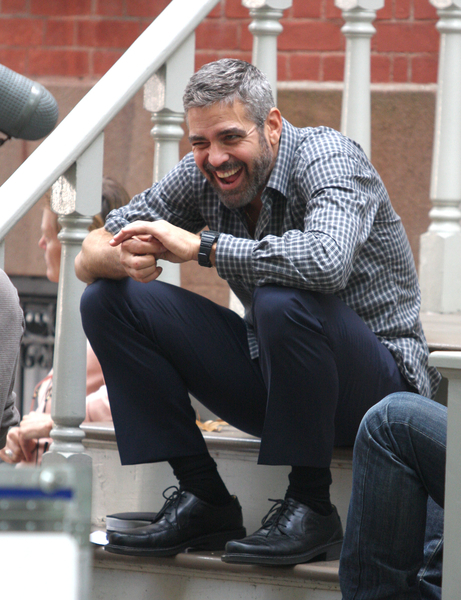 Prankster George Clooney helped design a special egg-throwing machine at his Lake Como estate that will send raw eggs in the direction of intruders that cross an infrared sensor. He asks his staff to tell him if people get egged, and it sounds like he gets a real kick out of it:
[George Clooney] recently installed an egg-throwing machine at his mansion on Italy's ritzy Lake Como. The machine, which the hunky actor helped design, hurls rag eggs at those who cross an infrared sensor in front of his 15-bedroom Villa Oleandra. "He's thrilled with it," says a source, "and has told his Italian staff to give him daily updates on what happens to the worst offenders!"
[From Star Magazine, print edition, November 5, 2007]
You know that device is for the paparazzi that hang out hoping to get some photos of Clooney cavorting with one of his many lady friends. I wonder if someone will try to sue him when an expensive camera gets ruined.
Meanwhile there's even more evidence that Clooney hasn't lost his quirky sense of humor, or that he just gets stupid when he's drunk. He took a big metal ball off a piece of sculpture art at a Milan hotel during a party thrown by Georgia Armani. George proceeded to act like it was a bowling ball, hurling it down the hall and causing about 20k worth of damage in one shot. Armani quietly picked up the tab for Clooney's dumb move:
The designer [Georgia Armani] hosted a part at the Hotel Prinipe di Savoia Milano during Fashion Week in Milan in 2006. Since the Michael Clayton star lives in nearby Lake Como, Georgio invited him as a guest. To get the party going, the grinning actor took a heavy metal ball that was balanced as an obelisk on a sculpture and started using it as bowling ball! [He] threw the ball down the marble hallway, yelling "Strike!" Hotel excs estimated that George did $20,000 worth of damage to the hallway. According to an insider at the hotel, an embarassed Giorgio, 73, paid the bill himself, just in time for this year's Fashion Week.
If this happened like In Touch is reporting, why did it take a year for the news to get out? They're saying that Armani just paid the bill, so maybe it took that long for the hallway to be repaired or maybe he was waiting to see if Clooney would offer to pay for it. Who does stupid shit like this except drunken college students? You think Clooney would know better, and maybe he does and just assumes that whatever happens he has the cash to deal with it.
Clooney is shown on 10/2/07 on the set of Burn After Reading, thanks to PR Photos.