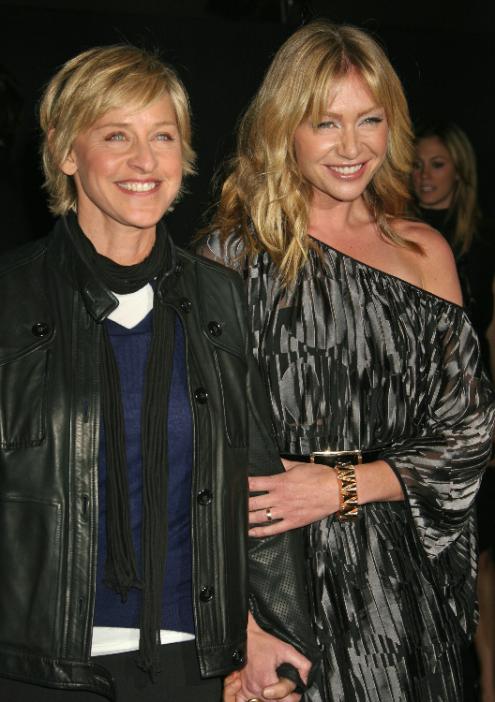 Star Magazine claims to have at least two "sources" that say that Portia De Rossi and Ellen Degeneres are having serious breakup-level problems at home. Their tenuous situation is said to have contributed to Ellen's breakdown on TV over the seizure of the dog she re-gifted, Iggy:
According to multiple sources, [Ellen is] really in pain because her three-year romance with actress Portia de Rossi is all but over.

"Ellen would never have broken down like that on TV if things were right in her home life," one source tells Star.

"Portia has been telling Ellen she's very unhappy at home," says a second source, who cites their 15-year age difference as one reason for Portia's grief (Ellen is 49, while Portia is 34).

"When it comes down to it, she wants to be with someone younger and hotter," says the source. "She wants out, but Ellen has been begging her to stay. Portia is really everything everything in this world to her…"

"She's so terrified that she's going to lose Portia, she just couldn't go through with her everyday routine, especially doing the show," says the second source. "The poor thing was so distraught, she could barely function."
[From Star Magazine, print edition, November 5, 2007]
Ellen and Portia are also said to be having problems in the bedroom like a lot of couples in long term relationships. Ellen is said to be too tired when she gets home from work.
While Portia wants their love life to be more more active, Ellen is often too tired to keep up. "Her interest in sex is not what it used to be." And that, reveals the second source, "drives Portial crazy!"
To compensate, Ellen is buying Portia expensive presents like horses, and she's coming across as needy, which could be driving Portia away.
A friend of mine suggested it's also possible Ellen is going through menopause. It could explain why she was so over-emotional on television over the Iggy debacle.
While it sounds like it could be true that Ellen and Portia are having problems, it's possible that everything is fine between them and that Star is just jumping to conclusions after Ellen became so publicly emotional at the loss of her dog.
Meanwhile there is more more evidence to support Howard Stern's claim that Ellen gave away an incredible 9 dogs that she adopted before Iggy. There was a story last week that she gave away a dog named Stormy without bothering to tell the original owners, and The Enquirer says she gave away a dog named Lucy in 2004. In Touch has her re-gifting two kittens in 2004 after signing an agreement to keep them. Ellen is said to just want to make sure animals are saved from being euthanized, and to be giving them a safe home until she finds a permanent family among her friends and contacts.
Update: If Ellen and Portia are having problems, they're not showing it. They were out together last night at an party at the MOCA in LA, and were seen embracing and smiling on the red carpet.
Ellen and Portia are shown below on 4/28/06 at the Daytime Emmy Awards, thanks to PR Photos. They are shown last night in the header image, thanks to Splash News.