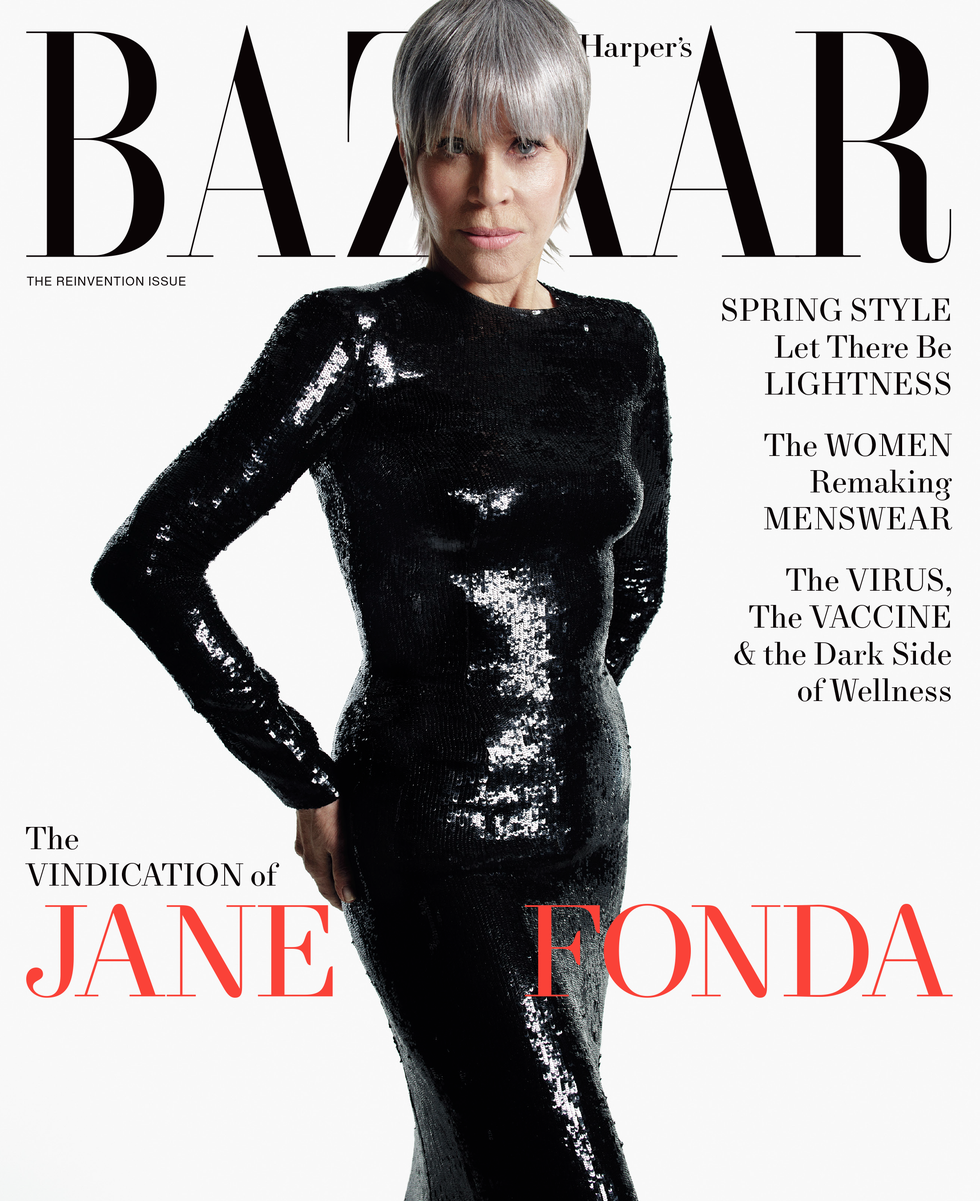 Jane Fonda covers Harper's Bazaar wearing what looks like a slicked-down wig. The editorial is bizarre and unflattering to say the least. You can see every line in her face. It's not like she looks like that, it's that she's lit so badly. There are so many ways they could have shown her looking natural without making it look like her skin is cracking. The interview is amazing though, as are most interviews with Jane. She will tell you what she thinks, she dishes and she has a lot of wisdom. I especially liked what she said about how her third act will be her final one. I got goosebumps from that. Here are some of the highlights I wanted to talk about, but there's so much more to discuss. I highly recommend reading the interview at the source.
On how she decided to move to DC during her environmental advocacy
At the suggestion of Annie Leonard—she runs Greenpeace USA—and is a major figure in my life. She insisted that, before we did anything, we meet with all of the major environmental groups and the youth climate leaders. And by the time that was finished there was no question in my mind that we're not going to tackle the climate issue if we don't simultaneously tackle economic and racial inequality.

On how people characterize her
I always feel that I've got to pay attention so I can learn. And I try to have friends who can teach me. I'm a student. I'm a generic kind of person. I'm very observant. I receive it. And then I become the megaphone. I don't invent things. You have to know where your strengths are. I'm derivative; I'm not original.

I'm original as a character but not as a thinker. Although, at my advanced age, I can sort of put things together now that I couldn't before and say, "Oh. Okay."

On how her dad got more conservative as he aged
For men. Women are the opposite. I'm generalizing, but women tend to get more robust as they get older and men get more conservative. Ted Turner said to me, "People shouldn't change after 60." And I said, "Then we're in trouble."

How she learned about power
You know what changed my definition of power? Going to North Vietnam [in 1972]. Going to a country that was not industrialized, where most of the people were peasants and fishermen and -women. They didn't even have heavy equipment to fill in bomb holes and stuff, and we couldn't defeat them. That taught me that power has to come from inside. It has to come from knowing who you are, why you're on earth, what is the meaning of your life. That's power. If it's all about armor, possessions, and weapons, that's not power. That's other things. It's the Vietnamese who taught me about power, and I'm forever grateful. And it helped me understand what to do with my third act, because third acts are scary. It's not the getting old part. It's the finiteness of third acts.
A lot of outlets are quoting a section later in the interview where she talks about dating and relationships. I encourage you to read that part yourself because I could write another post about it. However I'm not going to do that because it hit too close to home for me. Jane also talked about how much she loves television now, and she has so much praise for Michaela Cole's I Will Destroy You. I'm definitely going to watch it this weekend. I've been putting it off because I worried it would be triggering.
In this interview she actually dished about Katherine Hepburn! My mouth was hanging open when she said Katherine was competitive with her and once told author Dominick Dunne that Jane didn't have a soul! I love Jane, and I hope that I can be a lifelong listener and learner like her. I don't know about dudes getting more stubborn as they age though, probably because my dad has always been a good Democrat.
photos credit Harper's Bazaar via Instagram