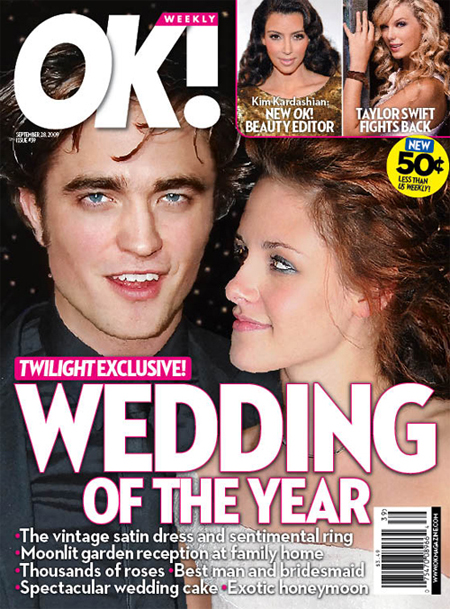 OK! Magazine's cover story this week is "Kristen Stewart and Robert Pattinson's Wedding of the Year". This is the third Kristen and Pattz-related cover OK has done in a row – and it's still really sketchy. The editors are playing into the Twihard delusions that there really is no difference between the characters and the actors. OK!'s blurb of the cover claims the story will give "the intricate details of the upcoming big-screen ceremony, based on imagery in Stephenie Meyer's cult vampire series. And just like in old Hollywood, a real-life wedding might not be far off — so far, Robert Pattinson and Kristen Stewart's relationship has mirrored Edward and Bella's." Oh, for the love of…
Would you like to know some of the details of this "dream wedding"? Here we go: vintage satin dress, sentimental ring, moonlit garden reception at the family home, thousands of roses, best man and bridesmaid, spectacular wedding cake, and an exotic honeymoon. Are we talking about Twilight or the actors? I really, truly have no idea.
When I was looking for something more interesting to write about regarding Pattz and Kristen, I came upon this strange rumor. Did anyone else know that some people were claiming Pattz took steroids to bulk up for the Twilight sequels? Well, it was out there. And Kristen came to her Sparkles' defense, telling reporters that no, there was no Sparkly 'roid rage:
Kristen Stewart has denied claims that Robert Pattinson took steroids for his role in the new Twilight movie.

Fans of the actor have noticed that he appears to have beefed up in the time between the original film and latest instalment New Moon.

Despite suggestions that Pattinson may have used a short-cut in an attempt to improve his physique, his co-star Stewart insisted that his new look is natural.

The star commented: "He's definitely not on steroids."

Asked if the 23-year-old has become hunkier in recent months, she confirmed: "He's jacked. It's absolutely crazy."

New Moon sees Pattinson and Stewart reprising their respective roles as Edward Cullen and Bella Swan.
[From Digital Spy]
Yeah, I don't think Pattz is 'roidy either. I think he's still young, he probably still eats like a teenager, and he's probably still growing. Maybe he was working out too – or maybe his now-infamous sparkly abs were painted-on, like the rumors! Allegedly, a little New Moon on-set gossip was: "Rob had a team of makeup artists working on his stomach to make it appear as if he had a six-pack…They used all their tricks – including liquid body paint, shading and airbrushing – to make his torso look toned. Whenever they stopped filming, Rob would duck back inside to get touched up by the makeup team." So which was it – steroids or makeup?
OK! Cover via CoverAwards