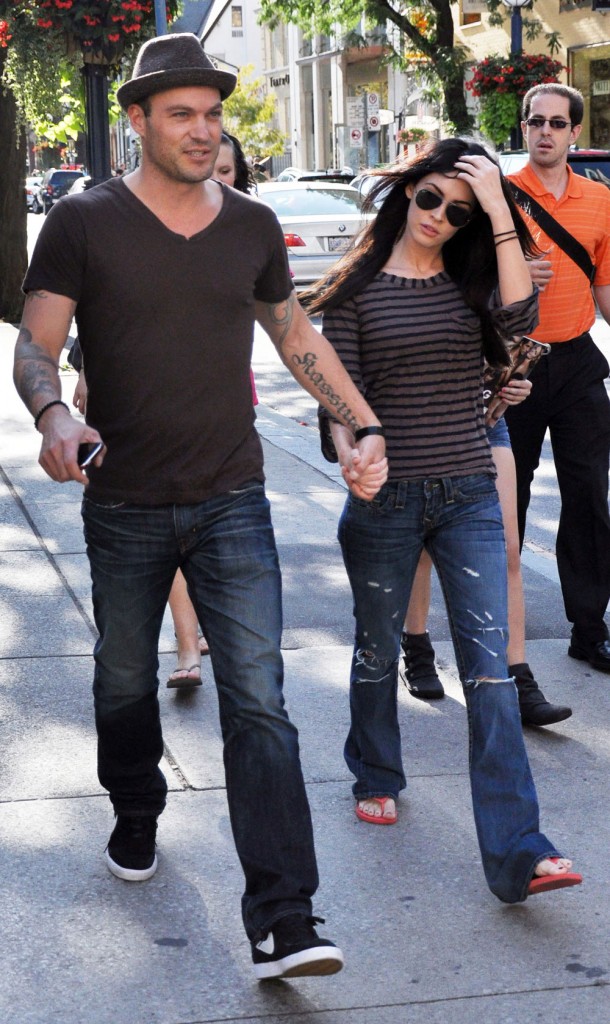 In a recent interview in Rolling Stone Magazine, Megan Fox was talking about her on-again relationship with Brian Austin Green. She confesses to having a "ridiculously bad" temper, and says (via Page Six), "I've had to say to Brian, 'You have to go and stop talking to me, because I'm going to kill you. I'm going to stab you with something, please leave.' I'd never own a gun for that reason. I wouldn't shoot to kill. But I would shoot him in the leg, for sure." I never thought I'd say this, but poor BAG. I don't know how he puts up with her.
In other Megan Fox news, she finally responded to that open letter written by three unnamed Transformers crew members. The letter slammed Megan as an unprofessional Valley girl, and a "thankless, classless, graceless bitch." Not only did she respond, but another crew member wrote another letter defending Megan from their attacks:
Fox herself commented on the drama exclusively to EW. "I have spoken with the parties involved privately," Fox said in a statement, via her publicist. "I am very fortunate to be involved in this amazing franchise and look forward to Transformers 3."

But wait! There's another twist. On Tuesday, yet another letter surfaced, from yet another Transformers crew member. (This one, however, is signed.) Below, printed in full, is production assistant Anthony Steinhart's defense of Fox. He responds to the criticism — both the minutiae and broader strokes — in the original letter.

"First of all, I would like people to know (for those who are interested) the reason why I am writing this letter is to clear my name in any of this Ms. Fox bashing. As someone pointed out in one of the responses, you could narrow down the list of potential writers of the letter by looking on IMDB. I have received a few phone calls from people who have read the letter and they know that I have worked closely with the actors/actresses on the film, so I felt I should at least clear my name."

"My name is Anthony Steinhart and I have worked on both Transformers movies and have had the pleasure of working with Ms. Fox."

"I read the letter by the three unnamed crew people and was blown away by their description of Ms. Fox. Especially, since I am the one usually getting Ms. Fox at her trailer. I have personally never been nor ever witnessed Ms. Fox being rude or inconsiderate of people's feelings or the work to be done. Everyone is entitled to their good days and bad. Contrary to popular belief, she is like us (human) and has both good and bad days as well. Working on the Transformers movies can be intense at times and sometimes intense situations cause intense moments."

"Some of the examples the three unnamed writers give as evidence of Ms. Fox and her horrible attitude are so ridiculous."

"It's unfortunate the grip didn't want to bring his daughter to set because Megan Fox wasn't nice and not the fact that we had a closed to set. No visitors unless approved by the UPM [unit production manager]. That is what the call sheets have always said. By the way, Ms. Fox wished my 12-year-old brother a happy birthday over the phone while we were shooting in New Mexico. Not so heartless…"

"It's also unfortunate that she didn't attend any of the "15" parties, but I clearly remember her hanging out in New Mexico with some of the crew and watching her get hounded by passers-by as she walked through the hotel lobby and being nothing but gracious to her fans. Also isn't it refreshing to hear that she doesn't need to be a part of the party machine that sometimes swallows people whole, only to spit them out on the front page of every magazine. And incidentally, if these crew members were at the wrap party, I only saw 2 cast members there. Granted I wasn't there the whole night, but I was there long enough to know that the others probably weren't going to show."

"I also remember walking with her through the hordes of people lined up, while we shot at Princeton and she signed autograph after autograph. She signed many publicity photos, magazines, pieces of white paper for crew members and their families. Now I know that isn't the same as curing a disease, but if we are to take anything an actor/actress says or does to personally, then I fear we have far greater problems on our hands."

"Unfortunately, I don't always keep up with or hang on to quotes and/or quips "actresses" say, so I wasn't familiar with the incident that incited the tasteless letter, but none-the-less leave the war of words to those involved. No need to drag her name through the mud and at the same time, unknowingly, bring others down."
[From Entertainment Weekly]
Well… I tend to believe in a little from column A and a little from column B. There's no question in my mind that Megan could use some lessons in how to be more professional and gracious, and I'm just judging that from her public statements. As far as her private behavior, or second-hand accounts of how she acts on set, my guess is that she probably isn't as bad as the original open letter would suggest. Bottom line – she needs to grow up, and she needs to have a better understanding of how idiotic and nasty she sounds in interviews. And Michael Bay needs to stop with feeding the beast.
Megan Fox and Brian Austin Green are shown out on 9/5, 9/6 and 9/7/09. Credit: WENN.com