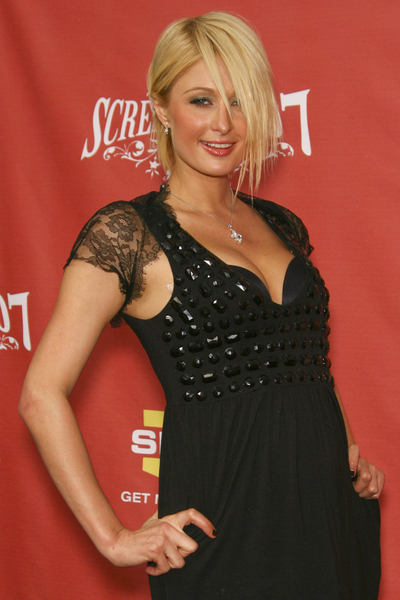 Paris Hilton does some pretty dumb things – listing them would take way more time than I have to write or you have to read. So let's just agree that Paris Hilton is a moron, shake on it, and move on. She's been in Toronto off and on for the last few months shooting "Repo: The Genetic Opera." No I'm not joking even a little bit about the title, that is absolutely what it's called and Paris is in it. While there, she apparently hit up an adult video store – cleverly trying to hide her face by donning a Halloween mask. And then demanding that the employees remove posters promoting her infamous home sex tape "One Night in Paris." Yeah, very smart, because I'm sure some random chic with a Nixon mask would do that, so what in the world would make them think it's Paris?
Employees at a Toronto adult video store allege they had a run-in with Hollywood starlet Paris Hilton.

The hotel heiress, who's in town filming a movie, reportedly walked into the shop (pictured) Wednesday wearing a Halloween mask as a disguise and demanded that posters promoting her infamous sex tape be taken down.

Employees claim that a woman's voice heard on a store surveillance video threatening to call her lawyer and police is Hilton's.

Workers also said a man identifying himself as the socialite's manager came in later telling them to keep the incident quiet threatening legal action.

The owners of the store claim they're negotiating with two American tabloid entertainment shows to acquire the rights to the footage.
[From CityNews]
I really hope they sell the footage. Paris is stupid, but sending her manager in after her? That's what's really stupid. If she hadn't done that, she could always claim it was someone else. She does have a pretty distinct voice and speech pattern (you know, where it kind of sounds like each of her words are bouncing on vacant little clouds) but still – no face, no I.D. But if you send in your manager who identifies himself and you and then threatens to sue the good people of XXX Discount Video over something bad that you did, that's a new level of stupid for both you and said manager. I'm going to go rent a giant hot air balloon and drop copies of your video all over the greater Tri-state region as soon as I'm done here. But I'll be wearing a mask too, so you won't know for sure that it's me.
Picture note by Jaybird: Here's Paris at Spike TV's "Scream 2007" Awards where she introduced a clip from "Repo" and was booed by the audience. Images thanks to PR Photos.