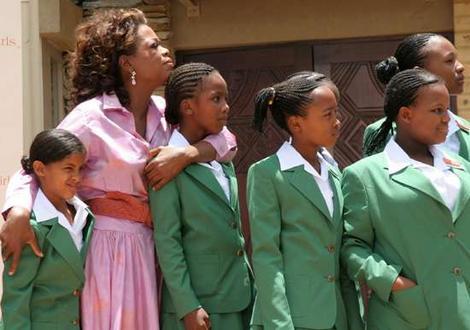 Oprah took a hint from Ellen DeGeneres on Sunday and tearfully apologized to the parents at her South African girls school, the Oprah Winfrey Leadership Academy for Girls. Accusations came to light a few weeks ago that one of the dorm matrons had abused several of the girls – at least one by fondling her. The matron is also accused of screaming at the girls and grabbing one by the throat. One of the girls reported the matron to the CEO of the school, John Samuel, who chose to ignore the allegations. It all came to light when one of the girls (it's not clear if it was the same girl or a different one) ran away from the school because the abuse had gotten so bad. She reported the incidents to her family, which brought it to authorities – and Oprah's – attention.
She wanted only to give underprivileged African girls a chance at a better life. But a tearful Oprah Winfrey begged for forgiveness Sunday from students' parents at her all-girls academy, currently reeling from allegations of abuse.

"I've disappointed you. I'm so sorry. I'm so sorry," the talk-show queen told families in an emergency meeting at the South African school in Henley-on-Klip, south of Johannesburg, the South African news site News24.com reported.

Oprah had canceled all appointments and flew to South Africa twice in the past few weeks after allegations of abuse.

Winfrey, who has spoken openly about being abused as a child, gave the girls her personal telephone number, her e-mail address and her mailing address so that they could contact her around the clock, according to local media.

The Oprah Winfrey Leadership Academy opened in January to provide quality education to underprivileged girls.

Surrounded by high-profile guests including Nelson Mandela, Oprah described the day the $46 million school opened as "the proudest, greatest day of my life and a dream come true."
[From People]
I would guess that Oprah feels especially terrible since she's an abuse survivor. From a previous article, it seems this past trip to South Africa is actually Oprah's third – not her second – in recent weeks. It seems like she's taking the whole thing very seriously, and has suspended the CEO (and the matron of course). It's hard to be completely hands-on when the school is on the other side of the world, but hopefully Oprah will figure out a way to make sure employees are monitored much closer. I would assume any boarding school would need to be extra careful about that, since children don't see their families as often and employees have much greater access to innocent kids.