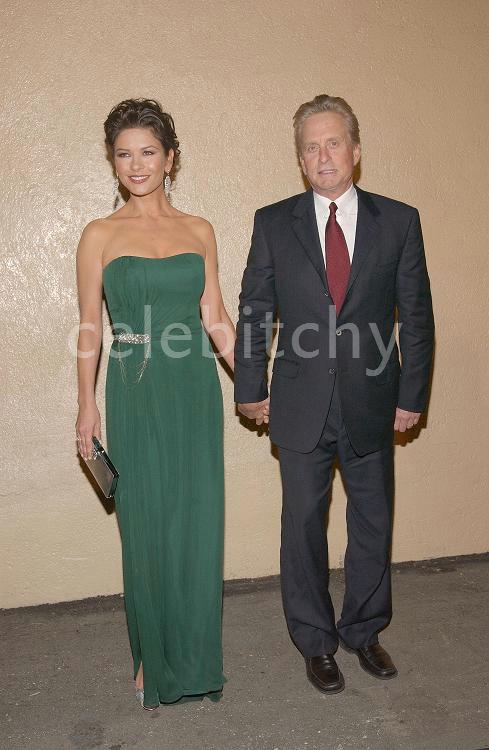 One of the downsides of celebrity is everyone not just noticing but also commenting on your every little pound. Add a few and you're pregnant or fat (sometimes both depending on the article). Drop a few and you're anorexic. It seems Catherine Zeta-Jones has dropped a few from her normally slightly curvy frame, and everyone's making a thing out of it. I say "slightly curvy" meaning she wasn't one of those pin-thin-without-boobs-or-ass actresses, not as a euphemism for fat.
Catherine Zeta-Jones is brushing off questions about her recent weight loss, saying she's merely exercising and eating well to keep her svelte figure.

The actress told PEOPLE she laughed when her husband, Michael Douglas, informed her that reports had surfaced suggesting she had an eating disorder. "Michael was laughing at me. He told me what [people had] said – that stories say I'm anorexic. Do I look anorexic?" she told PEOPLE Saturday at the Savannah Film Festival. "How could I ever, ever be anorexic?"

The actress, who joined her husband and their two children, Dylan, 7, and Carys, 4, at the Savannah College of Art and Design's 10th Annual Savannah Film Festival where Douglas was given a Lifetime Achievement Award for acting, said that her eating habits have simply changed a little.

In the past she was a "bread girl," she said, adding, "I looooove bread."
 But these days, "I'm just working out and not chomping down what I usually chomp down."

Zeta-Jones, wearing a black strapless dress at a festival afterparty, said she's concerned about the attention on women's weight. "There are many women [who are] maybe a little fragile, and it becomes a huge issue."
[From People]
Catherine Zeta-Jones has an amazing body and she definitely doesn't look anorexic to me. Though Nicole Richie could have said that halfway through her weight loss and I would have believed her too. Losing weight certainly doesn't indicate an eating disorder in and of itself, especially if that weight loss is due to healthier eating habits. It just gives us something to speculate about. Now if the bones of her back are all visible in a few months, then there's something to talk about. I feel badly though – women always feel like they're under the microscope in terms of their weight – I can only imagine how frustrating it would be to try to be healthier, and then have papers writing that you're sick.
Picture note by Jaybird: Here's Catherine at the "No Reservations" New York Movie Premiere on July 25th. Images thanks to PR Photos. Header image from the third annual 'A Fine Romance' benefit on October 10th. She's definitely lost a little weight, but nothing dramatic.