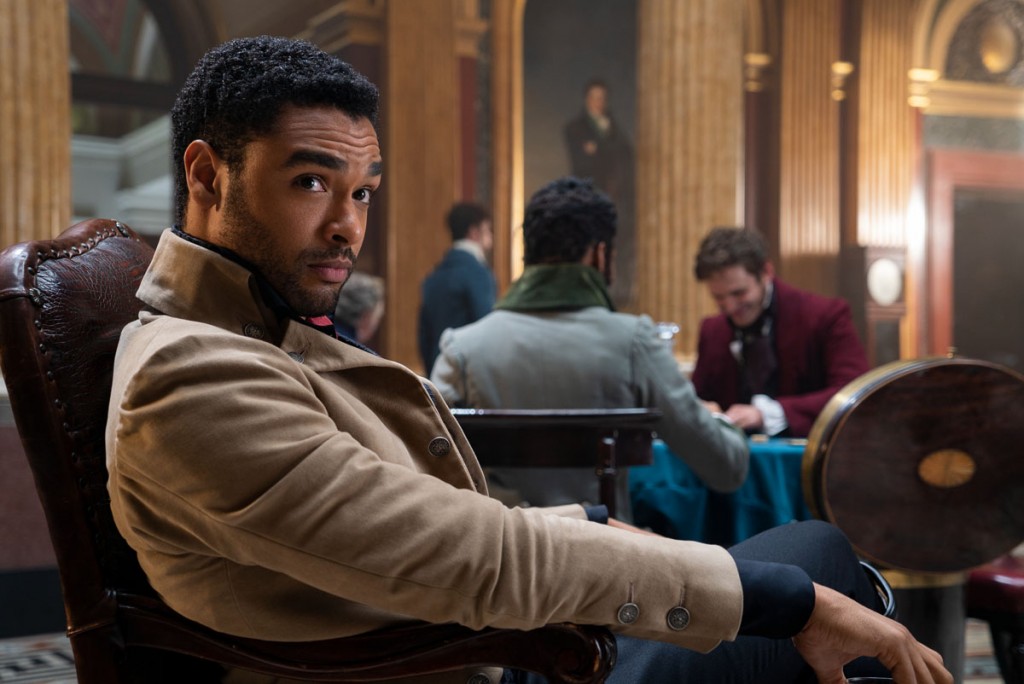 Dear Readers, this weekend was a sad one. It was formally announced on the Bridgerton Instagram page that our dear Duke of Hastings, Simon Bassett, will not be returning for season two (throws self dramatically into a chair and cries). Rege-Jean was the main draw of the show for many of us and his sex appeal is what kept us watching. Most of the other cast (read: the Bridgerton brothers) were a snooze fest. Supposedly Rege-Jean signed up to play the Duke because he knew the role was a one and done situation. Rege said he came in, played his part, and now it is time for him to exit stage left. Rege-Jean talked to Variety about his departure.
News of the duke's departure will likely not come as a surprise to fans of the Julia Quinn novels on which the series is based, as the character's storyline largely plays out in the first book "The Duke and I." And the news certainly did not come as a shock to the star.

In fact, the short-term commitment was a big part of the role's appeal, Page tells Variety exclusively.

"It's a one-season arc. It's going to have a beginning, middle, end – give us a year," Page says, recounting early conversations with Shondaland producers, who approached him about the role of Simon after "For the People" wrapped up. "[I thought] 'That's interesting,' because then it felt like a limited series. I get to come in, I get to contribute my bit and then the Bridgerton family rolls on."

The British-Zimbabwean star adds that he relished the idea that "Bridgerton" is essentially an anthology, with each book (and subsequently season) dedicated to a different sibling's love story.

"One of the things that is different about this [romance] genre is that the audience knows the arc completes," he explains. "They come in knowing that, so you can tie people in emotional knots because they have that reassurance that we're going to come out and we're going to have the marriage and the baby."

As such, the dashing duke's on-screen storyline wraps up with Simon and Daphne solidifying their love story (and the duke exorcising his own daddy issues) with the birth of their first child, a son. Off screen, Page's time in the Regency era has concluded similarly, as the actor was only contracted for one season of the show.

"I have nothing but excitement for 'Bridgerton' continuing to steam train off and conquer the globe," he says. "But there is also value in completing these arcs and sticking the landing."
Say it isn't so! Why did Rege-Jean and Shonda have to break my heart this way? Who is going to ignite my inner middle-aged thotiana? Now I am wondering if I will even watch season 2. But honestly I know I will because I want to support the South Asian cast. Netflix also announced four new actors that have been cast for the show and two of the four are South Asian. I am all about giving Hollywood and streaming services an incentive to make their casts more diverse.
I hope that the writers of Bridgerton will be able to recreate the chemistry they had with Daphne and Simon with Kate and Anthony because I need the fire to leap off the screen. I will mourn the exit of the Duke. But I can't be mad at Rege-Jean for wanting to move on. It would seem that despite the fact that Rege has starred in several successful projects (Roots remake, Sylvie's Love and For the People) playing the Duke has jump started his career. Now Rege is signed on to some big budget projects such as Dungeons and Dragons and Netflix's The Gray Man. I am looking forward to seeing where his career is going. And in five years or so I would love for Rege to take on the mantle of James Bond or perhaps get a role in the Marvelverse. As long as I can get my Rege Jean fix, I believe I'll be just fine without Rege in Bridgerton.
Bridgerton has added four actors to Season 2:

Charithra Chandran will play Edwina Sharma, Kate's younger sister and Shelley Conn will play Mary Sharma, Kate's mother.

Also say hello to Calam Lynch who will play Theo Sharpe and Rupert Young who will play Jack. pic.twitter.com/yVvgHYJ2AF

— Netflix (@netflix) April 5, 2021
photos credit: Netflix/Liam Daniel and Getty