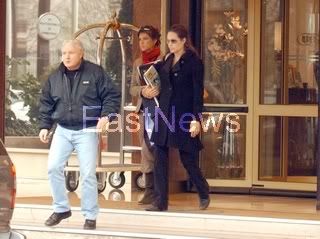 Another day brings more non-stories about the Jolie-Pitts. The latest:
Jolie and Pitt are already married. Yes, we've heard this one before, but this time the incoherent Ted Casablanca is reporting it and attributes the news to a "supertight source."
Pitt is having second thoughts about marrying/having married Angelina Jolie. He's tired of living in Paris and is annoyed at Jolie's late-pregnancy moodiness. This is not a very meaty story, and contains information that is could be easily made up based on the couple's situation and recent pictures of Pitt.
Star says that Pitt is begging Anglina to slow down and quit flying in the last months of her pregnancy. This is not surprising, but it seems to have a ring of truth:

"Brad has point blank begged Angelina to stop flying planes, solo or otherwise," the source says. "But at this point he realizes there is nothing he can do- she will do whatever she wants." Another source tells Star, "Brad says he's confused."

"Hopping around Europe in private planes is fun but it's the last thing he imagined he'd be doing in the weeks leading up to the baby's birth."

"He's had to tell Angelina to slow down."

There haven't been any photos of Angelina flying this week, so maybe Brad's requests were taken seriously by the world's sexiest pregnant woman.

We're sure that more news about Pitt and Jolie will be published tomorrow.

Here is Angelina leaving her hotel in Paris on 3/21.

Pictures [via]

Two more after the jump.