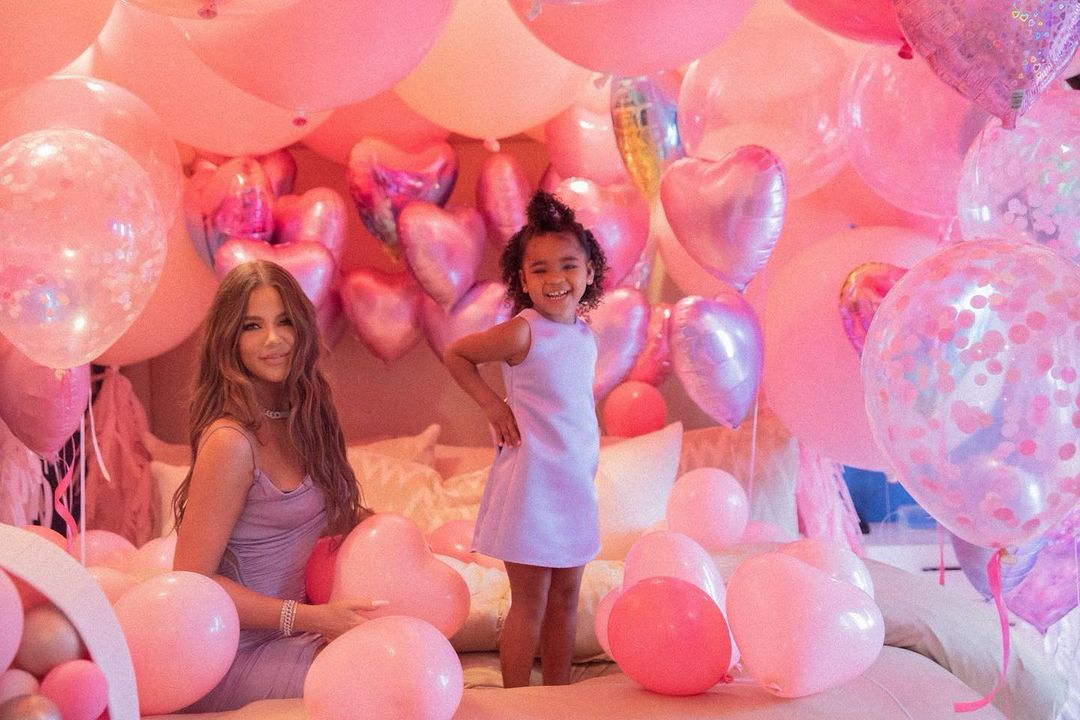 Feels like it was just yesterday when Khloe Kardashian was giving birth to True Thompson in Cleveland amid a huge scandal where Tristan had been outed as a serial cheater. That was three years ago! And it was awful, but at least Khloe has a healthy and happy child. True turned three years old yesterday, and of course Khloe had to throw her a big pastel party, complete with Disney princesses. Khloe arranged for Tiana, Anna and Elsa to come to the party in their princess costumes, all while wearing masks. Khloe also spent a fortune on balloons for some reason.
True Thompson rang in her third year in true Kardashian style! The famous toddler's mom Khloé Kardashian shared a behind-the-scenes look into True's birthday party, which the reality star revealed was "cousins only" due to the ongoing COVID-19 pandemic. But a small guest list didn't stop Kardashian, 36, from throwing an extravagant celebration for her only daughter.

On her Instagram Stories Monday, Kardashian revealed that the festivities featured a giant purple bounce house, cookie decorating and three very special guests — Disney princesses Tiana, Anna and Elsa from Princess and the Frog and Frozen, respectively. The princesses (who wore masks) greeted guests in full costume.

"Happy birthday, True!" Elsa says as Kardashian walks through the doors and into a balloon-filled hallway in a video shared on her Stories. "Thank you ladies!" Kardashian says, adding, "just for cousins only, but we still have to decorate."

A cover of "Girls Just Want to Have Fun" plays as Kardashian walks outside, showing off even more pastel-colored balloons and tables in pink tablecloths adorned with flowers.
I always complain about the Kardashian-Jenners' extravagant parties, especially for children who won't even remember the sh-t. So… yeah, this was wasteful and stupid, especially in a pandemic, even if it's "cousins only." I'll say something nice though – Khloe arranged for craft tables and the cousins basically made cookies and got to paint and be kids and run around. That's kind of nice – I mean, at least Khloe didn't rent out some stadium to celebrate a child's birthday. She just went way over-the-top with a crafting birthday party at home.
Photos courtesy of Khloe's IG and Kris's IG.