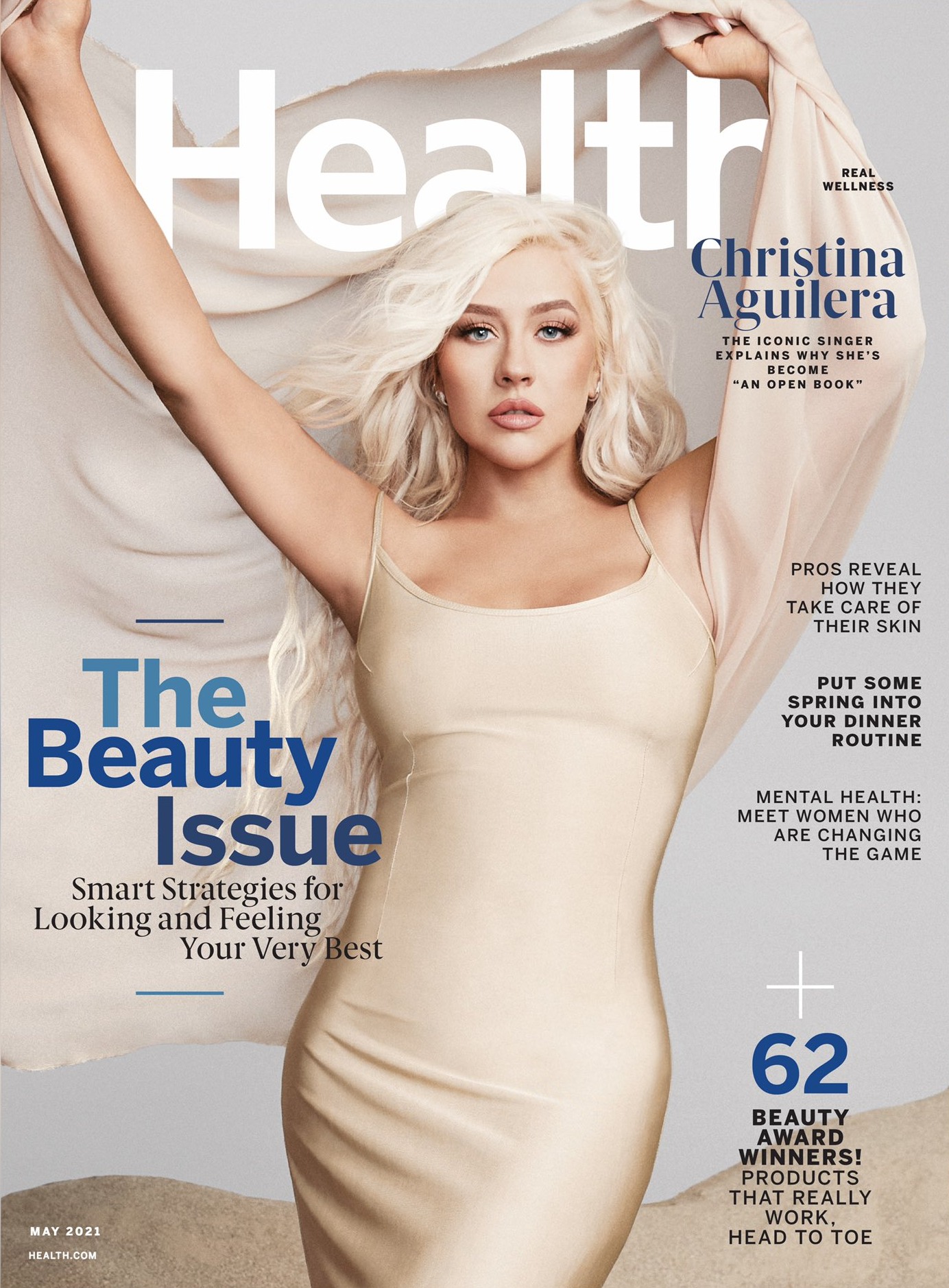 I haven't thought about Christina Aguilera in a while, and I'm so pleased to see that she seems to be happy and healthy at the moment. She covers the latest issue of Health Magazine, and the photoshoot is lovely and flattering. Christina turned 40 years old last December, and her son Max is already 13 years old! Her daughter Summer is 6. Christina chatted with Health about body image and beauty, the pandemic year and a lot more – you can read the full piece here. Some highlights:
The pandemic: "I'd been on the road pounding the pavement for a year and a half. My Vegas residency was wrapping up for a bit right when everything shut down. Before that, I had been bouncing back and forth [touring] in Europe, Mexico, and Vegas. I had taken the kids with me. I'd hit the stage, then come back to the hotel. If the kids were still awake, I'd read them a book after coming off an exhilarating show and then try to wind down before traveling the next day. I felt like a Ping-Pong ball. Then, I was going to be working on new music. So I needed the clock to stop—which is what happened. Some amazing things came to fruition for me.

Taking some time to reflect: "It was a great time to be hunkered down in my house with my kids. I really got a moment to do little things, like be in my backyard, read books that had been on my to-read list, and go through my old diaries. I have this massive trunk of old diaries that I've literally kept from the past 20 years of my life. I was able to catch up on them and do some self-reflecting. It really forced me to be silent and take a look at myself… That grind is praised, but I think we're all understanding that having moments to self-reflect and just breathe are crucial. I've been working since I was 7 years old. When I'm not working, there's a heavy amount of guilt that I feel. It's been embedded in me since I was little—you're shamed if you don't want to keep up. As a child [entertainer], you're all pitted against one another, and other children are all about that grind too. It's a weird space to grow up in."

How the industry has changed: "When I was first becoming successful, there was a different mentality in terms of what was accepted or not accepted by the press and tabloids. There was no social media, so you didn't have an outlet to speak out on your own. You had to rely on journalists and how they reported on you. A lot of times, I'd read something and say, "Wait, I didn't say it that way." I'd feel betrayed. I was still at an age where I was understanding myself and life. Media, at the time, was also big on pitting women against each other. And there was a bullying mentality going on in the tabloids. It's tough to look back on.

Whether she always felt secure about her body: "I think we all have our good days and our bad days in how we feel about ourselves. Entering this business, I hated being super skinny. Once I turned 21, I started filling out a little bit, and I was loving my new curves. I appreciated having a booty. I've always said that women are way more interesting to look at than men! I have a hard time looking at the early pictures of myself because I remember feeling so insecure. I would never want to relive my 20s—you're so in your own head and finding your confidence. As you age, you stop comparing yourself to other people and start appreciating your own body and owning it.

Her favorite beauty rituals: "I find so much joy in the cleansing process—stripping away all the makeup so it's just clean skin with some moisturizer, and putting a little feel-good spritzer on my face. And I love a beautiful hot bubble bath with all of my ingredients and oils! I really make it like a nourishing soup in there.
There's been so much talk about Britney Spears and how the media treated her and the bad energy around her, but Christina was right there too. Maybe Christina didn't have that kind of "breakdown," but Christina definitely chafed under the demands of the bubble-gum pop music industry and she was absolutely put through the wringer. As for hating being "super-skinny" – she was probably on a diet from a young age (as a child performer) and "filling out" was her way of reclaiming herself. God, I remember how Christina's body and look was dissected back then and she was what? Just 19, 20, 21. As for what she says about the pandemic and the time off… I mean, she doesn't have to say "oh, terrible circumstances, sorry that so many people died," but damn, she really made it sound like she was living in paradise.
Cover & photos courtesy of Health.