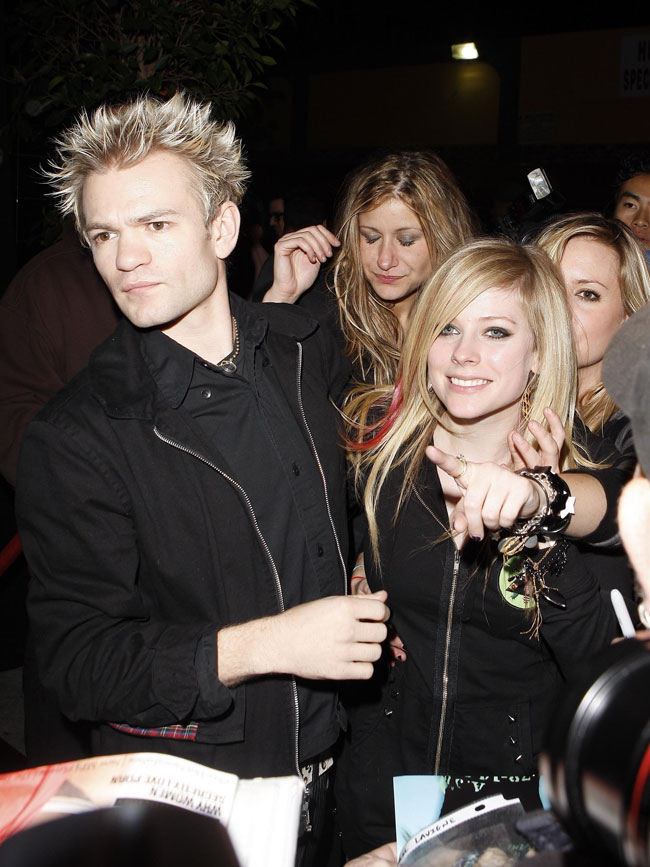 Us Weekly is reporting that Avril Lavigne and Deryck Whibley are ending their three-year marriage. A source tells Us Weekly, "She dumped him and told him she was leaving him. She wants to move on." The source goes on to say that 25-year-old Avril has asked ("forced") Deryck to leave their lavish Bel Air home, and added "Divorce papers will be filed any day now." Another source told Us Weekly that 29-year-old Deryck is "is crushed." So far, neither Avril nor Deryck have confirmed the news, but I think it's probably true.
Part of the reason I think it's true is because Avril has been acting like a single girl for the better part of a year. She goes to lots of parties in New York and Los Angeles, gets drunk with Brandon "Greasy Bear" Davis, and seems to have spent most of August in a drunken haze in the Hamptons. Less than a month ago, Gatecrasher printed some good gossip that Avril was looking "anything but married" at a series of Hamptons hotspots, perhaps even hooking up with a series of interchangeable guys who didn't mind her snotty attitude and puke breath.
In another interesting note, the National Enquirer had now-prescient story up a few days ago about Deryck "begging" Avril to just stop partying and just settle down, have a baby, and work on their very troubled marriage. Here's the Enquirer's report:
"If you love me, you'll have my baby!"

Avril Lavigne's long-suffering husband, rocker Deryck Whibley, begged his wife to have a child with him to save their crumbling marriage – but the "Complicated" singer balked at the suggestion and set off on a new party path that's driving them even fur­ther apart, say sources.

"I think Avril and Deryck are now just a di­vorce waiting to happen," a long­time friend told The ENQUIRER. "The poor guy thought a baby would bring them back together. He's crazy in love with her. But Avril wants less responsibility, not more.It is as if she's ready to pull the plug on their life together. She acts like she just wants to be free."

The punk-rock couple, who married in 2006, seemed to be living separate lives for much of the last year. Deryck asked her to meet with him last month at their Los Angeles home in an attempt to work things out.

Although Deryck was in tears during the face-to-face, Avril was unmoved, says the friend.

The 24-year-old singer has been raising eyebrows with her cozy friendships with other men, such as troubled oil heir Brandon Davis and Dole Food heir Justin Murdock.

On Aug. 22, she was spotted at a Hamptons, N.Y. restaurant flirting with male admirers. She later partied like a single woman at Axe Lounge.

" She's breaking Deryck's heart," the friend confided. "He told Avril, 'I want a family. We belong together.'

But Avril immediately pulled away from him and has been partying ever since."

Despite his wife's strong rejection, Deryck still believes they can

"He's told Avril how he feels," added the friend. "The rest is up to her."
[From the National Enquirer]
Yeah, I really think Avril wants out, and has wanted out for a while. She's doesn't give a crap about Deryck or her marriage. I feel for Deryck… just a little bit. While I'm sure he's a tool too, I pity anyone whose had to put up with her for any length of time. Oh – and I'm pretty sure she'll be in rehab at some point very soon. I think this girl's issues aren't just emotional. I'd bet she's got some alcohol and drug abuse going on too.
Avril and Deryck are shown out on 12/5/08. Credit: WENN.com