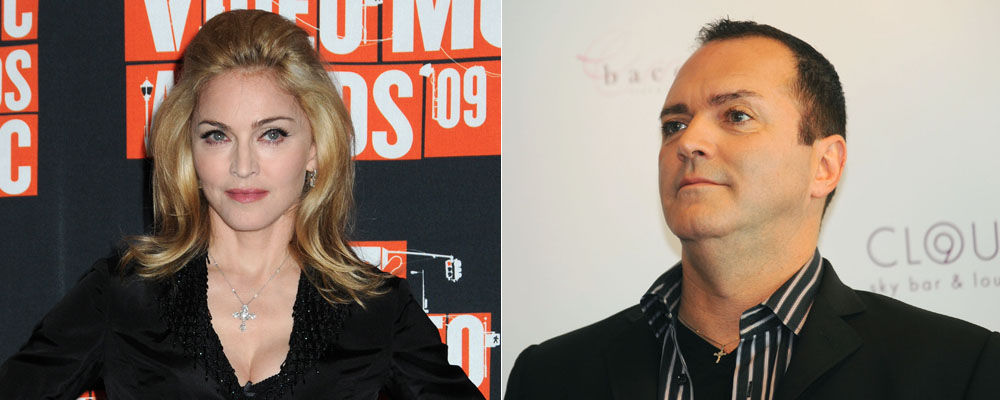 Madonna's brother Chris Ciccone was interviewed by E! News and asked about his sister Madonna's appearance at the MTV VMAs this weekend. Chris didn't hold back, but it took him a while to get into his stride. His first response was to say that Madonna looked like "Rachel Zoe gone horribly wrong," as if Zoe ever gets it right and it wasn't enough of an insult to compare his sister to her. I've seen Zoe's hair a little puffy but never that big. Then he really got bitchy and said "Jesus may be able to turn water into wine, but your basic blow dryer eludes him." That's a pretty decent one. Keep 'em coming, Chris!
The pop icon's estranged sibling Christopher Ciccone, whom she hasn't been on voguing terms with since before he spilled some dirty beans in his 2008 memoir Life With My Sister, apparently doesn't think much of his sister's look lately.

"She looked like Rachel Zoe gone horribly wrong!" Ciccone told E! News, possibly referring to the satiny, zipped-up visage outfit Madonna was sporting Sunday night at the 2009 MTV Video Music Awards.

"It proves the point that you can judge a person by the company they keep— or don't keep," Ciccone jabbed, referring to his sis' significantly younger other, Jesus Luz.

"It's painfully apparent that Jesus may be able to turn water into wine, but your basic blow dryer eludes him."

Oh, snap. So is Ciccone implying that Madonna's rosy glow is more manmade than au naturel?
[From E! Online]
My favorite comment about Madonna's hair came from Michael K at D-Listed who said that "I really have to give her a slow clap for bumping up her hair with BUMPITS." I spent like a half hour on the bumpits website after that and seriously considered ordering that sh*t, even though I've never been compelled to style my hair high. It's like I could if I wanted to, though, and the bumpits girls made me feel like I would somehow be more powerful with a big 'ol head of hair.
Last year while promoting his book Life With My Sister Madonna Chris didn't trash his sister exactly but he didn't spare her, either. He said in an interview on Good Morning America that Madonna used Kabbalah like a weapon and was a controlling person who lived a "kind of choreographed mythological life." Later, when Madonna's marriage was over he told German newspaper The Bild that Madonna's involvement in Kabbalah hastened the end of her marriage.
Madonna is shown on 9/13/09. Chris is shown on 9/25/08. Credit: WENN.com