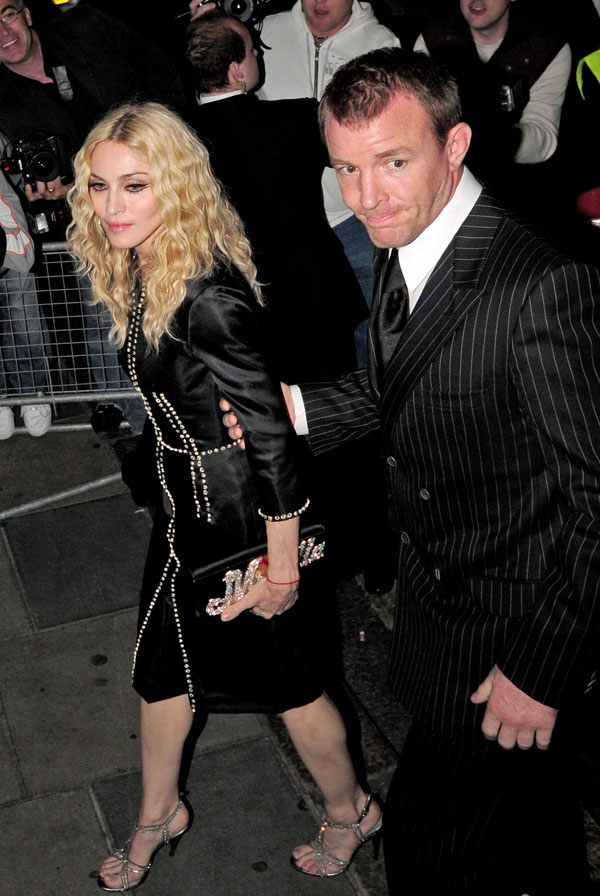 Madonna's brother Chris Ciccone says he knows what split up his sister and her second husband and it's all down to the Kabbalah cult. Ciccone, 48, spoke to our friends at the Bild and said that he's sure Madonna's slavish devotion to the cult hastened the end of her marriage. Ciccone has admitted that his relationship with his sister essentially ended when she got together with Guy Ritchie, who he claims doesn't like gay people.
Madonna's brother told Good Morning America three months ago when promoting his new biography of the star that she uses Kabbalah like a weapon to justify her bad behavior. Now he says that it was Kabbalah that ended her marriage of nearly eight years, and he's sure of it. He also got some digs in at Ritchie for being a "yes" man and not challenging his sister, something that likely helped their marriage last as long as it did:
BILD: Why has your sister's marriage come to an end?
Christopher Ciccone: The Kabbalah sect*, to which Madonna is completely devoted, played a large role in this marriage. It was based on it. And that is not enough on which to base a marriage and it couldn't have survived.

BILD: Is there any chance of reconciliation?
Ciccone: No, I really don't think so. With two such ambitious and headstrong personalities, it would just be too hard.

BILD: How do you get along with your brother-in-law, Guy Ritchie?
Ciccone: Guy is not the easiest guy to get along with. We don't really see eye to eye.

BILD: What was it about him that your sister loved?
Ciccone: I really have no idea. I suppose I could have tried to stop her. But I always wanted to welcome those people whom Madonna let into her life. Whether it was Warren Beatty, Sean Penn or Carlos Leon. They were and are good friends of mine. Guy was the first who couldn't bear how close Madonna and I were. He has a problem with gays.

BILD: That must have been a difficult situation. How did your sister deal with it?
Ciccone: It wasn't easy and it was so high-profile, everything happened in public.

BILD: How did Ritchie influence your sister?
Ciccone: Well, the fact is, her new album is not innovative. She didn't take risks with it like she's done in the past. And the tour is a bit of a disappointment. It's isn't Guy's fault directly. But previously her creativity came from conflict, if we fought, we sparked off each other too. Then she wanted to be with Guy, who always just says 'yes' and didn't challenge her and support her.
[From Bild.de]
How would Ciccone know what ended his sister's marriage unless he's still in touch with her? It sounds like pure speculation on his part, although it's possible she wasn't as shocked by his biography as she claimed and had really ghost written parts of it, as was reported at the time.
As more stories come out about the end of Madonna and Guy Ritchie's marriage it really seems like Guy is behind the stories leaked to People and that Madonna's camp is talking to The Sun. Earlier today MSat reported on a story that Madonna knew her marriage was over when Ritchie failed to show the empathy and support she expected after she broke some bones falling off a horse. At that time, People reported that Ritchie was "relieved" the marriage was over because he "doesn't have to fake it anymore."
Now People has a new story that sounds straight from Ritchie's camp and details the multiple reasons their relationship didn't work. Kabbalah is just one of many incompatibilities and problems, and they're said to have been drifting apart for some time. The way they phrase it is typical of something a "guy" would say, like he's over it already.
"It wasn't just one thing," explains the Ritchie source. "They just lost their connection."

Though Madonna, 50, released a statement over the summer denying a romance with Rodriguez, the singer's pal says their relationship did contribute to the trouble.

"He was a factor in a long list of problems that they had been having over the past year or two," says her friend. "But it wasn't the reason. If she wanted to move past that she would have, and Guy would have too."

The couple certainly differed on their devotion to Kabbalah: "Guy was never into the Kabbalah thing, but Madonna knew that," says the Ritchie source. Over the years (and as recently as this summer) Ritchie, 40, often attended services with his wife and kids, but in an August interview with the magazine supplement of the U.K.'s Observer, the director said he wouldn't describe himself as a follower of the mystical Jewish teachings.

"I like to think I'm an objective guy," said Ritchie. "I have sympathies with many philosophies, and I think it'd be a mistake to be a follower of anything, really."

Ritchie also didn't always want to be a part of Madonna's high-profile world. "She would try to get him to come to things, and he resisted," says the Ritchie source. "She was more about being a celebrity and he was more low key. He wanted to live in London and live a normal life but that's impossible when you're married to Madonna."

Madonna's pal agrees. "She was always first when it came to her husband or herself, and that really took a toll on Guy. There was only so much he could put up with."

As devoted as they both are to children Lourdes, 12, Rocco, 8, and David, 3, according to the Ritchie source, Madonna's decision to adopt David from Malawi was met by some resistance from her husband.

"From what I understand Guy really didn't want to adopt David," says the source. "He felt like they should focus on their marriage because they were having problems then, too. But Madonna insisted. And what Madonna wants, Madonna gets."

Because of the long history of problems, the Ritchie source says both sides have come to terms with the split: "They've both cried and dried their eyes. They're over it. They've had time to come to grips."
[From People]
Madonna will move on and maybe Guy will reclaim his career with the latest film he's directing, Sherlock Holmes. It seems a little more than coincidental that once Guy was getting back on his feet again their relationship finally ended.
Madonna and Guy are shown in the header on 9/1/08 at the Rock N Rolla after party and below on Guy's 40th birthday on 9/10/08. Credit: Bauergriffinonline