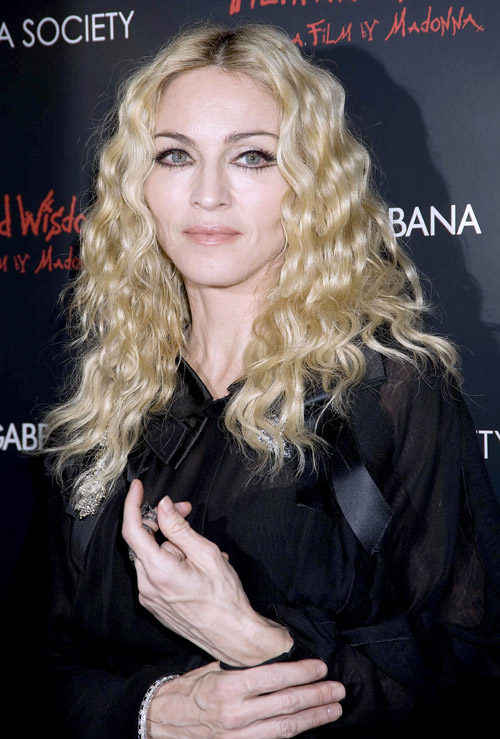 Madonna at the premiere of her short film, "Filth and Wisdom," October 2008. Photo credit: WENN.
More juicy tidbits from "confidantes" on either side of the Madonna/Guy Ritchie divorce just keep flowing. You have to wonder – isn't the first criteria of being someone's confidante the ability to keep one's mouth shut? Anyway, it seems like forces within both camps are doing some heavy duty spin patrol, trying to make both of them look like the wronged party. Conventional wisdom leads me to believe that just like most couples, it's somewhere in the middle.
On Team Ritchie, his pals told People the the director is relieved that the facade is finally over, so he can get on with his life and focus on his children and his new film.
Guy Ritchie is "doing fine" since news of his impending divorce with Madonna hit the news, a pal tells PEOPLE.

"[The divorce] is news to you and everyone else, but for Guy this has been a long time coming," the friend adds. "I think he's sort of relieved that it's all out there. He doesn't have to fake it anymore."

As Madonna, 50, was back on stage in Boston, Ritchie, 40, spent Wednesday filming his movie Sherlock Holmes outside London.

Ritchie is "very excited about his film, and he's focused on that and getting on with it," says the pal. "For him, everything is really the same as before, only with more photographers. Yesterday was insane."
As for Madonna, a "close friend" revealed to The Sun that the singer knew her marriage was over after her highly publicized fall from a horse on her birthday three years ago. Apparently, Guy's ambivalence toward her injuries sustained was so upsetting, their relationship was never the same.
MADONNA'S marriage began sliding towards divorce after her hubby's "unsympathetic" reaction when she tumbled from a horse, friends say.

The agonised Queen of Pop felt GUY RITCHIE showed a "complete lack of love and sympathy" after she snapped eight bones in the horror fall.

The incident reared its head again during recent arguments – and a close confidante told The Sun how Madge spat at Guy: "Did you ever actually love me?"

Sources say the aftershocks from the 2005 accident sparked the rows that ended their 7½year marriage and saw the pair confirm The Sun's exclusive that they will divorce.

A close family friend said yesterday: "From the moment Madonna fell from that horse, their marriage was doomed.

"If you can pinpoint an exact event or incident which spelled the death knell for them as a couple, Madonna's horse-riding accident was it. Every other row the couple had following that boiled down to what happened that summer."

The family friend said: "Madonna was in a huge amount of pain and expected Guy to drop everything to be at her bedside.

"In her mind that is what every husband should do to support his wife when she has been through a traumatic, possibly life-threatening, experience. But Guy approached the whole thing in what she now calls, 'A very British way'.

"Instead of smothering her with sympathy he said, 'Come on darling, you're a tough bird. You'll be back on the horse in no time'.

"Guy's approach was that a few broken bones is no big deal – and that there was no point in making a drama out of a crisis.

"But in Madonna's mind, she could have been killed, and she wanted the full works and to be lavished with love and attention.

"She was so furious at what she saw as Guy's lack of support and cruelty that she told him she was wrong to marry him as he couldn't possibly be her soulmate." Madonna told after the fall how her "whole skeleton collapsed" – admitting: "I cried a lot, mostly from pain."
Somehow, I can't see Madonna responding well to being coddled by her man, but maybe that's because of the tough-as-nails persona she has built for herself over the decades. But I do understand the description of that certain moment in a marriage when you suddenly realize that the other person is either wrong for you, or not putting their all into the relationship anymore. For me, it was when my ex forgot my birthday. We'd been together for 8 years and he'd never needed so much as a reminder- but that year, he completely forgot it. I knew then it was the beginning of the end. It's a terrible feeling! Oh well – at least these two don't have to pretend anymore. Not that Madonna was all that convincing anyway.
Photos of Guy Ritchie on the set of his new Sherlock Holmes movie this week, courtesy of Bauergriffin. Photos of Madonna and Guy at the premiere of his film RocknRolla in September provided by WENN.