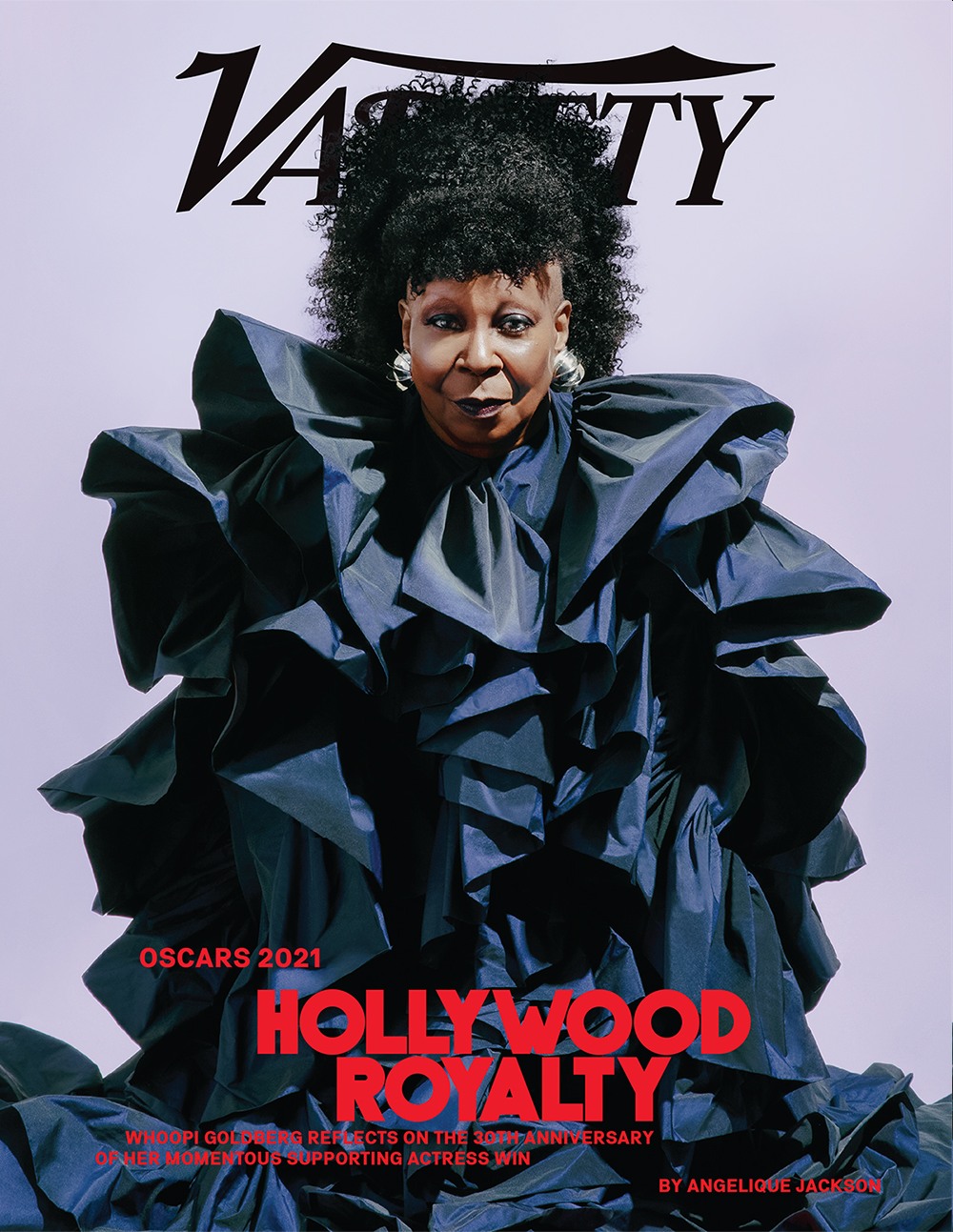 This year is the 35th anniversary of Whoopi Goldberg winning the Best Supporting Actress Oscar for Ghost. She was, at that time, only the second Black woman to win an Oscar after Hattie McDaniel. To celebrate the anniversary, Variety put Whoopi on the cover and had her reminisce about the Oscar ceremony, scoring the part of Oda Mae in Ghost and race and racism. I went into this interview thinking it would be funny and full of vintage gossip, but it's actually pretty bittersweet, especially when she talks about her dear friends Patrick Swayze and Robin Williams, both of whom were two of her biggest supporters. You can read the full piece here. Some highlights:
On her Oscar look the year she won: "I looked really good. My hair was cool. Dress was cute." Goldberg chose a black sequined column gown from veteran costume designer Nolan Miller (with whom she'd worked on 1991's "Soapdish" and who designed clothes for her mentor Elizabeth Taylor): "I couldn't look glamorous like other people look glamorous. I wasn't thin and I wasn't a white lady, so I had to find my own style."

While she knew she was the Oscar favorite, she knew anything could happen: "I didn't want to jinx it. I just thought, 'You've got to go in this without any expectations, and whatever happens, happens.'"

How she got the role: As Goldberg tells it, practically every Black woman in Hollywood (including Tina Turner and Patti LaBelle) was considered for the part, but Swayze fought for her to get it. The actor and Zucker flew to Alabama, where Goldberg was filming "The Long Walk Home" with Sissy Spacek, so they could read together. Goldberg and Swayze had immediate chemistry, she says: "He and I just took to each other." Zucker was charmed as well. During the audition, Goldberg really sold it. "Particularly with the comic lines, she hit it out of the park," he recalls.

She didn't know Ghost would be a huge hit: "We weren't sure what the hell we were shooting," Goldberg says. On set, she and Swayze joked that the movie might be "the dopiest thing we've ever done… I don't think any of us thought it would have this sort of impact. And then the box office numbers started coming in, and everybody was like, 'Do we have back end on this movie? Because I'd like some.'"

She took her fellow supporting actress nominees out to dinner: She did take her group of nominees — Annette Bening ("The Grifters"), Lorraine Bracco ("Goodfellas"), Diane Ladd ("Wild at Heart") and Mary McDonnell ("Dances With Wolves") — to dinner afterward. She also had chocolate Oscar statuettes made that she presented to them. "We all did really good work," Goldberg says. "Any one of us could've taken it, and I don't think anybody would've been mad at anybody else. Sometimes you look at actors and you know, 'Oh, he's mad,' but with us, it was just 'Whoever wins is paying, that's all I know. Free food.'"

On Billy Crystal as Oscar host: "It was like two of my brothers were there — Billy and my brother Clyde. It would've been brilliant if Robin [Williams, her other "Comic Relief" co-host] had been in the audience. Then the three most important men in my life would have been there. But he was watching."

Being able to see Halle Berry win the Oscar in 2002: "It was kind of wonderful. I had a little tear in my eye, because I always wished it would be me. But you can't always get what you want; sometimes you get what you need."
Gah, I didn't know that the Soapdish costume designer made her Oscar dress! I friggin' love Soapdish, one of the funniest comedies ever, and so underrated. As for this interview… I know Whoopi sometimes says some bad or dumb sh-t on The View, but I've always loved her and she'll always be an iconoclast and a badass. I would love to hear more about her relationship with Patrick Swayze too, I totally forgot that they were such good friends and that he really pushed for her to be cast in Ghost.
Cover and IG courtesy of Variety.