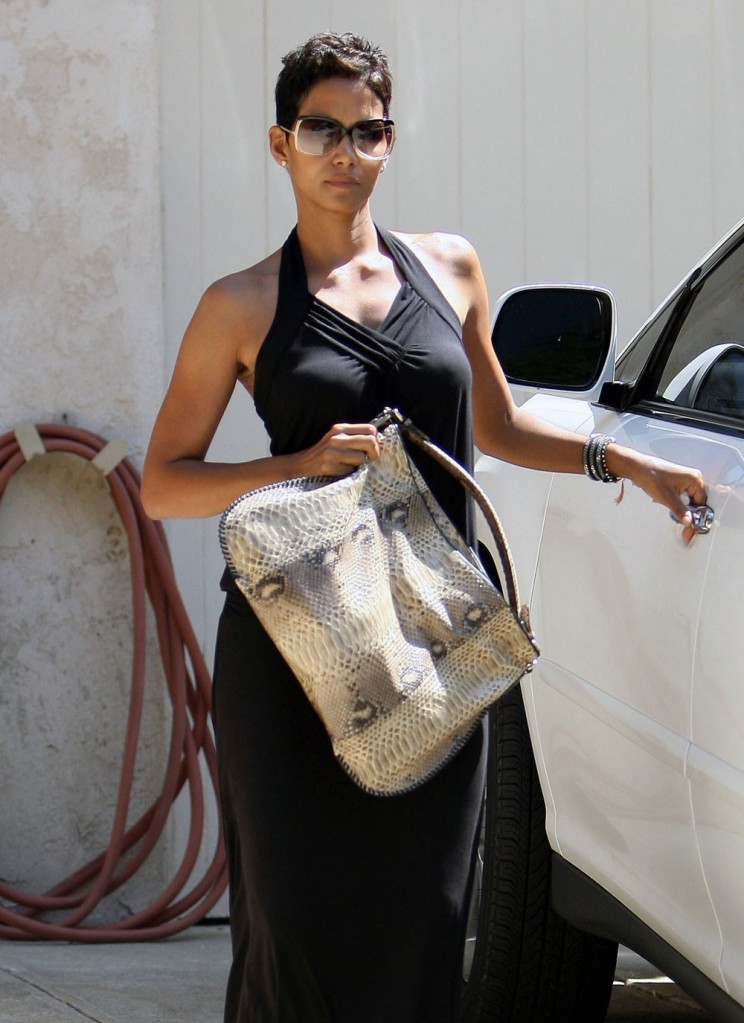 The rumors about Halle Berry being pregnant with her second child have been swirling for months. It seemed like every time Halle left the house, paparazzi would aim their zoom lens on her "bump". Life & Style even ran an "exclusive confirmation" of the news. To be fair to all of the people speculating, Halle does seem to prefer wearing clothes that make her look pregnant, like loose dresses and baggy shirts. But Halle put the rumors to rest last night on Jay Leno's show, basically saying that she's not pregnant, she just likes to eat. It's a hamburger baby!
The speculation is over.

When a svelte Halle Berry walked onto Jay Leno's stage Thursday, the host told her she looked terrific, to which she replied: "You know, thank you for that, Jay, because that must mean that pregnancy rumors can be put to bed!"

Sources at The Jay Leno Show taping tell PEOPLE that Berry, wearing a low-cut, short black dress and black thigh-high boots, also told Leno with a laugh, "I was getting a complex! Because I was like, I've got to stop with the burgers or something!"

Berry, 43, and Gabriel Aubry, 34, welcomed their first baby, Nahla Ariela, in March 2008. The couple, who have been together since 2005 when they met while shooting a Versace ad, have made no secret of their desire for more kids.

In February, Aubry told PEOPLE Nahla "needs a sibling." The model, who comes from a family of eight kids, added, "I believe in big families." And in March, Berry said on The Ellen DeGeneres Show that she was ready to have a second child.

Berry was another in a series of high-profile guests for Leno in this inaugural week of his 10 p.m. show. In addition to fending off pregnancy rumors, Berry told anecdotes about Nahla and meeting Aubry. Simply put, Berry gushed, "My daughter is fantastic."
[From People]
I guess this is the new trend. An actress will let pregnancy rumors swirl for months, then deny it. It used to be different – if a woman wasn't pregnant, she would correct the rumors, and if she was pregnant, she would stay silent. That's why I thought Halle was knocked up again – she had been quiet for a while. In any case, I'd bet that Halle and Gabriel are trying for another baby – if your baby-daddy looked like that, wouldn't you?
Halle Berry is shown on 9/16/09 (brown dress, credit: Fame Pictures) and 9/10/09 (white dress, credit: WENN.com)