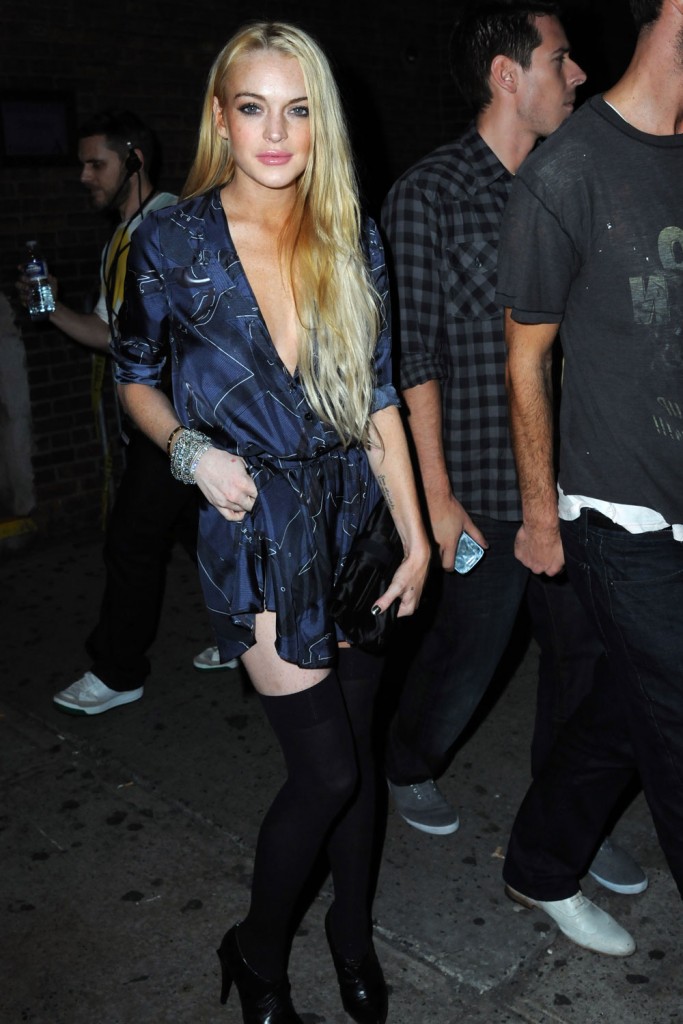 Remember how Lindsay Lohan's house was mysteriously burglarized? The drama went down several weeks ago, and it kept coming in waves. Allegedly, the burglars got away with $2 million in borrowed jewelry. Fortunately, they did not seem to get their hands on Lindsay's alleged stash of her own crackhead erotica. Adding to the drama? The security tapes of the burglars revealed one figure who looked remarkably like Lindsay. The idea that Lindsay burgled herself shocked no one – but we might have been wrong!
An arrest has been made in the burglary of both Lindsay and Audrina Patridge's homes. The guy's name is Nicholas Prugo, and he was arrested on a felony charge of suspicion of burglary. He's being held on a $20,000 bail:
The culprit caught on security videos in both Lindsay Lohan and Audrina Patridge's home burglaries has been arrested, Los Angeles police announced.

Nicholas Prugo, 18, was arrested Thursday morning in connection with the two break-ins. He was charged with felony burglary and is being held on $20,000 bail, police records show.

Lohan's mother Dina tells PEOPLE, "Yes, we have found [him], God is good."

Lohan's Hollywood Hills home was burglarized last month by a young man and woman in which a safe was ripped out of the wall, and bags, shoes and jewelry were stolen.

In February, the apparent same pair broke into Patridge's Los Angeles home and was caught on tape making off with several bags of her possessions.

So far, police have only confirmed the arrest of Prugo. "As of now we just have this one person in custody, and the investigation is ongoing," says LAPD spokeswoman Karen Rayner.

The break-ins were among a rash of recent starlet burglaries in the past year, all within several miles of each other. Paris Hilton, Hayden Panettiere and Rachel Bilson have also been victimized, but Prugo was not arrested in those cases.
[From People]
Well, you could make the argument that Lindsay could still be involved somehow… but she probably isn't. Most likely Prugo is one guy in a small team of hoods – at least, that's what years of watching Law & Order have taught me. I will expect D.A. Jack McCoy to plead Prugo out if he drops the dime on his co-conspirators. And then the twist will come during his allocution! Lindsay was involved the whole time! Worst. Episode. Ever.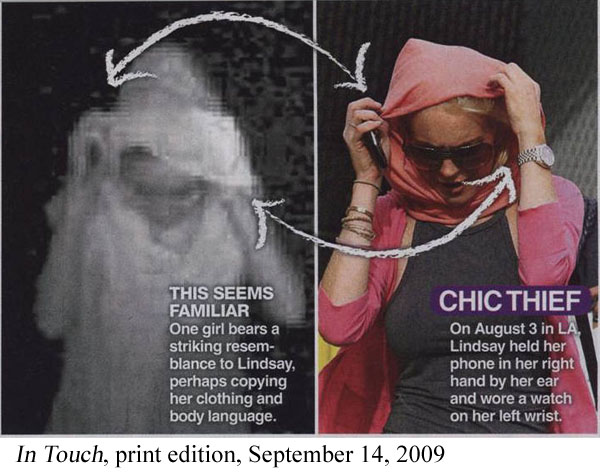 Lindsay Lohan is shown out on 9/15/09 and 9/10/09. Credit: WENN.com