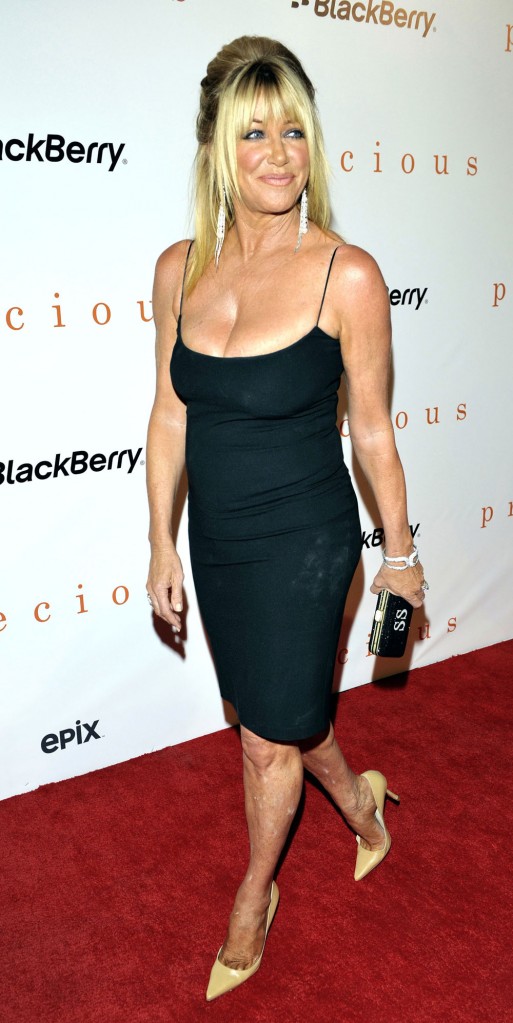 Actress Suzanne Somers, 62, is an advocate of natural health practices and told Oprah earlier last year that she takes 60 pills a day, along with bioidentical hormones, which she credits with helping stave off the symptoms of menopause. She has a book out about bioidentical hormones, Ageless: The Naked Truth About Bioidentical Hormones, published in 2006, and another about general wellness, Breakthrough: Eight Steps to Wellness published last year. Apparently Somers has yet another book coming out in a month about cancer, and she just had to speak out to a journalist about how Patrick Swayze was "poisoned" by chemotherapy:
Suzanne Somers, a cancer survivor herself, thinks Patrick Swayze was killed by chemotherapy. "They took a beautiful man" and "put poison in his body," the "Three's Company" star told columnist Shinan Govani at the party for Tom Ford's movie, "A Single Man," at the Toronto Film Festival. While Julianne Moore, Naomi Watts, Clive Owen and Colin Firth made chitchat, Somers, who has a book about cancer coming out next month, said: "Why couldn't they have built him up nutritionally and got ten rid of the toxins? . . . I hate to be this controversial . . . but I have to speak out."
[From The NY Post]
Pancreatic cancer is one of the most silent, deadly and fast-acting cancers. Swayze had the benefit of some of the best cancer treatment in the world, and was treated at Stanford University Cancer Center, where he underwent CyberKnife surgery, a state-of-the-art treatment that allows for precise radiation treatment of tumors without surgery. The fact that Swayze had access to the latest care is likely to have allowed him many more months with his family and loved ones on his ranch. He was diagnosed in March, 2008, and survived a year and a half after what was initially rumored to be a very grim prognosis.
Somers probably means well, but she really shouldn't bring up Swayze at all to further her agenda. Illness and treatment are a personal matter. Somers had breast cancer, which does make her a cancer survivor but not an expert on all forms of cancer or treatment. Chemotherapy saves lives, and while it inevitably makes people sick and kills healthy cells while it's killing the cancer it's reckless to dismiss it as "poison." It's especially callous to claim that Swayze's death was somehow related to the treatment that may have significantly prolonged his life. I hope Somers clarifies her remarks somehow or explains that they were taken out of context. It sounds like she thinks she's doing everyone this great favor, though, by saying that Swayze was poisoned. She's a whack job.
Suzanna Somers is shown out on 8/16/09 with her buddy Pam Anderson and 9/13/09. Credit: WENN.com