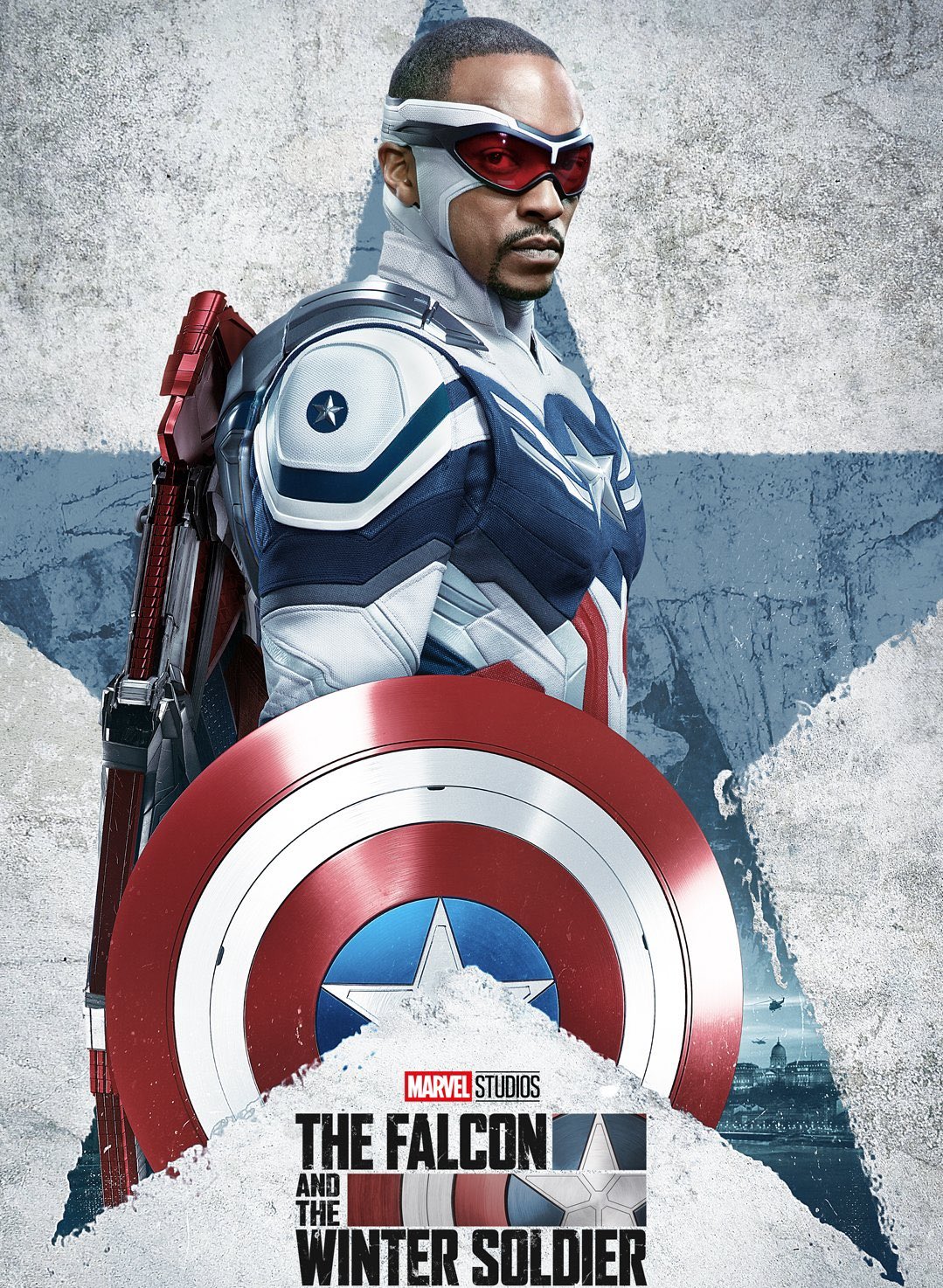 Spoilers for Falcon and The Winter Soldier
The last episode of the Falcon and the Winter Soldier aired last week and it was absolutely emotional, redemptive, and bad*ss. Falcon aka Captain America's new suit is Black people fly. Sam took up the Captain America mantel in a stars and stripes outfit made by the Wakandans. The last episode did not leave any of us questioning whether or not Sam was going to become the next Captain America. Sam IS Captain America. Or at least a Captain America and Falcon hybrid (it's Cap with wings and a shield). Now, Marvel and Disney have confirmed that they are developing Captain American 4, presumably with Anthony Mackie at the helm. We also know that TFATWS showrunner, Malcolm Spellman, will be returning to write the movie script. Of course Feige and co. are being super tight lipped and have yet to confirm the story line, director or the cast. However, many are making educated assumptions about what to expect. Below are a few more details about the project from The Hollywood Reporter:
No castings for the project are officially known, but Friday's episode offers plenty of roads for the feature to take. Up until this point, Chris Evans has played Captain America via the Steve Rogers character, appearing in a trio of solo movies, Avengers outings, and assorted other Marvel films. And the question of who is entitled to carry the shield or be Captain America was central to the show.

The feature is likely to continue the story of Sam Wilson, played by Anthony Mackie, and the current wielder of the shield. But as the writers get to work, it will be interesting to see how the story unfolds with there now being multiple people who have been Captain Americas in the Marvel Cinematic Universe.

No director is attached, and Evans' involvement/return remains unconfirmed. Marvel was tight-lipped as usual.

Falcon and the Winter Soldier, which also stars Sebastian Stan as Bucky Barnes/the Winter Soldier, has earned strong critical and fan reaction. Spellman assembled a nearly all-Black writers room for the series, which has been praised for bringing the Black experience to the forefront quite unlike any other superhero film or TV show before it. The series has tackled issues from discriminatory lending practices to the original sin of America building itself on the backs of Black people.
So we still don't know if Chris Evans may do a cameo. Chris's Marvel contract was up after Endgame so I doubt we will see him except in previously recorded cut aways. At this point the camera must be focused on the new Captain America. Steve Rogers chose his successor and Sam has reluctantly but powerfully taken up the mantle.
At first I didn't know if I would like Mackie as Captain America but that last episode of TFATWS sold me. Anthony handled delicate scenes and conversations with honesty and heart. I think he and Sebastian Stan as White Wolf (aka the Winter Soldier) will make a great team. I hope Marvel and Disney take a chance on a Black Captain America with a white sidekick. Marvel would effectively be flipping the script, which would change the game.
I also liked that Disney and Marvel hired a nearly all Black writer's room to handle Falcon and the Winter Soldier's story. You can tell that Black people wrote the scripts in those last two episodes especially. The sentiments about being Black American expressed by characters like James, Sarah and Sam could have only been written by people who have had that unique experience. As a military vet, I identified with how both James (Isaiah Bradley) and Sam felt. I also understood Sarah's apathy. Being Black in America is like a balancing act that feels simultaneously joyful and crushing. Showrunner Malcolm Spellman and Dalan Musson led a great team and I am excited that Spellman particularly (he chose the writers) will be returning for the movie.
I am not going to recap the finale, but if you would like a little more detail on it you can find that here. I was very impressed with TFATWS. I know that at the beginning a lot of people were upset that the writers didn't address the elephant in the room about Sam being a Black man carrying the shield but I think the way that topic was handled was absolutely pitch perfect. I look forward to seeing what Marvel and Disney will do with Sam's and Bucky's storylines. (Can we get a Bucky and Sarah relationship?) I look forward to more cookout scenes where Bucky brings a store bought cake to the party.
Anthony Mackie on becoming #CaptainAmerica

"I don't care what anybody on the internet says.. My son says it was cool.. So it's cool" pic.twitter.com/xenJN41rC5

— Marvel Facts (@MarveIFacts) April 26, 2021
Some Reactions:
this is the cutest transition !!!!

Sam became #CaptainAmerica and my baby #Bucky is now smiling🥺 pic.twitter.com/kQBpkw7mX7

— bi-derman (@IR0NSPIDEY) April 26, 2021
Like an Angel #CaptainAmerica pic.twitter.com/MmR2XRtXOJ

— MCU Perfect Clips & GIFs 🎥 (@MCUPerfectClips) April 26, 2021
Just a kid On your left.
from Brooklyn. #CaptainAmerica new era is begin. pic.twitter.com/f8PX2Wu6jB

— han 🌙 (@kakqashi) April 26, 2021
cw // #FalconAndWinterSoldierFinale #CaptainAmerica #samwilson #buckybarnes #SharonCarter
–
–
–
–
–
–
–
this moment right here won my heart pic.twitter.com/dUo2fVUxe8

— kirtan rogers ➶ bishop's bitch (@CapnRgers) April 23, 2021