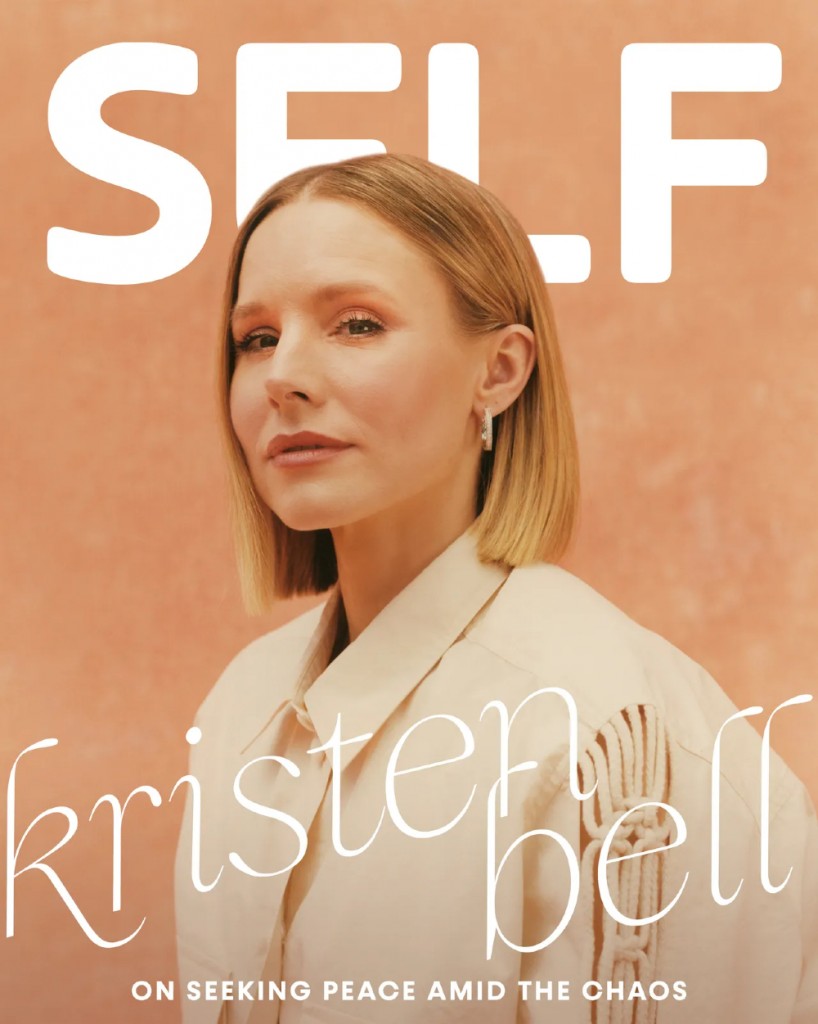 Kristen Bell covers the latest digital issue of Self. It's a detailed profile about how the pandemic and all of its pitfalls have affected Kristen. Like most of us, she faced many challenges that compounded the long and arduous lockdown. Being a mental health advocate, Kristen strived to be completely open about what she's struggled with so others facing the same battles will feel less alone. However, she also knows the advantages she has that others don't, and she talked about that too. She talked about everything. Everything. From what she did to get through the boredom, to being the breadwinner to how she coped with her husband Dax Shepard's relapse to how often they have sex.
On her mental health during the pandemic: I know that I present someone who is very bubbly and happy all the time, and a lot of the time I am, because I have really good tools. But there are definitely days when the alarm goes off and I go, 'No, I'm staying right here. Nothing's worth it… I'm just going to stay in this cocoon because I need to; because I feel very, very, very vulnerable. I have trouble distinguishing between my emotions and someone else's emotions, and that's not a compliment to myself. That's a very dangerous thing to toy with.

On relationships: I don't want any young person feeling like there's a fantasy out there that they just have to find the right person. That's not how humans work. People change. People grow…. Relationships aren't a puzzle. You cannot pick them up and put them down.

On Dax's relapse: We realized, 'Okay, our math wasn't working. I mean, he admitted it so quickly. It was like, 'I did something that I don't want to do. I'm going down a bad road. I want help. I want your help,' and I looked at him and I said, 'Okay, you come up with the new math.'

On their sex life: There are some times when it's in the calendar. You're like, 'I know you're tired, but it's been two weeks, so we really got to get to it.

On being the breadwinner: Can I tell you something? I think I've always outearned him. (I don't) have the desire to walk [Shepard] through his feelings about it. He can get over it. I got a lot of opportunity, you're sharing in it, we're able to provide for a ton of our family members who may or may not be struggling. I don't look at it like, 'This is mine and this is yours.' I'm like, 'This is ours. Get over it. I would talk to him about it if he felt emasculated, but… certainly, it's not on my list to be like, 'Let me make sure he's okay.' I have had a shit ton of opportunity. I've also worked my ass off.
Part of my problem with Kristen is that I am so much like her. I talk too much too, everyone always lets me know that. So I look at Kristen's interviews through my fingers saying, "not so much!" But that's why I cut her slack, because I know where she's coming from. I don't think we need to know that she and Dax have to schedule sex. I'm sure couples had varied stats in the bedroom during lockdown and maybe some were feeling insecure. So maybe this admission was a relief to someone. It's her life to share, but I worry about her giving up too much of herself. I loved her answer about money, though. The reason she prefaces her comments with "I think I've always out earned him," is because it's assumed that when they met, Dax made more money and Kristen overtook him during their relationship. I absolutely relish the day it doesn't matter what gender makes more money, they are simply acknowledged for the work they did to earn it. My guess is Dax has "gotten over it" and she's really telling everyone else to "get over" the fact that she's the money maker.
I didn't understand her comments about "new math" when discussing Dax's relapse. Kristen has a habit of reaching too far for a metaphor when discussing topics, but I think in this case, she may not be ready to discuss it yet. I think it scared her and that's why Dax and his over-involved producing partner have done more press on it. She also overexplained how she and Dax talked to their kids about BLM, but it was so convoluted, I couldn't even excerpt it.
Photo credit: Self and Instagram