Embed from Getty Images
The last time we checked in with Jennifer Garner, she was telling US Magazine, through sources, that she was back with her ex too. Jennifer has reunited with businessman John Miller, who was only photographed with her twice that I know of over the course of their two year relationship. Jennifer and John were split for less than a year before they gave it another try, which is typical. Meanwhile her ex, Ben Affleck, has quite spectacularly reunited with his ex fiance, Jennifer Lopez. Like the cicadas Bennifer has reemerged after 17 years, and they want us to know about it. There are stories about them in the celebrity press just about every day. In response to that, a source told E! that Garner doesn't want to get dragged into that mess, essentially.
A source tells E! News there's one person who "doesn't want to be a part of the circus or media attention in any way." Ben Affleck's ex-wife, Jennifer Garner.

"She's trying to live her life and raise her kids and the last thing she wants to be doing is be dealing with Ben's love life," the insider explains of [Garner] "Her focus is always on the kids' happiness and Ben being a good father."
We know Garner is not above leaking details to the press or giving an interview in exchange for a cover, but even she sees how over the top her ex and Jennifer Lopez are being. I actually feel a little sorry for her in this instance. Ben is being absolutely cringey about his relationship with Jennifer and it's got to be embarrassing. Keep her name out of this.
Ben posted a nice message for Jennifer along with a slideshow of family moments on Mother's Day, writing "So happy to share these kids with you. Luckiest parents in the world. Thanks for all the good you do." I really liked the photo from Halloween I'm assuming, where they're dressed up like characters from Wizard of Oz. Ben blurred the kids' faces. He's dressed as The Tin Man, Jen is The Good Witch, Seraphina is the Scarecrow, Violet is Dorothy and Samuel, who was just a toddler, is The Cowardly Lion. Cute!
Jennifer and her Yes Day costar, Edgar Ramirez, visited a shelter last week for migrant families called Casa Alitas, which is along the US border in Arizona. They gave out food, read stories to children and toured the facilities. Jennifer shared a video to her Instagram of their visit and it was touching. She does so much good work with Save The Children and I really admire her for that. She also deserves a lot of credit for continuing to deal with Ben's sh-t.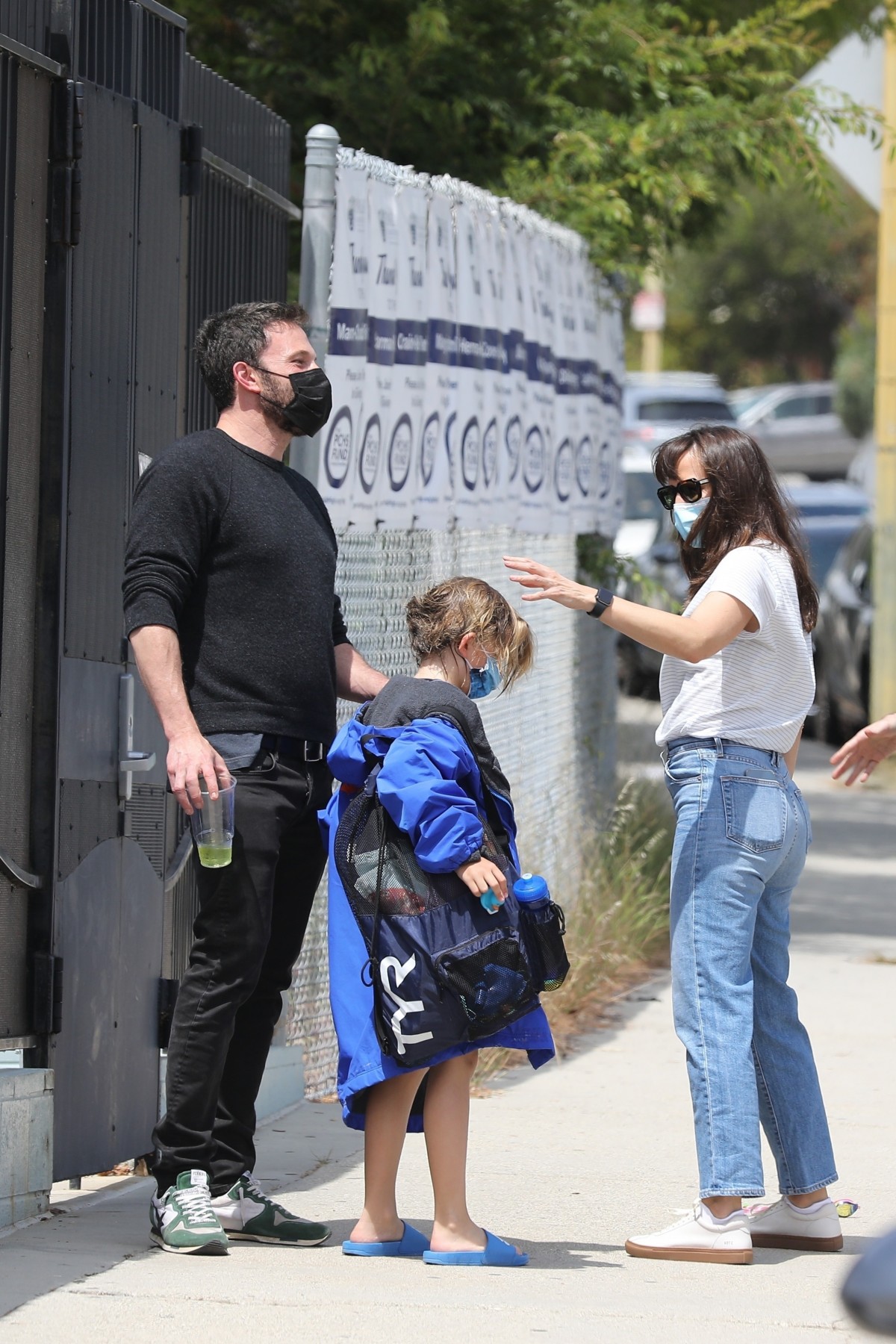 Jennifer Garner and Ben Affleck are shown taking their son to a swimming class on 5/1/21. Credit: Backgrid. Other photos credit: Getty