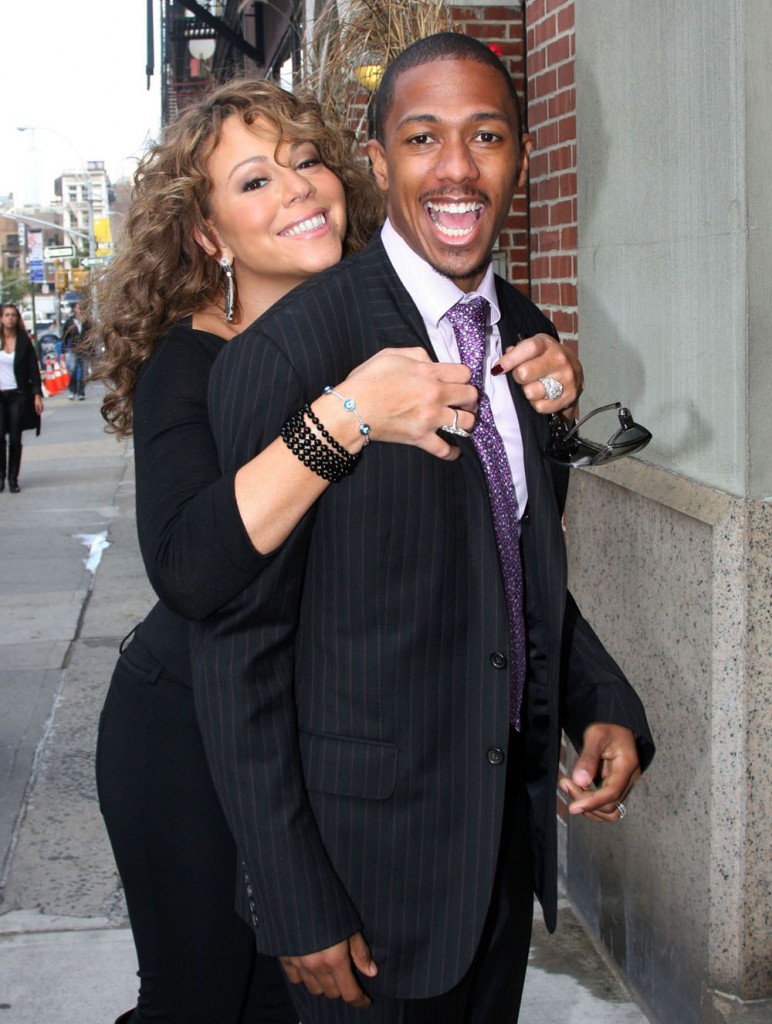 We all know that Mariah Carey is so special that butterflies, rainbows and candy fall out of every orifice whenever she walks, sings, burps or farts. This is part of Mariah's charm. And by "charm" I mean "sure, whatever, Mariah". Ever since the total camp crapfest known as Glitter, Mariah has been trying to break into films. Part of me thinks that in Mariah's mind, she's still competing in a death match with Jennifer Lopez.
So somehow, someway, Mariah was able to get a part in the film Precious. It's a relatively low-budget film directed by Lee Daniels, starring Mo'nique and Mariah, and executive produced by Oprah Winfrey. Precious premiered at Sundance (to excellent reviews) and was just shown at the Toronto Film Festival - where it took home the equivalent of Best Picture, an award called Cadillac People's Choice Award. This is the same award that Slumdog Millionaire got last year – heady stuff for a film about "a teenage abuse victim struggling to survive in 1980s Harlem." Mariah isn't all diva-fied in the film either. She's rocking a horrible wig, a moustache, no makeup, and terrible clothes.
So, of course, Oprah had to have Mariah on her "Live From New York" show on Friday. Hugh Jackman and a very stiff-looking Daniel Craig stopped by first, and after they left, I changed the channel, so I didn't see Mariah's interview live. I should have stuck around – this interview sounds hilarious. At one point, Oprah was asking Mariah about her physical transformation for the film, and Mariah says, "I didn't even know what to do, man. I was like, 'This is so ugly, I don't know what to do.' He put dark stuff under my eyes, he … put fluorescent lighting, the most hideous lighting. Some people had the most beautiful, angelic lighting, and I looked at Lee like, 'You motherf-cker, why did you do this to me?'" Yes, Mariah said "motherf-cker" on live television… on Oprah! Good Lord.
For added hilarity, Mariah's husband/servant Nick Cannon came out on stage too. It was not pretty:
It was a gesture designed to show the world how in love they were, but Mariah Carey didn't think much of Nick Cannon's attempts to kiss her on Oprah.

The singer was being interviewed by talk show host Oprah Winfrey when her husband
came onstage and gave his wife a peck on the cheek.

But Oprah complained: 'Oh you did that "We've been married a long time kiss". You didn't give the real kiss, come on.'

They shared an exaggerated smooch as Nick bent her over, before an uncomfortable looking Mariah stopped him, saying: 'Don't drop me!'

Then she pushed him away. Mariah, 39, wed R'n'B singer Nick, 28, in April 2008 after they met at the Teen Choice Awards in 2005.

Nick said of their marriage: 'I wake up feeling like the luckiest, most blessed man every morning.'

And when Oprah asked about the 11-year age difference between them, he said: 'Age ain't nothing but a number.'

Nick, who said he had always had a crush on Mariah growing up, said he told her: 'I'm like, 'Give me a chance."

He also revealed that he had proposed by hiding a ring inside a lavender pink lollipop, saying he popped the question as they looked the Empire State Building from her New York apartment roof.

It had been lit up in lavender pink colours to mark her 18th number one record.

Mariah also showed Oprah how to apply her perfume, Forever – by squeezing a few drops between her breasts, and told her that she could learn from her moves. And she also showed off her wedding ring.

Mariah said: 'He [Nick] designed it and I'm very proud of him.'

The pair appeared on The Oprah Winfrey Show live from New York's Central Park.
[From the Daily Mail]
I actually love Mariah. They don't make divas like that anymore. Mariah is actually a diva with a reason to be entitled – she's sold the most, done the most, been the best. She deserves our worship. And if she wants to call one of us – any of us – a "motherf-cker", well, I'm prepared to let her.
Images thanks to BauerGriffinOnline.