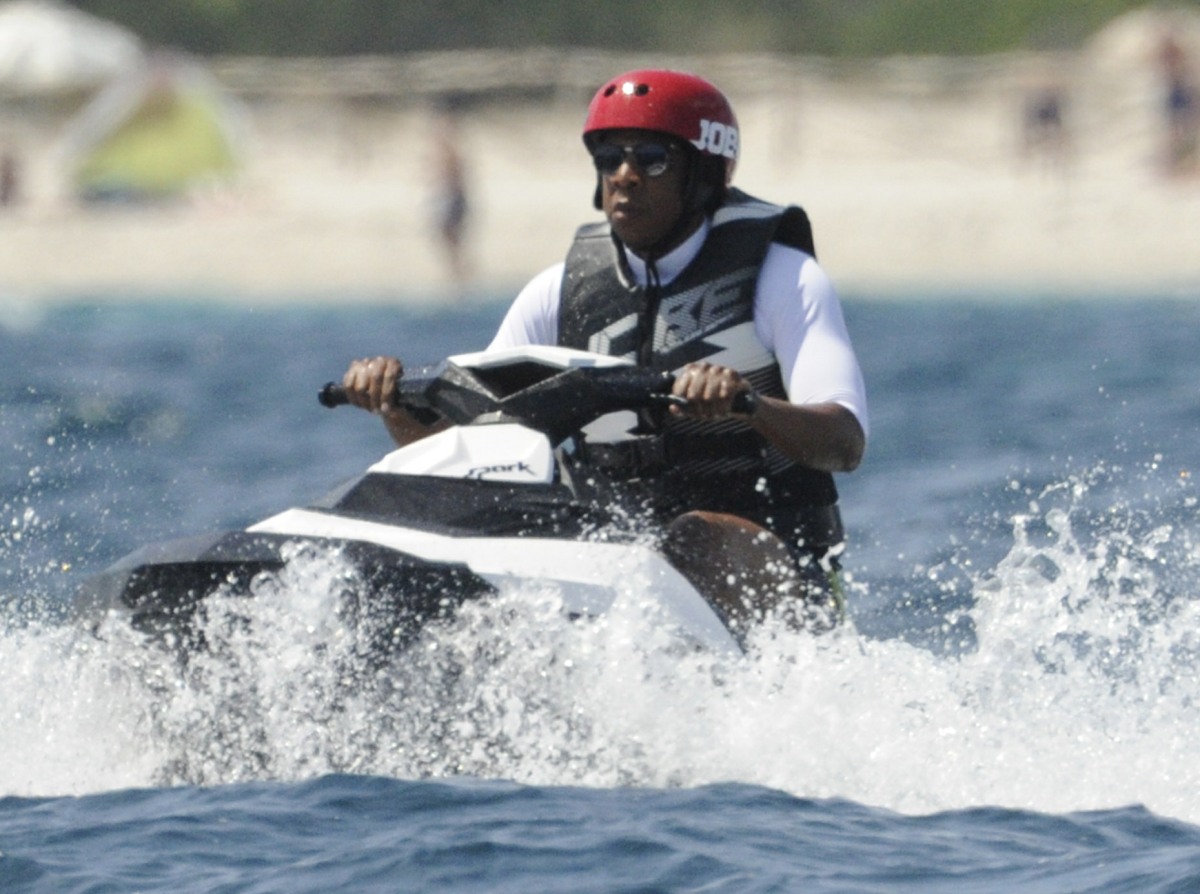 The Black American community has been fighting the racist stereotype that "Black folks don't swim" for some time. It's true that many Black kids are not taught how to swim, but there is a long, racist backstory that goes along with those statistics. Before and after the Civil Rights movement of the 1960s, Black folks were banned from community pools and Black children were often targeted by violent hate for even attempting to swim in public-access pools. Lack of accessibility is a huge factor even now. But I thought that Jay-Z, someone with money and access, who is constantly on yachts and beach vacations, would know how to swim, right? Jay-Z didn't learn how to swim until his daughter Blue Ivy was born!
Jay-Z did not jump into fatherhood unprepared. During a recent appearance on "The Shop: Uninterrupted," the 51-year-old rapper explained how the birth of his first child, daughter Blue Ivy Carter, changed everything.

"I didn't learn how to swim until Blue was born," he responded when asked about being a father. "There goes everything you need to know. This is a metaphor for our relationship. If she ever fell in the water and I couldn't get her, I couldn't even fathom that thought. I gotta learn how to swim. That's it. That was the beginning of our relationship."

Blue Ivy, who is now 9 years old, is the eldest of Jay-Z's three children with wife Beyoncé. The couple's twins, daughter Rumi and son Sir, will turn 4 in June.

Jay-Z also revealed how Blue Ivy reacted to her father being nominated for the Rock & Roll Hall of Fame in February.

"I got the [Hall of Fame] announcement, I was taking Blue to school, I was like, 'This ain't no celebration,'" he shared, suggesting Blue Ivy was less than impressed with the exciting news he had to share that morning. "She walked away, I was like, 'Yo, give me a kiss I'm in the Hall of Fame!' She's like 'Bye, dad.'"
I get the feeling that Blue Ivy might think that her parents are pretty uncool, just in general. But it's awesome that Jay learned how to swim as an adult, and that he did it for his daughter. I would love to know if he actually took swimming lessons or he did more of a general pool-safety class, maybe combined with a CPR class? He probably had homes/mansions with pools for many years before he learned how to swim, and that makes me sad. He would just sit by the pool and never get in before Blue was born? I hope he enjoys pool time now with his kids. Blue probably rolls her eyes when dad brings out his pool noodles.
Photos courtesy of Avalon Red, Backgrid and Getty.