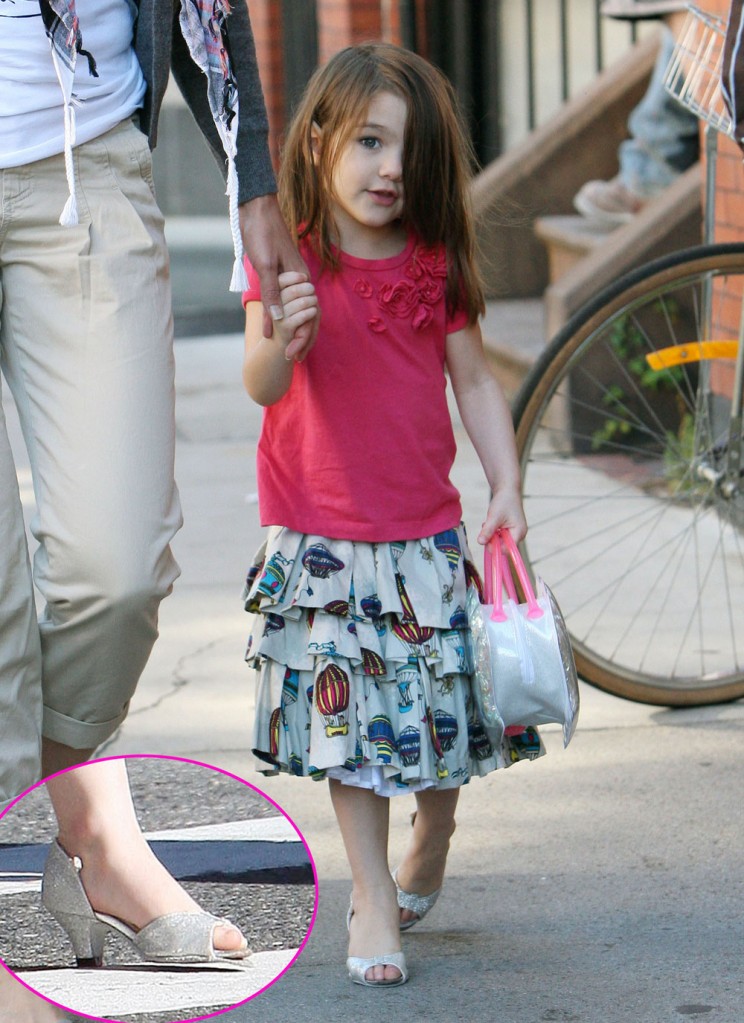 After months of seeing nothing but the occasional grumpy photo of the Tom Cruise-Katie Holmes family, we're now getting non-stop happy images. What changed? Katie is no longer doing her film in Australia, and she and Suri have joined Tom in Boston. Tom seems perked up, stepping out around town in too-tight jeans (are those women's skinny jeans? Is that a woman's v-neck?) and blue wedged heels. Katie seems like her normal zombie self. Meanwhile, Suri is growing up before our eyes! Yesterday, it looked like Suri had gotten herself some lipstick (in a fabulous petal-pink shade) and smeared it on her mouth. Now Suri is stepping up her ensemble!
Yes, Suri has now taken to wearing kitten-heels. They're pretty fabulous white-silver peep-toes, and you can bet that Suri likes the sparkles. I also like that Suri has paired her kitten-heels with a lovely tiered skirt and a bright pink shirt. Suri has so much more style than her mom, it's a little sketchy. Still, doesn't this look like an outfit a little girl would pick out for herself? I don't think Katie had much to do with putting this ensemble together.
As far as the shoes, I'm sure some people will claim that Suri shouldn't already be in heels, but this is maybe the one thing I can relate to with Suri. When I was little – around Suri's age – I was fascinated by high heels, and I begged my mom to get me the little kid's costume ones. She refused, so I spent months walking around on my tip-toes, pretending I was in heels. Seriously. My parents thought there was something wrong with me, but I know for a fact a lot of little girls do the same thing. I think Suri is one of them – except when she asked for heels, Xenu provideth.
Photo credit: Fame Pictures