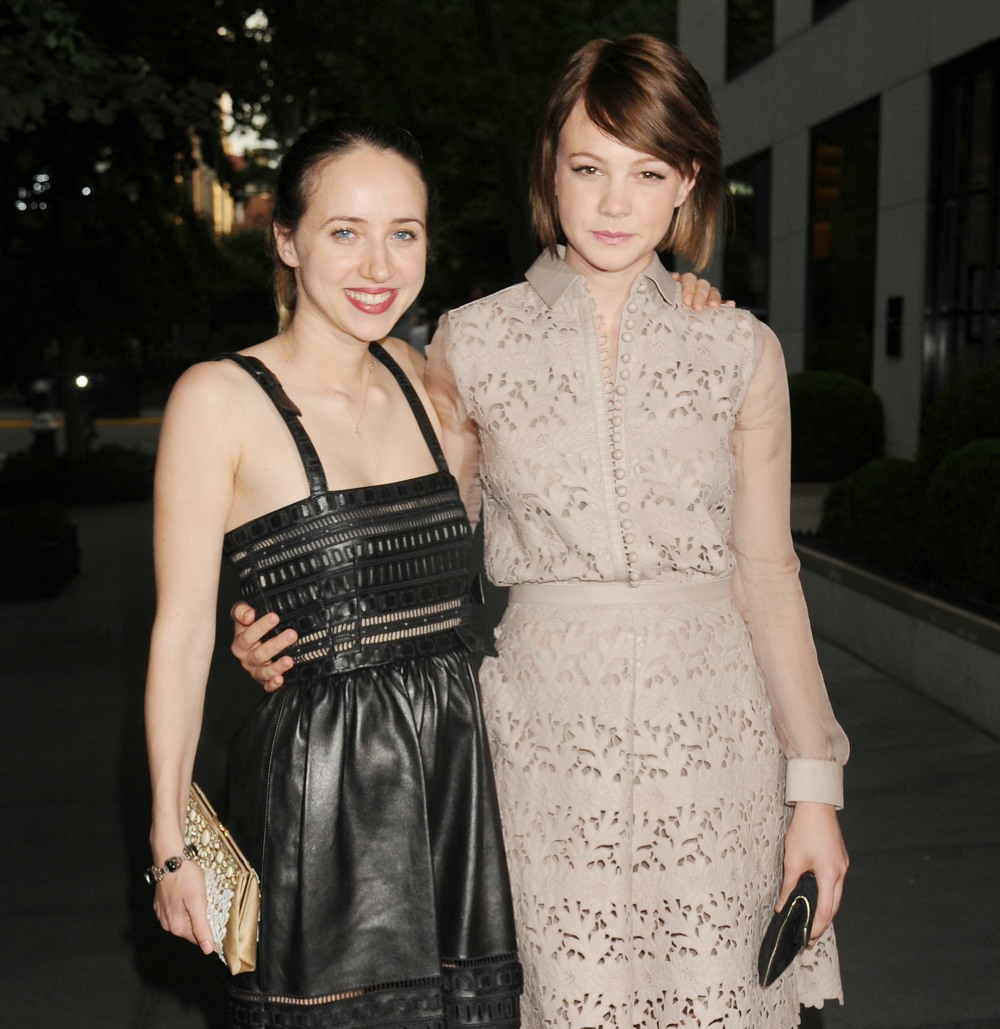 For years, Hollywood has been batting around the idea that a movie will be made about Harvey Weinstein's fall from the top of Hollywood. The movie pitches veered from dumb to offensive, and the speed with which they were pitched to the trade papers was pretty offensive too. Like, Weinstein's victims were still coming out and telling their absolutely heart-wrenching stories of being raped, abused and harassed and dude-bro producers were like "damn this would make a great movie." Well, Plan B and Universal has finally figured out a way to thread this disgusting needle: they'll make a movie about Weinstein's fall, but the movie will actually be about the two NY Times reporters who exposed Weinstein as a serial predator. Plan B and Universal has secured the rights to Megan Twohey and Jodi Kantor's book, She Said: Breaking the Sexual Harassment Story That Helped Ignite a Movement, and the studio is talking to Carey Mulligan and Zoe Kazan to play Twohey and Kantor.
Nearly four years after New York Times reporters Megan Twohey and Jodi Kantor broke the bombshell Harvey Weinstein sex scandal report, Hollywood looks ready to tell the story of how these two reporters persevered to break this game-changing story. Sources tell Deadline, Universal Pictures is prepping She Said, a new drama based on the New York Times bestseller She Said: Breaking the Sexual Harassment Story That Helped Ignite a Movement and is in negotiations with Carey Mulligan and Zoe Kazan to star as Twohey and Kantor. The film is set to begin production this summer and will be directed by Unorthodox director Maria Schrader to helm with Oscar-winner Rebecca Lenkiewicz penning the script.

Everyone remembers when the bombshell first story ran on October 5, 2017 when Kantor and Twohey revealed an array of alleged sexual harassment and assaults against women by The Weinstein Company co-chairman and indie film mogul Weinstein that dated back decades. The article included details of hush money paid to cover up the sexual indiscretions and first-person accounts by actresses accusing Weinstein of non-consensual sexual indiscretions. The article would not only lead to Weinstein being fired by the TWC board and eventually found guilty and sentenced to 23 years in prison for rape but also spurred the #MeToo and #TimesUp movements that are still making major impacts across the world while also completely changing the landscape of Hollywood forever.

The thrust of the film isn't Weinstein or his scandal. This is about an all-women team of journalists who persevered through threats of litigation and intimidation, to break a game-changing story, told in a procedural manner like Spotlight and All the President's Men.

In 2018, Annapurna Pictures and Plan B Entertainment optioned the rights to She Said under their co-production deal. Oscar nominee Megan Ellison will executive produce for Annapurna with Sue Naegle. Oscar winners Brad Pitt, Dede Gardner and Jeremy Kleiner will produce for Plan B.
Yeah, Plan B is Brad Pitt, and in the first NY Times articles, Brad's exes Angelina Jolie and Gwyneth Paltrow went on the record about Weinstein harassing them. Both Jolie and Paltrow did so to give backup to Weinstein's other victims and to lend their credibility to Twohey and Kantor's reporting. Which they did. It was months and months of coverage too, not just in the Times (with Kantor and Twohey's reporting), but Weinstein's victims told their stories to Deadline, The Hollywood Reporter, Variety and New York Magazine, among other publications. If done correctly, this could definitely be more of a Spotlight-type of film, and I'm saying that as a compliment (I loved Spotlight, it's a great movie). It will be about the sensitive work of exposing predators and convincing women that they will be protected if they come forward, that people will have their backs. It's about journalism and women and surviving abuse. God, I hope they keep it smart.
As for Carey and Zoe as the choices to play Twohey and Kantor… they don't look anything like Twohey and Kantor, but I don't find that to be such a big deal. There's an opportunity to do something fresh here, and I like that they're hiring two actresses who are friends in real life and who have already worked together a few times.
Photos courtesy of Getty, Avalon Red.