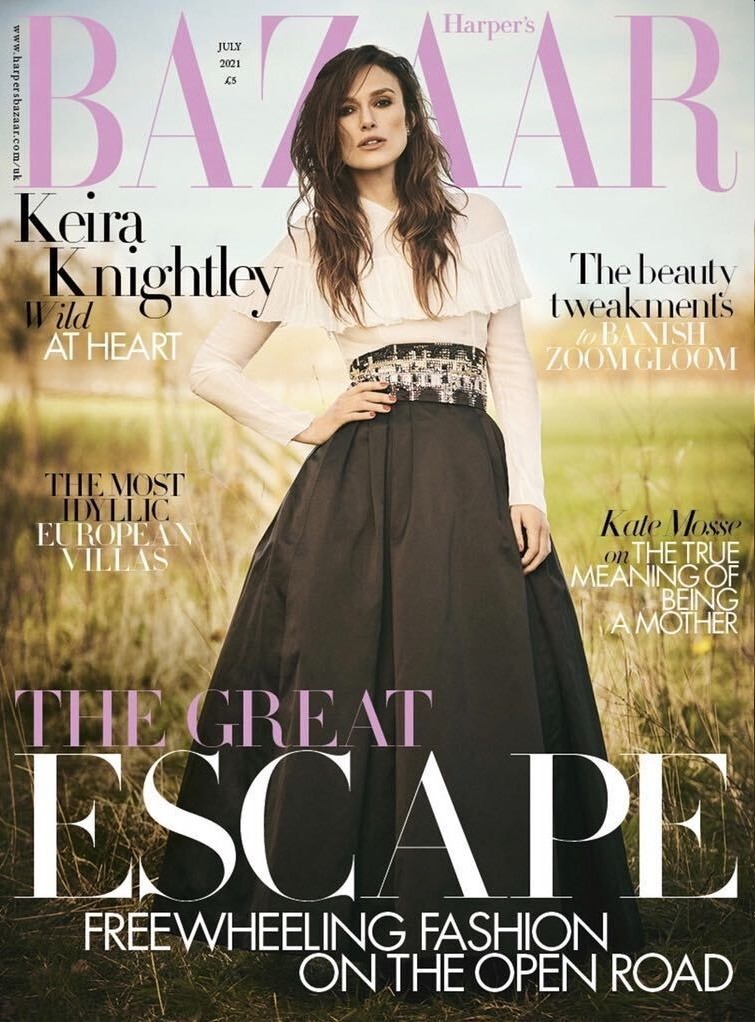 Keira Knightley covers the latest issue of Harper's Bazaar UK. She's promoting (vaguely) the film Silent Night, which was filmed just before the pandemic hit and the release has already been delayed. So she's mostly promoting her Chanel contract. For years, she's been the face of Coco Mademoiselle, and she talks a lot about Chanel clothes, Karl Lagerfeld and what she did during the pandemic. She even talks about her husband, more than she usually says about him, and she speaks for a while about the murder of Sarah Everard. This is a surprisingly nice interview and I enjoyed it a lot, but I love Keira anyway. Some highlights:
Meeting Karl Lagerfeld for the first time in 2007: "I was probably too young to be terrified of him, and I didn't know enough about fashion. I was staying at the Ritz, and when I opened the wardrobe, I found all these Chanel clothes in there. I just thought the room hadn't been cleaned, so I phoned down to reception to say someone had left their clothes behind, and they said they were for my stay. But not to keep. It's always a Cinderella moment."

She tried to wear Chanel every day of lockdown: "We have a trampoline in our garden, and we decided we were only allowed to wear dresses on it. I put on red lipstick every day, and every bit of Chanel that I have in my cupboard, and my daughter Edie had Chanel ribbons plaited into her hair and fairy wings. I thought, 'What is the point of these lovely things sitting in the wardrobe, when it feels quite apocalyptic and scary outside?' It felt so important to be really happy for the kids! And so you'd do it, and you'd forget – and then the shopping would arrive and you'd have to wipe it all down before you put it away, do you remember?'

She appreciates how easy she had it: "When you're in a scenario like this, and you know there's nothing you can do but stay at home, you realise the utter frivolousness of your existence – and the utter awe for nurses. How could you give them only a one per cent pay rise? That's a feminist issue!"

Her husband did the cooking: Righton is "quite extreme, vaguely OCD – it's what makes him a really good cook." Having read a slew of environmental books over the first lockdown, he decided that the whole family should eat only vegetables sourced from regenerative farms during the second. "But I'm not a big root-veg fan, and in these regenerative boxes we were getting – this is so middle-class, I can't bear it – there were four celeriac. And I hate celeriac! I didn't realise I could feel so strongly about a vegetable…" When Righton offered to whip one up for supper, in place of a much-longed-for takeaway, she lost her temper and threw it at the kitchen floor – "it made quite a thunk."

She hasn't been working: "I haven't worked for a year… I was meant to be doing a TV show in September for four or five months, but I couldn't make it work with lockdowns and childcare. I was very lucky to be able, financially, to make that decision, so it felt like it was a choice, but it was a crap choice."

Thinking about the late Sarah Everard: "It was when women started listing all the precautions they take when they walk home to make sure they're safe, and I thought, I do every single one of them, and I don't even think about it. It's f–king depressing."

On street harassment: "I love that politician who said there ought to be a curfew for men and men were outraged, and you think – but there's a curfew for women and there always has been." Has she experienced harassment herself? "Yes! I mean, everybody has. Literally, I don't know anyone who hasn't been, in some way, whether it's being flashed at, or groped, or some guy saying they're going to slit your throat, or punching you in the face, or whatever it is, everybody has."
One, there should be a curfew for men. There should be a curfew and it should be enforced. Even if it's just for one day a week. Two, even famous actresses deal with childcare crises and turn down work because of it. I wonder what her husband was doing that was so important he couldn't look after their kids for a few months while mom worked? Three, Righton putting his family on a root-vegetable diet during the pandemic is f–king cruel!! Jesus. I know she loves this man and she had babies with him, but Righton sounds like he was a lot to deal with during the lockdowns.
Cover & IG courtesy of Harper's Bazaar UK.