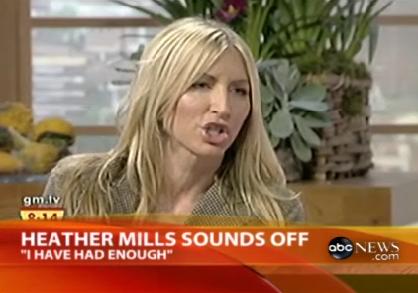 I go out of my way to be sympathetic towards anyone dealing with severe emotional issues or mental illness. But Heather Mills just gave an interview to Brittan's GMTV in which she doesn't come off as very genuine. She throws out that she has been suicidal in a very cavalier way. Most people truly suffering from feelings of extreme depression wouldn't just toss that out there randomly. The way she says it reeks of attention seeking and is a blatant attempt to get sympathy. I would truly never want to be careless about someone giving a cry for help, but that absolutely does not seem like what Mills was doing.
Heather Mills broke down in tears on Britain's GMTV on Wednesday, as she addressed her battles with the tabloid press and her ongoing divorce from Paul McCartney. In addition to daily run-ins with the paparazzi, the former Dancing with the Stars hopeful says she has "had it" with unflattering coverage in British papers. (One recent story in The Sun accused her of hosting a massive fireworks display at her home, which allegedly sent a neighbor's dog into cardiac arrest.)

"Everything they write is complete rubbish," the ex-model, 39, told the morning news program. "They've called me a 'whore', a 'gold-digger,' a 'fantasist,' a 'liar' and the most unbelievably hurtful things. … I've been so close to suicide."

In her rambling – and often emotional – tirade, Mills also attacked articles that claim she's turned down multi-million dollar divorce settlements from the former Beatle. "I've been offered nothing, okay? Nothing!" she said, claiming to be nearly $3 million "in debt in lawyers fees. And that's as much as I can say now, or I go to jail for telling the truth. So I'm gagged at the moment, because I'm not allowed to say a word while the media are fed this spin by a certain corner." Mills also claims that since her May 2006 split from the music icon, she has received numerous death threats.
[From People]
Mills just seems like she's freaking out and throwing out whatever she thinks might make people feel badly for her. She's been absolutely hated in the British press since they day she was first linked to Paul McCartney, and the hatred has only grown worse since the couple split. By most accounts she's an utterly atrocious person to be around – demanding, rude, controlling, and with an undeserved sense of entitlement. But even given all that, her press coverage is so tyrannical you'd almost feel badly for her – if she didn't constantly respond and tell everyone how wonderful she is, how hard her life is, and what a freaking miracle the world has received in the form of her gracious presence. Mills goes on to talk a bit more about her reasons for feeling suicidal… and again, they seem pretty disingenuous.
"A certain part of the tabloid media created such a hate campaign against me, that they put my life and my daughter's life at risk," she said. "That's why I considered killing myself because I thought, if I'm dead, she's safe and she can be with her father. And that's the truth. I'm sick of it."
[From People]
See that doesn't sound like a suicidal thought pattern, that sounds like someone who wants you to feel badly for her. If she really is concerned for her daughter's welfare, there's a lot of things she can do – get more security, move, or just keep a lower profile. But a lower profile would mean she couldn't constantly go on television because she's all confused about why no one likes her. I really hope (though highly doubt) that she has advisors somewhere that explain to her that throwing out threats like that is pretty dangerous, and could lead to her losing custody of Beatrice.