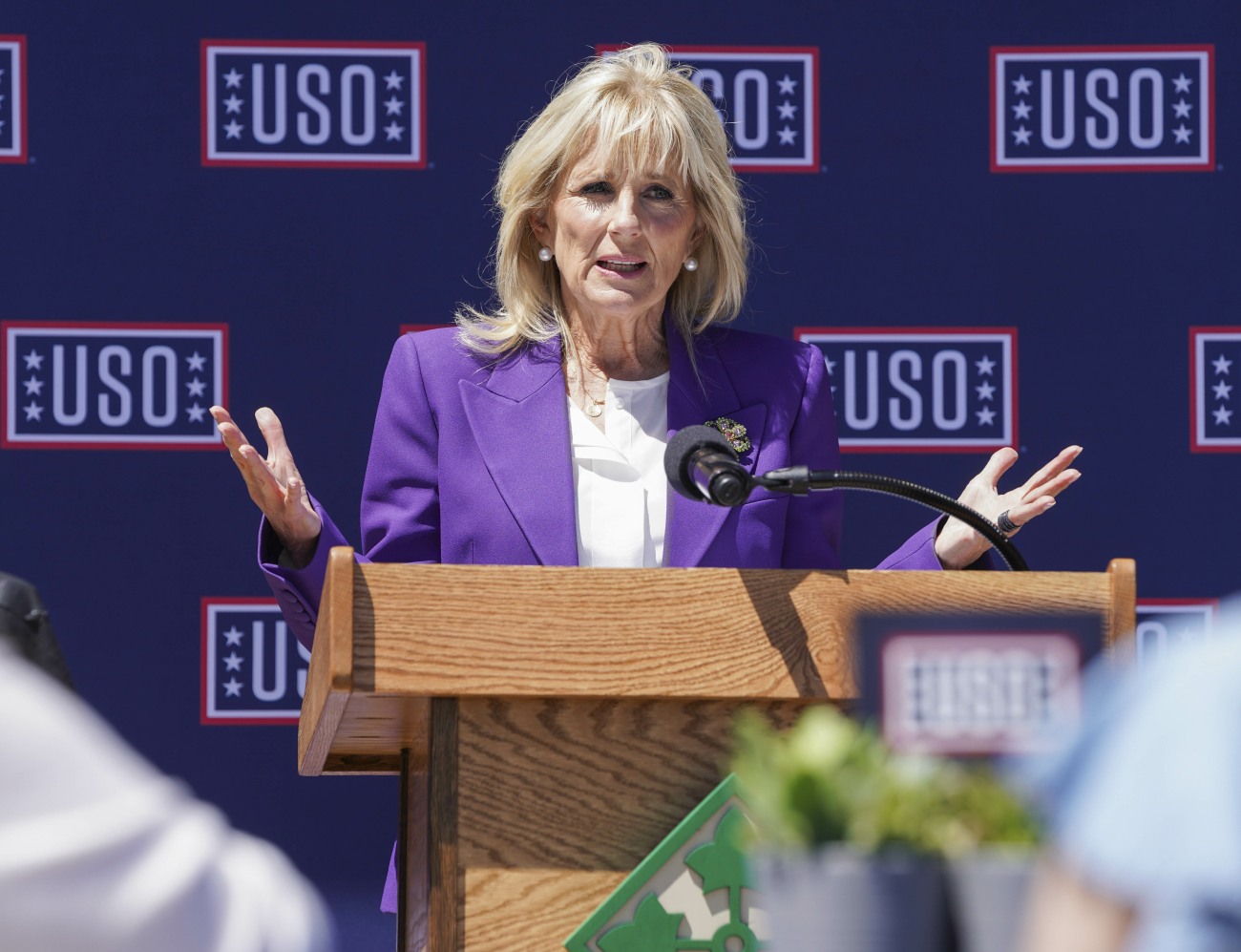 CNN did a really great analysis-piece about Dr. Jill Biden, our First Lady for the past five months. Dr. Jill (or Dr. B, as her students call her) has been mostly fulfilling traditional and typical FLOTUS events in her first five months. She's traveled solo and with her husband, she's highlighted the causes dear to her, she's role modeled good pandemic behavior and she's also maintained her community-college professorship. This week marks Dr. Jill's first big venture on the international stage, as she accompanies her husband to the UK and The Netherlands for the G7 Summit and NATO summit respectively. Dr. Biden will meet Queen Elizabeth on Sunday, which is why CNN is making this all about "regular peasant Jill meets the Queen," as if Jill is just some uncouth yokel who will burp and fart her way through Windsor Castle. Some highlights from this CNN piece:
She's not nervous to meet the Queen: Biden has not had withering bouts of nervousness, nor has she scrutinized the choreography of royal protocol, two people familiar with the first lady's thinking in the run-up to the trip tell CNN. "Put her in a palace with a Queen, or wherever you want, she's 'Jill from Philly,' " says one longtime acquaintance of Biden, when asked if the first lady might maintain her casualness while in the presence of one of the most formally nuanced people in the world. One White House staffer says Biden has little interest in the formality of "where to stand, or whether or not to hold someone's hand or give them a hug. She just does what she feels."

Whether Jill will be a stickler for protocol: "I think Dr. Biden is seeking to be far more accessible and relatable than most of her predecessors, with the exception of Michelle Obama who had a similar approach," says historian Kate Andersen Brower, author of "First Women: The Grace and Power of America's Modern First Ladies," of Biden's first overseas visit as first lady. "She is not an imperial first lady, like Nancy Reagan — who was so involved in her husband's administration that she helped orchestrate President Reagan's first meeting in Geneva with [former Russian leader Mikhail] Gorbachev. I would not expect Dr. Biden to be doing anything like that. Dr. Biden will be bringing a softer message. She'll be resetting the American image abroad as much as the President does. I think she'll stay away from politics."

Jill is doing her own solo events abroad too: Though Biden's schedule includes time with leader spouses for planned G7 activities — a common occurrence at summits such as these — it also makes time for at least three separate, solo events, two of which involve promoting Joining Forces, her initiative that helps military families. On Saturday, Biden will meet with members of Bude Surf Veterans, a local volunteer group that assists British military veterans with physical or mental health injuries through surfing. "She will host a discussion with veterans and their families about the impact of the program and on their health and well-being," according to guidance from the East Wing. The program is partially funded by the Invictus Games Foundation, a wounded warrior charity founded by Prince Harry, with whom Biden shares a close, personal friendship.

Jill will be fine: "This type of foreign trip might have some new trappings, but the ritual is familiar to Jill Biden," says one of the people familiar with her thinking. During her eight years as second lady, Biden made approximately 20 trips to foreign countries, mostly accompanying her husband, but many with solo objectives. "She's not naïve to the importance of a world audience, she knows the expectations," says the acquaintance.
I love that she's doing an event connected with the Invictus Games! She really does know Prince Harry! She and Michelle Obama both adore him. As for all of the hand-wringing and ass-clenching about protocol… like, she'll be fine. I'm concerned that President Biden might make a few gaffes, but Jill knows what to do and she knows how little importance most of it has. She's not there to "impress" the Queen. Neither is President Biden.
In the same piece, there's also a lengthy conversation about whether Dr. Jill wants to be known for her clothes, or wants her designer labels publicized. She's someone who enjoys fashion and enjoys – much like Michelle Obama – highlighting specific designers for specific reasons. But she's not a full-on fashionista, so I would imagine we'll just see some pretty (and conservative) dresses from American designers and a few Ralph Lauren or Donna Karan suits.
Dr. Jill also wore a jacket emblazened with "LOVE". I care, do u?
Traveling with President Biden in the UK, Jill Biden wore a jacket on Thursday that read "LOVE" on the back, an echo of Melania Trump's "I really don't care, do u?" jacket that she wore in 2018 to visit children separated from their parents at the border. https://t.co/0EJHqAfAd6

— The New York Times (@nytimes) June 10, 2021
Love this boss photo:
Prepping for the G7. pic.twitter.com/drPmb2vBwI

— Jill Biden (@FLOTUS) June 9, 2021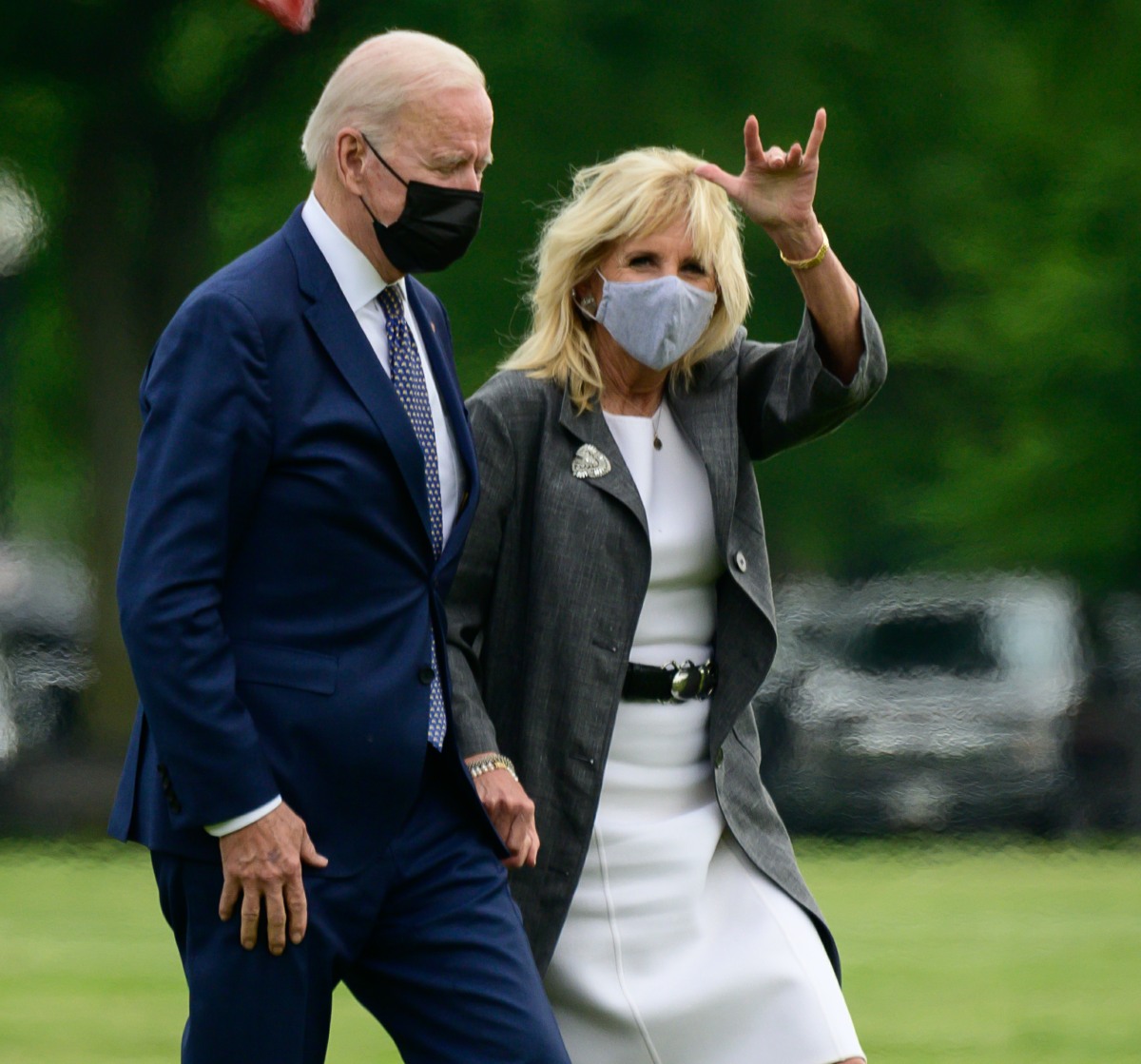 Photos courtesy of Avalon Red, Backgrid.