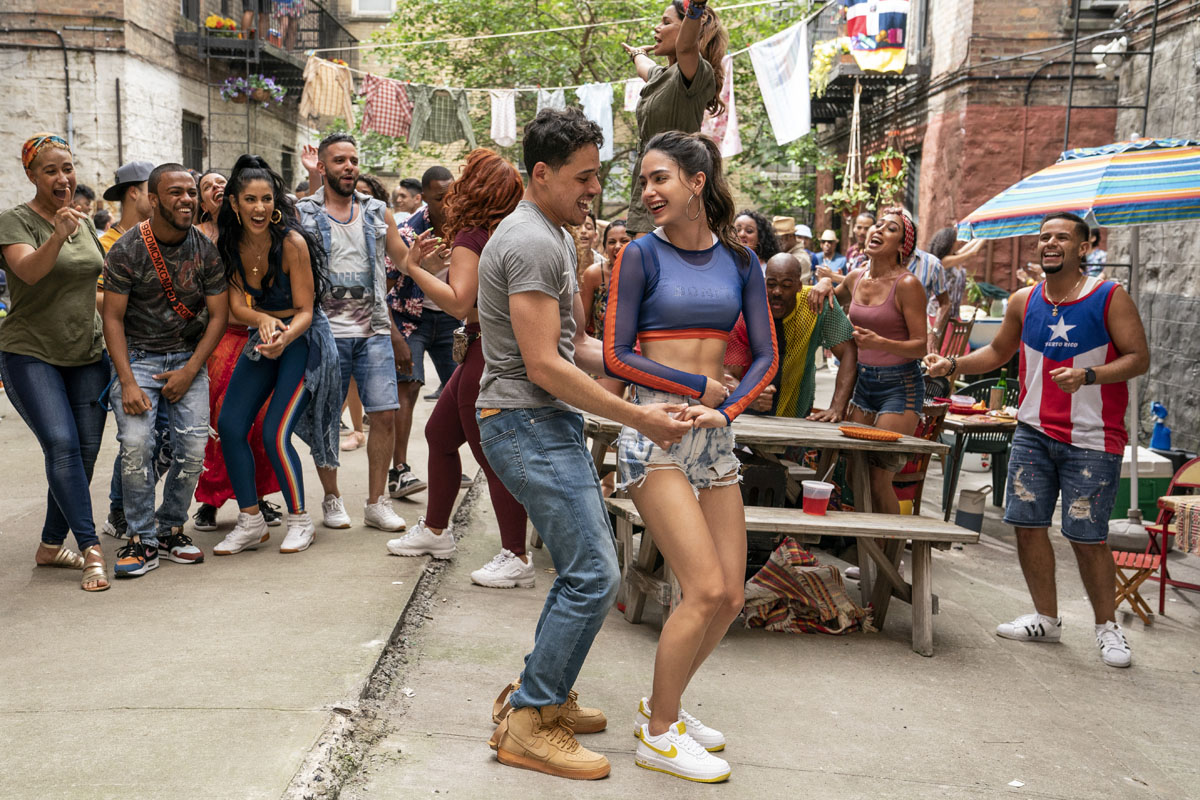 In the Heights debuted in theaters and on HBO Max this weekend. Many people found it odd that that dark-skinned Afro-Latinx were wholly missing from the main characters in a movie set in Washington Heights. People took to Twitter to drag the musical's creator, Lin Manuel Miranda, and director, Jon M. Chu, for the fact that no dark-skinned Afro-Latinx were represented in the main cast. The only dark-skinned Black person in the main cast wasn't even Latinx. Felice Leon, an Afro-Cuban journalist from The Root, spoke with director Jon M. Chu and some of the cast from the show. Felice asked about the lack of dark-skinned Latinx in the main cast. It went downhill from there. Here are a few highlights via Vulture:
The Root's Felice León addressed these concerns in an interview with In the Heights director John M. Chu and members of the film's cast on Wednesday, June 9. "As a Black woman of Cuban descent, specifically from New York City," León, who is a Black New Yorker of Cuban descent, asks Chu, "What would you say to folks who say that In the Heights privileges white-passing and light-skinned Latinx people?" Chu says, "I would say that that's a fair conversation to have," but doesn't proceed to fully have it. Chu also faced accusations of colorism for his 2018 film, Crazy Rich Asians.

Leslie Grace, who is Afro-Latina and plays Nina, diplomatically addresses the colorism at play in this film and Hollywood at large, saying, "I didn't realize until making this movie that I didn't really get to see myself or people that looked like my siblings, that are darker than me, onscreen." She adds, "I hope that this is cracking that glass ceiling. Because I do hope to see my brothers and sisters that are darker than me lead these movies."

Melissa Barrera, the Mexican actress who plays Vanessa, chimes in, saying, "In the audition process, which was a long audition process, there were a lot of Afro-Latinos there. A lot of darker skinned people. And I think they were looking for just the right people for the roles. For the person that embodied each character in the fullest extent," clarifying, "Because the cast ended up being us, and because Washington Heights is a melting pot of Black and Latinx people, Jon and Lin wanted the dancers and the big numbers to feel very truthful to what the community looks like." Chu also points León to diversity among the background dancers, which kind of just proves León's point.
This is not the first time Jon M. Chu has been dragged for excluding darker-skinned people from his films. Folks were hot when Jo excluded darker-skinned South East Asians from Crazy Rich Asians, which was filmed and based in Singapore. Jon and the main actors' response to Felice's questioning was an absolute sh*t show. "We chose the best people for the role" is the all time favorite excuse of white and white-adjacent Hollywood. You mean to tell me that there was no one from the people who created the culture being celebrated in In the Heights available to play a major role on Broadway or in the film? This is so problematic.
I tried to watch the show this weekend but I couldn't get past the white washing of el barrio. Like where the hell are the Black Latinx people that I saw everywhere in Washington Heights when I lived in NYC? This is NOT representation if you are only using the lighter-skinned people and white people from a group to represent that group. It is erasure. Lin Manuel Miranda did release a statement and apologized for the oversight but the fact that ABSOLUTELY NO ONE noticed that the entire set was filled with light-skinned and non-Black Latinx is a massive issue and definitely needs to be addressed. It is also irritating that they threw in some darker skinned Latinx in the background as an after thought. It was an indication of how he and many others view Black people. They either don't see us at all or they only see us as bit roles in their stories. Despite not being Afro-Latinx, I am Black and I understand colorism and feeling unseen until it suits the narrative. We need to address colorism in casting and representation of post colonial culture, particularly in the Americas.
First 8 minutes of In the Heights:


Lin Manuel Miranda's apology for the colorism:
-LMM pic.twitter.com/CHfdLgFUz3

— Lin-Manuel Miranda (@Lin_Manuel) June 14, 2021
A few tweets:
as a black dominican, this dame has some thoughts. also did y'all catch how they were saying they "found the best people for the role" as if white folks haven't been using that excuse since film's beginning for why they don't cast people of color especially dark skinned folks? https://t.co/aFjz4rLTJL

— Angelica Jade (@angelicabastien) June 13, 2021
This is why it's important to give Black journalists press opportunities. No one else would've thought to ask these thoughtful questions on behalf of us. This is the kind of journalism that's needed to expose the bs in the industry. https://t.co/X8GUMHKFUT

— IAMNJERA (@IAMNJERA) June 13, 2021
"The world likes their Latinas to look like Italians and not like me."

– Gina Torres, la Afro cubana gawdess pic.twitter.com/0Ch6H77Zws

— Houses of Tisci & Balenciaga stan account (@THEEBlackleftie) June 13, 2021
I lived in Washington Heights for 5 years. You can't take a step in Washington Heights without seeing dark skinned Black-Latin people. #InTheHeights erases them from the neighborhood. This 'light skinned Latinx only' story is very disappointing. https://t.co/bm6Yzlhpn3

— Amara ❤️ #Democracy🇺🇸🇹🇹🇻🇪 (@Amara_deMachado) June 13, 2021
the problem with "in the heights" is
1. ppl who havent been to the heights and dunno its majority black latino will think its accurate and
2. latinos will defend it even if they know a real in the heights would be black as hell coz they antiblack and selfhating af

— zahira🌴 (@bad_dominicana) June 10, 2021
Photos credit HBO