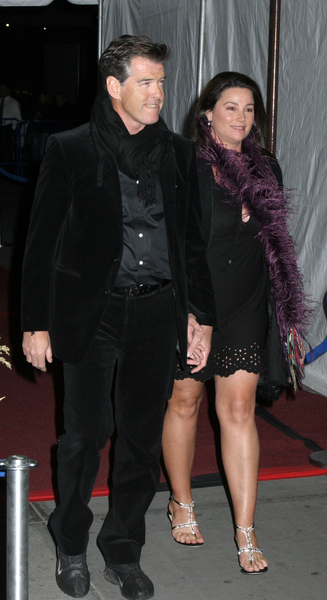 Pierce Brosnan never really struck me as one of those actors that would knee you in the crotch if you asked him for an autograph – but then again I've never seen a single James Bond movie so I probably just don't know better. You just closed this story and blocked this site, didn't you? Just because I don't know 007? I know the reference, does that help? No? Well I'm writing this while drinking my fifth martini of the morning, if that helps for anything.
It seems like a lot of otherwise fairly nice-seeming celebrities are going a little berserk on the paparazzi lately – and I can't really blame them. It seems like the paps have really taken the stalking up a notch in the last few years. I can understand that it must be incredibly frustrating to go to dinner with your kid and have 20 people following you and flashing bright lights in your face. Though to be fair, I don't think Pierce Brosnan gets the Whitney Bears treatment. It's not like his career is floundering, but I'd say if one or two guys are still following you, buy them a steak. But Brosnan is a little more "punch them in the ribs" than that.
Apparently, Pierce Brosnan likes his shutterbugs shaken and stirred. The erstwhile James Bond is being investigated by the Los Angeles County Sheriff's Department for purportedly popping a paparazzo last Friday outside a trendy Malibu eatery.

"[Brosnan] is alleged to have committed a battery against a male adult," said Sheriff's Dept. spokesman Steve Whitmore. "We're investigating it, and we've taken a report which we'll refer to the L.A. County District Attorney's Office for review." He refused to release further details.

According to TMZ, the photographer in question, Robert Rosen of Ability Films, was reportedly tailing Brosnan and his young son when the incident occurred at about 6:15 p.m. near the entrance to the Casa Escobar Mexican restaurant.

The Website claims the cameraman approached the 54-year-old actor and complimented him on his Bond roles, prompting a tart reply from Brosnan. Eyewitnesses tell TMZ that Brosnan stopped short of using his license to kill, instead allegedly punching Rosen in the ribs. The photographer retaliated with a kick to Brosnan's stomach before fleeing the scene, the witnesses claim.
[From E! News]
I wonder what this so-called "tart reply" was. Brosnan is British, so the tart reply may literally have been a comment about tarts. I'm guessing apple, but he could have been talking about cherry tarts too. Either way, nothing makes a British man madder than someone insulting tarts. Baked goods must be protected at all costs, and Brosnan would have been less than a man if he didn't punch the photog in the ribs over it. Yes I know I missed the point. But I'm pretty sure getting punched in the ribs over a tart is about as stupid as getting punched in the ribs over a compliment. So I'm going with the tart on this one.
Picture note by Jaybird: Here's Pierce and wife Keely Shaye Smith at Sir Elton John's Madison Square Garden 60th Birthday Concert on March 25th. Image thanks to PR Photos.