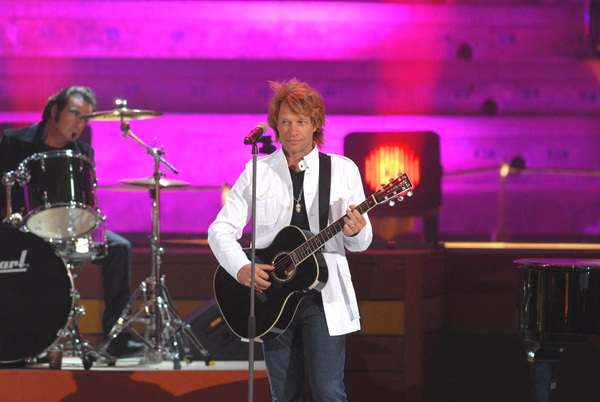 Many celebrities have some skeletons in their closets. There's the secret marriage you had quickly annulled, the dead hooker you threw into the river, and the time you kissed what you thought was a hot girl but was actually your neighbor's miniature goat. Compared to all those (well documented, I'm sure) skeletons, Jon Bon Jovi selling a little pot back in the day doesn't seem like a big deal. But it's not like the guy gets much press anymore, so we'll give him what he wants and loudly proclaim: Jon Bon Jovi used to be a drug dealer!
Jon Bon Jovi has revealed that he was a drug dealer as a teenager. The rocker, 45, admits he peddled cannabis in New Jersey before he found fame. 'I did the drug thing very young and wised up very young too, because I was into drugs a little too much,' he says. 'I was entrepreneurial even then, buying quarter pounds of dope and trying to make a couple of bucks.'

But Jon insists his bad experience with drugs turned him off becoming a user. 'Did you ever smoke dope that was laced with PCP and then have that whole summer of hallucinations? It was f*****g awful,' he tells the Daily Mirror. 'That's why I've never been a drug guy. I've always felt I didn't have the mental stability.'
[From Now Magazine]
Well Bon Jovi is known for nothing if not his bad hair and enterprising spirit. It's kind of funny how he manages to make the whole thing sound good. "I sold pot but only because I was a good businessman." "I didn't actually use much of the stuff because I'm probably crazy." Okay that's not great, but at least it comes off as funny. A lot of celebrities are rather cagey when it comes to drug use, so at least he's honest about it. That also explains a lot of his music. Not because it's trippy and cool, it explains why it sucks. And the hair. I'm still upset about the hair. Once Bon Jovi has the testicular fortitude do apologize to America for his Farrah Fawcett hair, I can forgive and move on.
Picture note by Jaybird: Here's Bon Jovi performing with Enrique Iglesias in Spain on June 23rd. Image thanks to PR Photos.