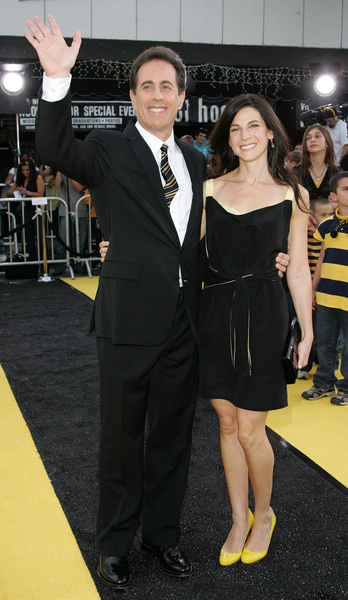 Jerry Seinfeld hasn't exactly been ingratiating himself with the writers at Celebitchy lately. First his wife appeared to have plagiarized a lot of her new cookbook from former publisher of Eating Well magazine Missy Chase Lapine. That's probably not Jerry's fault, but we're going to call him guilty by association. Then he mentioned that he spent some time studying Scientology, and talked about its good points. That's like saying Hell isn't really all that hot, just comfortably balmy. Finally on Monday night Seinfeld was on Letterman, where he called Lapine "a wacko." As far as I know, Lapine hadn't even commented publicly on the controversy at that point – and Seinfeld tried to make it sound like she was the one drumming it up. Considering how blatant the plagiarism appears to be, the Seinfelds should be apologizing right and left, and their publisher should have considered pulling the book in an attempt to avoid litigation. So Jerry Seinfeld has tried to smooth over one of the controversies – though I'm not sure it's the one he should most apologize for. He explained his Scientology dabbling to "Access Hollywood" and wrote it off, saying he was flittering from one thing to the other at the time.
Among their topics of conversation? The stir Seinfeld recently caused when he revealed he'd dabbled in Scientology. "I did some Scientology courses about 30 years ago," Jerry told Billy. "The only thing that bothers me about people knowing that is that it is not my complete wacko resume. It's just one aspect! I am very interested in self help things," Jerry continued. "When I was a young man in my 20s I would explore like meditation, and I studied Aikido and karate and yoga and I would just take little things from each of these things."

"But everyone else takes from yoga and Aikido and all those things, but Scientology has this stigma around it. And you say it was very helpful?" Bush asked. "Yeah, well I didn't do very much. I don't know that much, I just did a little but I liked it," Seinfeld said. "Why did you stop?" Bush asked. "I don't know… I was kind of flitting from thing to thing. I was interested in exploring," Seinfeld noted.
[From MSNBC]
I guess that actually does make some sense. Seinfeld was pretty vague about his reasons, but I think a lot of us flitter from thing to thing in our twenties. I learned about lots of religions trying to figure out which one made sense, and did read up on Scientology. Of course that's also when I realized it was one of the craziest messes of nonsense I'd ever encountered. But their literature had to be some of the funniest stuff I've read in a long time. I'm telling you, Dave Barry has nothing on L. Ron Hubbard.
In other Seinfeld "Vegetable Plagiarism" news, Missy Chase Lepine and her publisher, Running Press, did respond to Seinfeld's comments on Letterman.
"As the publisher of The Sneaky Chef we are troubled that a celebrity of Jerry Seinfeld's stature chose to go on the Late Show with David Letterman last night and personally attack the book's author, Missy Chase Lapine.

This controversy arose out of concerns expressed by parents on message boards who noticed that the recent book by Jessica Seinfeld is similar to The Sneaky Chef which was published 6 months earlier. Neither we nor our author have publicly accused anyone of anything."

Statement of Missy Chase Lapine, author of The Sneaky Chef:

"It was painful to be called names on national TV when I am just a mom who wrote a cookbook to help parents get their kids to eat well."
[From PRNewswire]
I think the Seinfelds are starting to look pretty low-class, and their timing couldn't be worse. Promoting Jerry's first movie and Jessica's first book seems like a bad time to take the low road.
Picture note by Jaybird: Header image of Jerry and Jessica Seinfeld at the "Bee Movie" Los Angeles Premiere on October 28th. Image thanks to PR Photos.