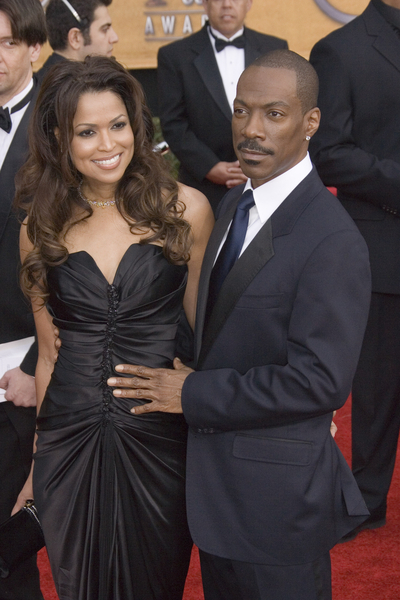 Who knew Eddie Murphy and Tracey Edmonds were so cute and old fashioned? The couple has proudly announced that they're not moving in together until they get married… and what's sweeter than that? I'm guessing it's actually a ploy on Murphy's part – it's harder for Edmonds to leave him – which she'll no doubt want to once she see that he runs his house like Captain Von Trapp – once they're legally bound to one another. Not impossible, but definitely a bit more of a challenge. Murphy has been busy not acknowledging his daughter with Melanie Brown, and instead buying Edmonds an 8 carat engagement ring. Because why pay child support when you can have a giant, tacky piece of jewelry that takes two hands to lift? Ah, carpel tunnel, the gift that keeps on giving.
In a showbiz world of lightning-fast engagements, marriages and breakups, Tracey Edmonds and Eddie Murphy are taking it slow. "We haven't moved in together yet. We're waiting until we get married," Edmonds told PEOPLE on Tuesday night at a launch party in Encino, Calif., for the new book Daughters of Men: Portraits of African American Women.

Edmonds, 40, and Murphy, 46, who got engaged in July, have been coy about a wedding date, and Edmonds reiterated on Tuesday, "I'll just say it's coming soon." When they do move in together, it'll be a busy house. Edmonds has two boys, and Murphy has five children with ex-wife Nicole Murphy and one with Spice Girl Melanie Brown. "I think it's going to be fun for my kids, because it's [been] just the three of us. If you come to my house, it's very peaceful, very quiet, and I think it's going to be fun for them to have other brothers and sisters to play with," Edmonds says.

"The great thing is Eddie's got beautiful, wonderful, smart, great children, and he's a great father, so we've had a chance to all kind of spend a bit of time together."
[From People]
Well to be fair, great fathers are known for refusing to even meet their new children. Tracey Edmonds makes me ill. She's got that perpetual "deer caught in the headlights" expression and is so Pollyannaish. Considering how controlling and borderline tyrannical Eddie Murphy is supposed to be, they probably are actually a pretty good team. Now the whole "liking transvestites" thing might get in the way – but I'm sure Tracey can find a happy little excuse for that, too.