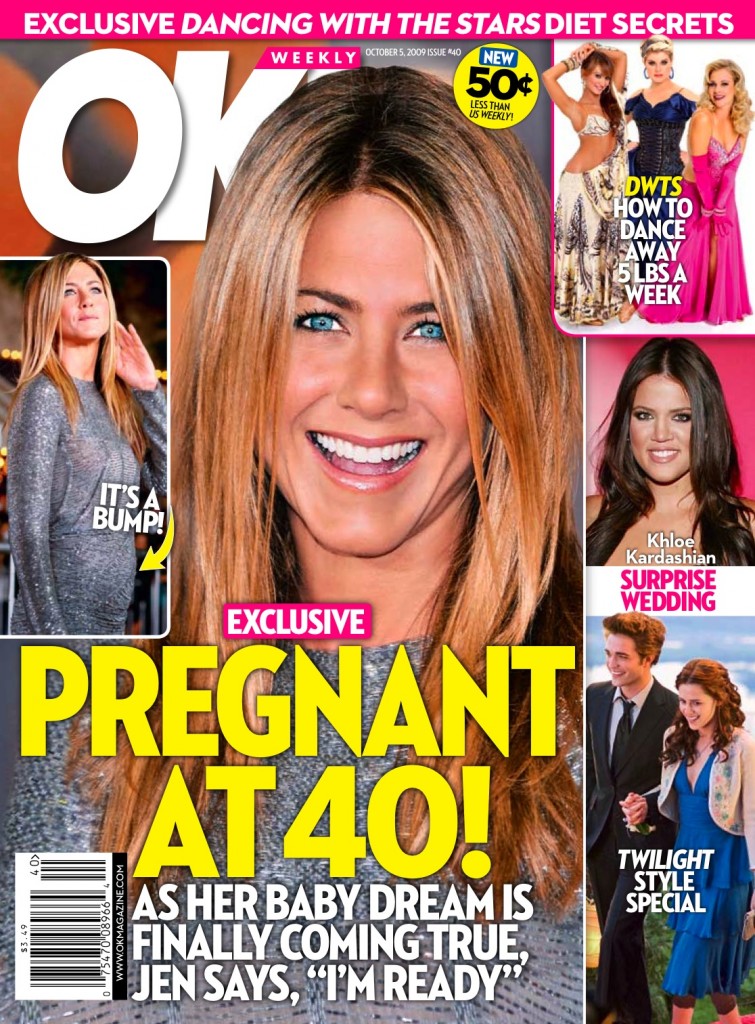 It's Wednesday so we're being blessed with the covers of the upcoming weekly tabloids. OK! Magazine is making the spurious claim on this week's cover that Jennifer Aniston is pregnant. This all seems to be based on a small "bump" she was sporting at the premiere of her new movie, Love Happens. The thing is, Aniston sometimes gets this very minor "pooch" when she's gained a tiny bit of weight, and it doesn't necessarily mean she's pregnant. I can remember at least three separate instances when she gained 5 pounds (max) and outlets, including us, were quick to call her pregnant. This time, Fox News called her belly "sexy" in a kind of condescending way, and then tried to make it sound like they were complimenting her by declaring that "Real bodies are back in!"
OK Magazine takes that a step further by declaring that Aniston is pregnant. We have a Life and Style cover from 2006 and a Star Magazine cover from early 2008, below, that pretty much say the same thing using the same kind of photos. If this is somehow true, congratulations to Aniston, but I doubt that OK! has anything more to go on than some red carpet photos.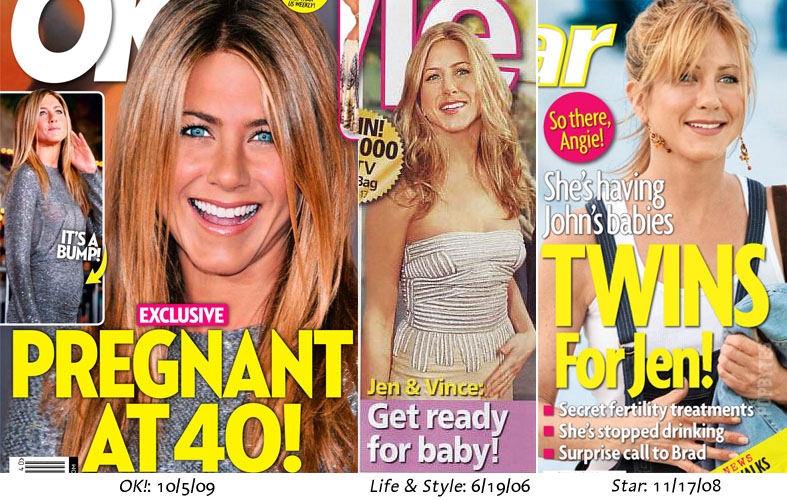 Jennifer Aniston has never hid the fact that her biological clock is a-ticking and who could blame her: She turned 40 in February and most of her Hollywood pals — like Courteney Cox and Sheryl Crow — are already mothers, a role she's ready to embrace.

"I feel [motherhood is] in my future and I'm on the verge of it in some way," the Love Happens star has said in recent months. "I want to have children. That's my plan."

And at least one Aniston insiders tells OK! that becoming a parent has quickly become a high priority for the actress, who has scheduled several months off before starting her next project in 2010.

"Jen's made no secret of the fact she wants to get pregnant," says the source. "Now, with nothing on her schedule for a while, she can relax and address the priorities that matter most — and motherhood is right at the top of her list.

"She wants to have a baby soon," adds the insider. "And has set her heart on getting pregnant before her 41st birthday."

For the complete story on Jen's baby plans, including her plans for picking the baby daddy and how she's reconciling with her own estranged mother — pick up the new issue of OK! — on sale everywhere Thursday!
[From OK! Magazine]
OK! is really turning into Star Magazine lately. It's like Life & Style and In Touch have more integrity. I found this really funny segment from The Soup making fun of the tabloid coverage of Jennifer Aniston's love life. This made me laugh out loud several times. The "pregnancy" angle from OK! is just a small variation on the ceaseless broken record we've been hearing from the tabloids on Aniston for years. It isn't even an original one. Note to Aniston: never hold your hand over your stomach – ever.
Thanks to Laxmobster at Gossip Rocks for posting this video!