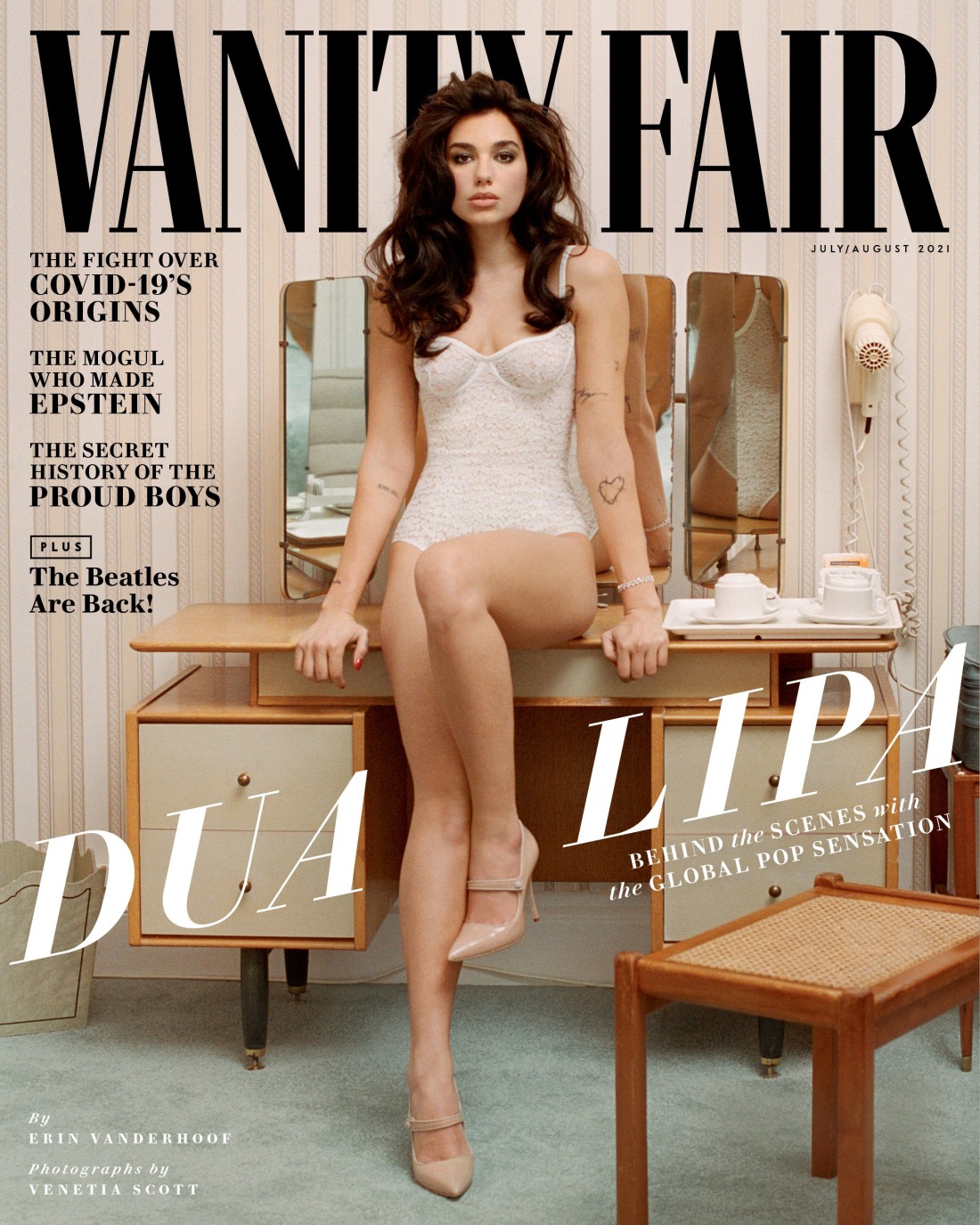 I've been a Dua Lipa stan since "New Rules" and "IDGAF," meaning since her first album. It has pleased me so much that Dua went from almost a secondary, regional pop star ("Dula Peep," as Wendy Williams famously called her) to one of the biggest names in pop music globally. Her second album Future Nostalgia came out just as everyone was going into lockdown. The album is full of breezy, fun, dance-party music and people spent the pandemic dancing alone in their homes to "Levitating" and "Don't Start Now." And now here we are: Dua Lipa on the cover of Vanity Fair. She has truly arrived. What's hilarious (to me) is that Dua is beautiful, talented, ambitious and cool, but she's never been, like, particularly dramatic. No one is like "Dua is spilling tea" or "I wish I could read more about this fascinating person!" Her background has drama, for sure. But mostly she's not looking to bad-mouth anyone or lie or bitch about her life. She's very chill, professional and well-adjusted, which this VF piece kind of reveals. Some highlights:
The pressure of a second album: "There was just this pressure. People just telling me that I wasn't good enough or that I wasn't deserving of it or whatever it was…. I was like, 'All right, I'm just going to shut everything out. And I'm going to make sure that I get this album the way that I want it to. And I'm really just going to focus on being great at everything that I do.' "

Leaving Kosovo for England when she was a child: "Everything was Albanian at home, and English was my school life. I had so much family in Kosovo, but also because of the situation and not being able to go back, I had never really met my family." Because she was young during the open conflict that lasted until the summer of 1999, Lipa didn't know much about it. "I guess my parents also didn't want to upset me at such a young age. After the war, my dad's father passed away and my dad couldn't make it back in time, because obviously all the borders were closed, but it was just one of those things they didn't tell me until a little bit later on."

She's unapologetic about politics: "It mainly came because of my roots in Kosovo, and wanting to take a stand on that and talk about that and the refugee situation. And then slowly starting to understand how, you know, the politics of war, how that all happens, why so many children are displaced. Things stemmed from a personal experience into then wanting to learn more and trying to also be a voice for lots of other people." It's also a matter of using the platform she regards as a privilege: "As my profile is growing, especially online, I feel like I need to use that to do something better than, you know, posting cute pictures or whatever."

Social media jokes about her bad dancing & on-stage nonchalance: "It's one thing when people are mean about you, but you know that you did your best. But it's another thing when people are mean about you and you know that you actually haven't had the opportunity to be the best because you've spread yourself so thinly in trying to do everything at once."

She wanted to show that she could prepare this time around: "You want to show that you're here to stay and you want to show that it's not just about one album or one big song or whatever it is. I just wanted to make sure that this time around, I was very much in control of the fact that I'm going to do the music, then I'm going to rehearse. And then when I come in and I do the performances, they're all going to be amazing. I'm going to prove to people that I can do this and that I'm here to stay."

Her boyfriend Anwar Hadid: "Anwar is half Dutch, so he's also quite European in some senses," she said. In keeping with her general policy for posting on social media, she asks Hadid before sharing any photos of him, though she isn't necessarily upset if he doesn't do the same. "I always like to ask if he likes a picture before I post it. But I also think sometimes it's sweet that he really likes kind of ugly pictures of me. And I look at him, I'm like, 'Really?' And he's like, 'I love it.' And then I let him post it, although I hate it."
Everyone is trying so hard to make it sound like Dua is, like, being bullied on social media. I'm sure there are people trashing her, because the internet is a dark and terrible place, but most of the comments she specifically references (like the "go on girl give us nothing" tweet) are more like jokes from people who genuinely like her. It's like teasing a beautiful, successful, talented pop star for not being 100% perfect. I'm sorry that she sees that stuff and that it bugs her, but honestly, she has a thriving and supportive fanbase online.
Also, a weird moment in the VF profile: she expresses support for Bernie Sanders and Bernie is quoted in the piece, defending Dua politically. It was… a lot.
Cover & IG courtesy of Vanity Fair.