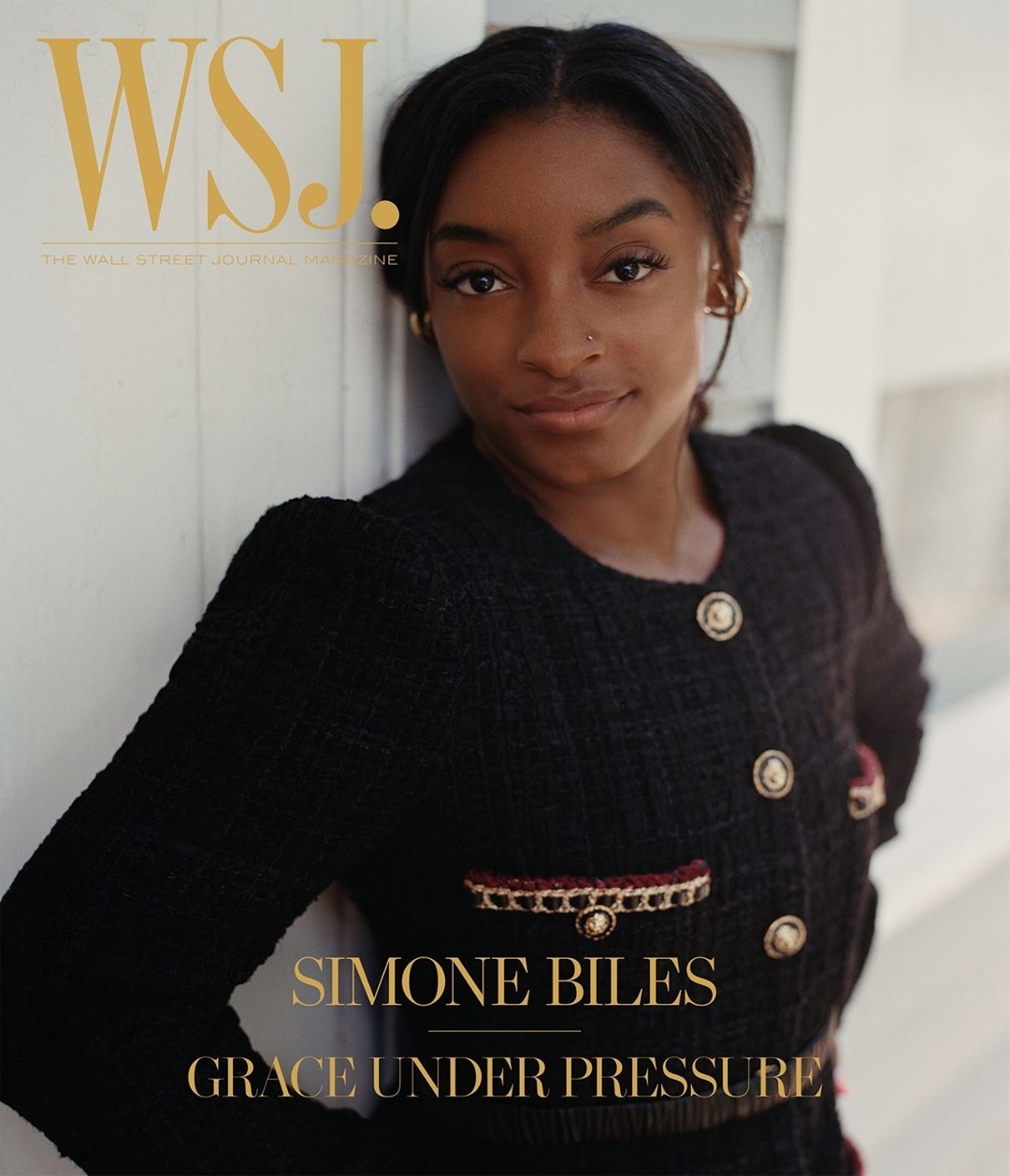 When Simone Biles is photographed for magazine editorials, the photographer usually tries to capture her youthful, fun energy, or they do "in motion" poses to show off her physicality and grace. But I kind of love that WSJ. Magazine went in a different direction. They styled her in mostly sedate, almost conservative clothing. The setting looks like her grandma's house. She looks like a woman, not a girl. She still looks like Simone, of course. But it's just nice to see her photographed and styled a different way. Anyway, Simone is one of the few major athletic stars going to Tokyo shortly. Simone walks into Tokyo as a sure thing, or as much of a sure thing as any athlete can be. She spoke to WSJ. Magazine (via People) about preparing for the Olympics:
She thought she already peaked in 2016: She "thought [she'd] hit the peak of [her] career" in 2016, after nabbing four gold medals and one bronze at the Games in Rio de Janeiro. "I was like, 'How can I get any better than that?' " said Biles, who will compete as part of Team USA once more this year. She added of her time after Rio, "And so I was really nervous walking into the gym."

Learning to enjoy gymnastics on her terms: "Now I can enjoy my gymnastics. It's really up to me. And that probably also comes along with how many titles I've won and everything I've established. It's like, okay, well, the facts are on the paper. I feel like now I don't have to prove anything to anybody. I'm trying to level up."

She still can't believe she kept racking up medals: "I wouldn't say I thought '13 was a fluke. But I was like, 'Oh, whatever, I won; next year somebody else will be the winner.' And then '14 happened and I won, and I was like, 'Oh, my gosh; what is happening?' And then '15 happened, and I was like, 'Who am I? This could be really good. I could make the Olympic team!' "

Her future: "I feel like for all these years I've kind of let gymnastics do the talking, and I've kind of stamped my position there. So at the end of the day, I can say I've done it all, and more."
I think the people around Simone always knew she was good, good enough to eventually make the Olympic team, but they didn't want to stress her out about it. She seems happier when she doesn't have that pressure of "I have to do this and this by age whatever" etc. She was 19 years old when she swept the Olympics in Rio – to do it again at the age of 24, she has to believe that she has nothing else to prove. She doesn't! Like Serena Williams said when she reached a certain number of Slams, she's playing for history and for fun. That's Simone now – just seeing how much further she can go. I'm so excited for this!!
Cover & IGs courtesy of WSJ. Magazine.