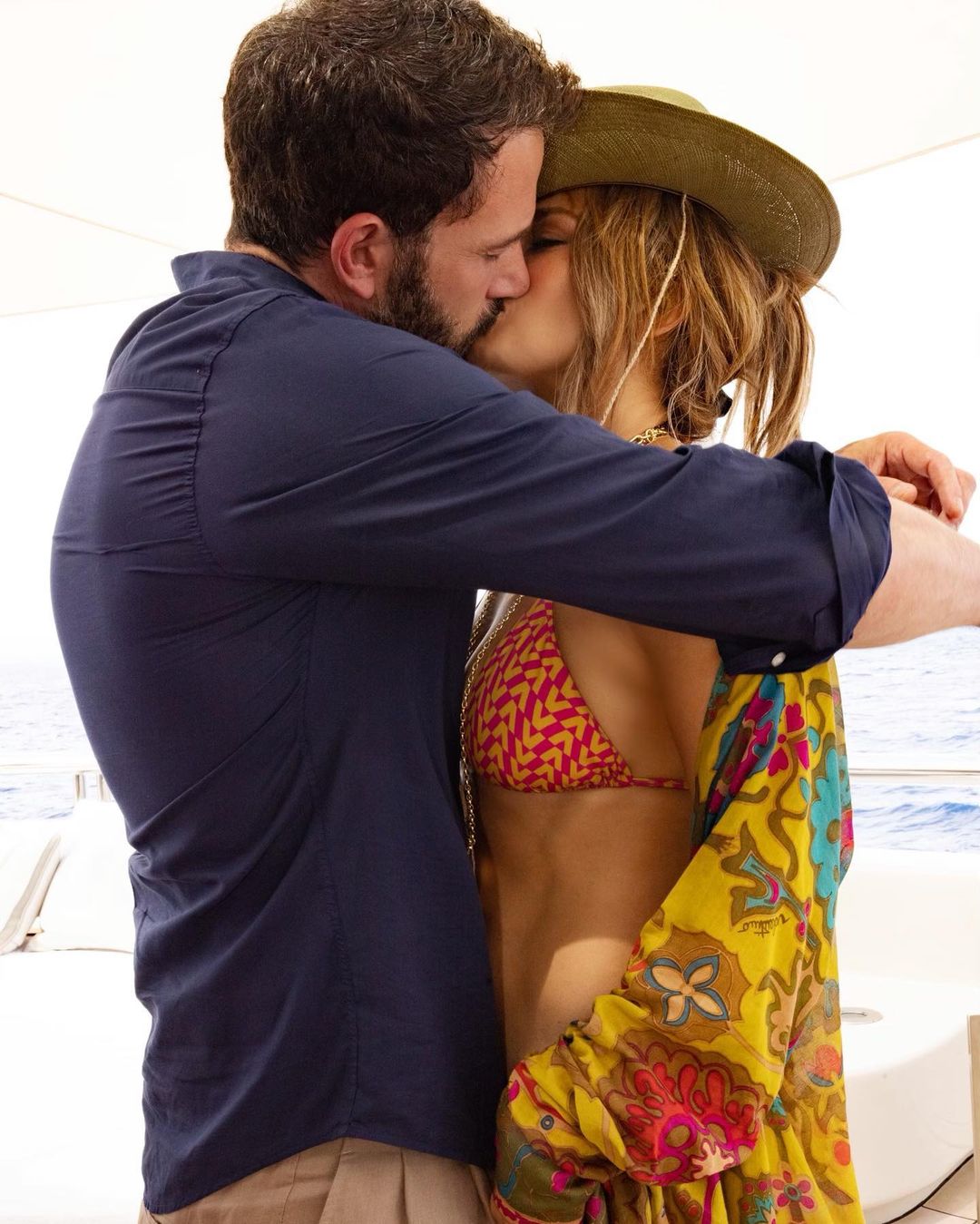 For months now, I've been dying for Ben Affleck and Jennifer Lopez to recreate parts – or one specific part – of the "Jenny From the Block" music video. I also recently talked about how J.Lo and Ben really missed an opportunity to be cool, young and hip by posting some Instagram-official photos on their social media. Well… it was foretold by the prophecy. On Friday, Jennifer and Ben boarded a flight to Monaco (probably more like Nice, France) and on Saturday, they were on a yacht off the South of France. We're probably only hours away from Ben rubbing and kissing her bikini-clad ass on a yacht, just like the "Jenny From the Block" video.
But that's not all, as you can see! They are now Instagram-Official, on Jen's IG. She was posting some hot photos of her hot birthday body and at the end of the photoshoot, she shared this hot/awkward shot of the kiss! And yes, this trip was for Jennifer's birthday. That ass is 52 years old and it's about to get rubbed on a yacht (honestly, it's probably already been rubbed on a yacht during this trip, but we need it to happen in front of cameras).
Anyway, happy birthday to Jen and welcome to Leo Season. Bennifer on a Yacht = pure happiness and joy. They are amazing.
Ben Affleck and Jennifer Lopez celebrating her bday in Monaco

📸July 24, 2021
Via @jlogallery
HAPPY BIRTHDAY JLO pic.twitter.com/qd1lPLc2S4

— bennifer tea (@jloaffleck) July 24, 2021
— Keaton Patti (@KeatonPatti) July 24, 2021
Broooo🥺 pic.twitter.com/P8tKYPIFFv

— 𝐋𝐢𝐳𝐳𝐲🖤 (@tatli_lizvl) July 24, 2021
Photos courtesy of social media.