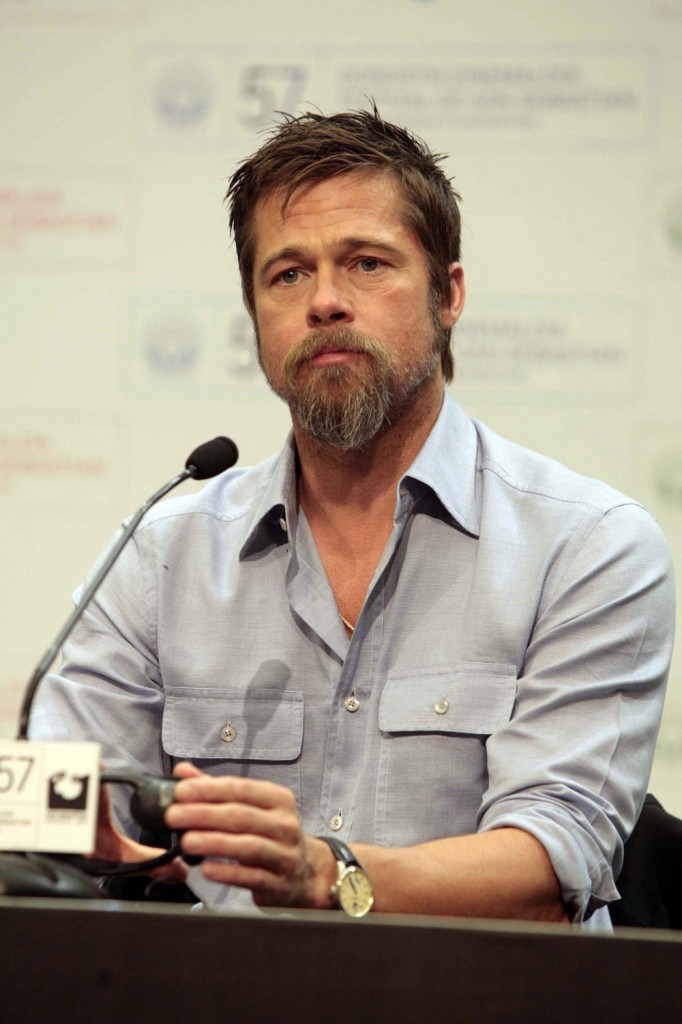 We don't have access to these great new pictures, but if like seeing the Jolie-Pitt kids, you should definitely check these out. Angelina took Zahara, Pax and Shiloh out to the Toys 'R' Us in the south of France (who knew there was a Toys 'R' Us there?). People are already analyzing in great depth Shiloh's missing front tooth – she's 3 ½ years old, which does seem young to start loosing teeth. Perhaps Shiloh and Empress Zahara got into a big fight, and Zahara clocked her? Or perhaps Shiloh is just knocked out her own front tooth with that epically awesome sword she's carrying.
Zahara looks like she's turning out to be the great beauty of the family, and she's wearing a little purple peasant skirt and white tank. Too cute. Meanwhile, I think Shiloh decided to dress up like some kind of… pirate? She has that sword, a hat and a "f-ck off and die" look on her face. Awesome. I love generational bitchface. Pax looks cute too – he got a haircut, and he looks like a sweetheart. He's missing one of his front teeth too!
In one other little piece of Jolie-Pitt news, does anyone remember the weird rumor floating around last month that Brad Pitt was called in to film some emergency scenes for Guy Ritchie's Sherlock Holmes? Within a day, the rumors were denied, but they still struck me as totally odd. First, how even starts a rumor like that if there isn't some kind of basis? Secondly, Guy and Brad are friends, and if Guy was going to turn to anyone for a little emergency stunt-casting, it would probably be Brad. Now the rumor mill has started up again, and Brad's name is still being thrown around… this time for a possible Sherlock Holmes sequel:
Brad Pitt has been the subject of a whirlwind of internet rumors that would mystify Sherlock Holmes himself. The "Inglourious Basterds" star was pegged for a cameo as the nefarious Moriarty, the titular master detective's arch-nemesis, in the Guy Ritchie-directed "Sherlock Holmes," but denials from Warner Bros. and other official parties effectively squashed that rumor.

Do you think the real Moriarty would reveal his identity so easily? No, he'd confuse his pursuers with misdirection and false leads. But just like legends, a good rumor never dies.
The Hollywood Reporter is getting in on the rumor mill by suggesting that Brad Pitt has had discussions with producers to star as Moriarty in a potential "Sherlock Holmes" sequel. The report acknowledges the previous Pitt rumors, but states that "those familiar with the script say the character [of Moriarty] is in shadow and cannot be recognized," verifying director Ritchie's statement that the Holmes villain is slated for an appearance — just not with any specific actor in mind.

Perhaps more important than Pitt's potential enlistment in a "Holmes" sequel is the very existence of a sequel itself. The Robert Downey Jr.-starring action-mystery-what-have-you flick doesn't even hit theaters until December, and there are already active plans to turn the film into a franchise.

According to THR, screenwriters Kieran and Michele Mulroney have been hired to pen "Sherlock Holmes 2" for Warners. The screenwriting pair are also mentioned as the writers behind "Justice League: Mortal," the WB's defunct superhero team-up project. They also wrote and directed "Paper Man," the Jeff Daniels and Ryan Reynolds-starring dramedy about a man accompanied by an imaginary superhero pal.

So, not only is Brad Pitt maybe-possibly starring in the "Holmes" franchise after all, but a sequel is actually being fast-tracked in advance of the initial film's release. Seems a little early to be talking about "Sherlock Holmes 2" to me, when we don't even know if the first movie is any good or not.
[From MTV News]
Maybe I'm completely off-base, but I kind of think Brad might have done some work on this first Sherlock Holmes film, due out this Christmas. I think it was supposed to be a surprise, and it got out, and the studio tried to shut it down. I'm not saying Brad filmed a bunch of scenes or anything – but if Guy Ritchie was smart about it, Brad could have done some voice work, and maybe one scene, the "reveal" of Prof. Moriarity.
Brad Pitt is shown at the San Sebastian Film Festival on 9/18/09 with Quentin Tarantino. Credit: WENN.com