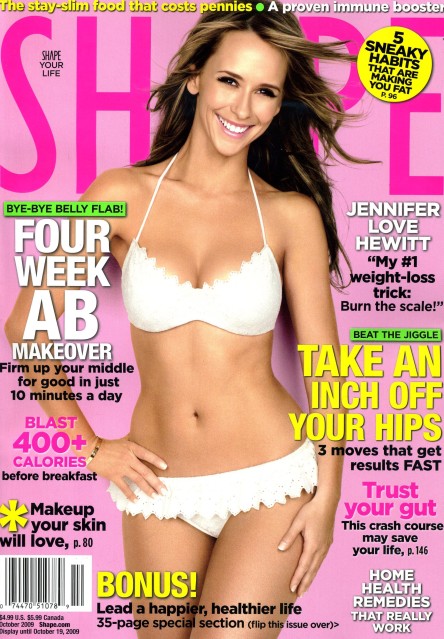 Jennifer Love Hewitt is the cover girl for October's Shape Magazine. While I don't doubt that the body shown on the cover is Jennifer's, I really think they shaved off quite a bit on her thighs and hips. I'm not judging (seriously, I'm not), but if you want to see what Jennifer's un-photoshopped body looks like in a bikini, try these very recent pictures of her being a dumbass on a tennis court. That's what she really looks like – and she's not bad, or overweight or anything, but she's not this size-2, plucked, sucked and firm Shape cover girl.
In the interview for Shape, Jennifer goes on and on about body image, and she gives her boyfriend Jamie Kennedy a lot of credit for making her eat healthier. Of course. Because Jennifer recently told the world that the first time Jamie saw her naked, he called her "pear ass". Ah… true love. Jennifer's really selling it, too. The most gagtastic line of the whole interview is "I fall asleep feeling beautiful." My response: "I fall asleep with a bourbon buzz, smiling as I try to imagine what Clive Owen looks like naked."
Nearly two years after was she was criticized for showing off some cellulite while at the beach in Hawaii, Jennifer Love Hewitt is savoring the best revenge of all – baring a new, toned body ready for a bikini.

But she admits that she still has insecurities about her figure.

"I'm a girl, after all!" the actress, 30, tells the October issue of Shape, out this week. "For the most part, yeah, I'm happy with my body, but there are days when I'm like, 'Ugh! Really? Why is it so hard to fit into my jeans?' That's when I say to myself, 'I look this way because I'm supposed to. If we all looked the same, we'd be boring.' "

Hewitt also thanks boyfriend Jamie Kennedy, whom she's been dating for seven months, for her slimmer and healthier lifestyle

"He's inspired me to improve my diet," she says. "He has a salad with every meal, plus lots of fruit, fish, and vegetables."

And she's also been a good influence on him.

"Last summer we were in Monaco. Every morning we ran for 40 minutes through the streets of Monte Carlo," she says. "It was an amazing way to see the city. Now when we travel, we try to explore the places by running."

But there's no beating the power of positive thinking.

"I fall asleep feeling beautiful," she says. "Then, in the morning, before I leave the house, I say five things I love about myself, like 'You have really pretty eyes.' That way I can go out into the world with that little bit of extra confidence. It's a feel-good protein shake in my back pocket in case someone messes with me that day."
[From People]
I know she's harmless. She's like a Saltine that's been left out for a day. Not horrible, but not great. But her act cracks me up. Some of her advice is okay though – she recommends grocery shopping every few days, just so the fridge isn't always full: "Instead of piling up food in my fridge that says, 'Come eat me!' I keep enough for only a couple of days. And I rarely have treats around that might tempt me late at night, which is when I usually crave something really fattening. What am I going to do? Drive out at 11 at night just to satisfy a craving? No, that's crazy." Yeah, that's crazy until PMS hits you like a freight train and you're ready to stab somebody for a mini Snickers bar. As far as the grocery shopping thing, I'll admit, I prefer shopping every three days or so, but it's time consuming. But I guess Jennifer doesn't have anything better to do.
Jennifer Love Hewitt and Jamie Kennedy are shown at the Emmy Awards on 9/20/09. Credit: Fame Pictures. Header image of Shape cover via CelebrityDirtyLaundry.